Theresa May's leadership more popular than Margaret Thatcher or Tony Blair, poll reveals
Survey puts Conservatives 23 points ahead of Labour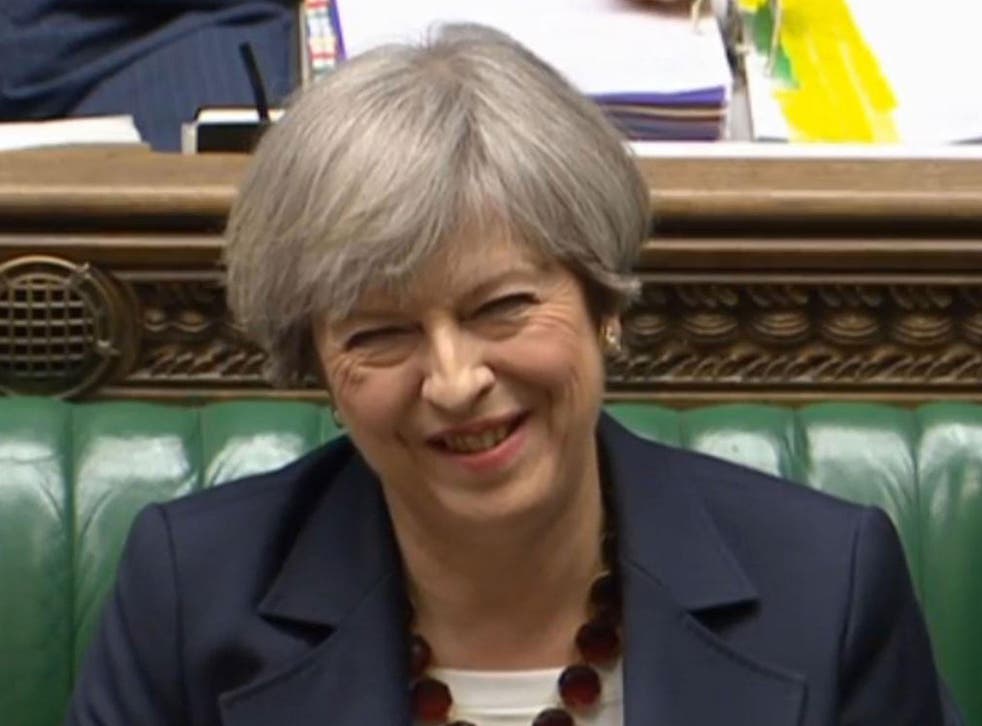 Theresa May is rated more highly as a leader than Margaret Thatcher or Tony Blair during their best years, a poll has revealed.
The Ipsos Mori poll found 61 per cent of voters saw Ms May as the "most capable" of the leaders of the main political parties, while labour's Jeremy Corbyn was rated at 23 per cent.
The ranking is the strongest the pollster has recorded since it began asking the question in the 1970s.
Ms May outstripped Ms Thatcher's peak of 48 per cent shortly before her landslide defeat of Michael Foot in 1983.
She also beat Mr Blair's high point of 52 per cent ahead of his emphatic 2001 election victory over William Hague.
General Election 2017: What you need to know
The poll also put the Conservatives 23 points ahead of Labour on 49 per cent, up six points from last month, against Labour's 26 per cent, down four.
Liberal Democrats were unchanged on 13 per cent, while Ukip slumped from 6 to 4 per cent and the Greens were down from four to one per cent.
If such a vote were repeated at the ballot box, it suggests Ms May is heading for a landslide majority comfortably over 100 seats on 8 June.
Previous polls have also suggested the Conservatives are on course to win a landslide victory.
UK news in pictures

Show all 50
A ComRes poll for the Sunday Mirror showed Ms May's party on 50 per cent of the vote, levels not seen since 1991, and double that of Labour.
YouGov for The Sunday Times put the Conservatives on 48 per cent, 23 points ahead of Labour on 25 per cent while Opinium for The Observer had the Tories on 45 per cent with a 19-point advantage over Labour on 26 per cent.
Ms May, who was appointed Prime Minister in the turmoil following Britain's vote to leave the European Union, said she needed the election to secure her own mandate and strengthen her hand for the Brexit negotiations ahead.
She is also looking to capitalise on the disarray swirling around the Labour party, which has been plagued by internal division over its leader Jeremy Corbyn.
A senior Labour source told the Press Association political polls had "a chequered record" in recent years, and insisted Mr Corbyn's party could still win the election.
Voters would turn towards Labour once they had the chance to hear Mr Corbyn's message "unmediated" by the press, he said.
"We have the fight of our life on our hands, but I think it's clear that as Labour is able to speak in its own voice in this election campaign, in a way that hasn't been entirely the case for the previous 18 months, I think the public will respond clearly to what are very popular policies that we will be setting out to transform the way Britain is run in the interests of the many not the few.
"We are talking about a policy platform that will be supported by a majority of people in this country when they get to hear about it in a less mediated way than is normally the case. I think there will definitely be a change in public support."
He added: "We are confident we can win this election."
Join our new commenting forum
Join thought-provoking conversations, follow other Independent readers and see their replies