Theresa May is much more popular than the Conservatives, poll suggests
Exclusive: Findings by ORB help to explain why Tories are running an election campaign highlighting the choice between Theresa May and Jeremy Corbyn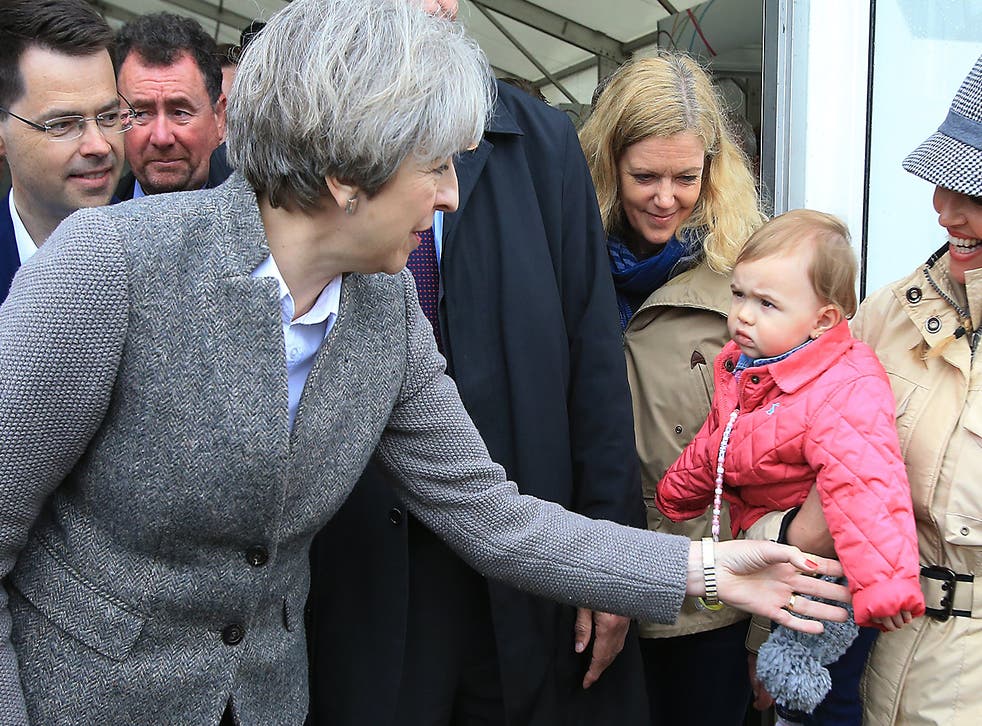 Theresa May is much more popular than the Conservatives but the public like Jeremy Corbyn and Tim Farron less than their parties, according to a poll for The Independent.
The findings by ORB International help to explain why the Tories are running an election campaign highlighting the choice between Ms May and Mr Corbyn. Theresa May's name is displayed prominently at her party's events and on its battlebus, with the Conservative brand relegated to the small print.
Tory fears that the party is still unpopular among voters are justified, according to ORB. More people (39 per cent) disapprove of the Tories than approve of the party (37 per cent). In contrast, 43 per cent approve of Ms May and 34 per cent disapprove.
In areas where the Tories hope to gain seats – Wales, the North-west, North-east and Yorkshire and Humberside – the Prime Minister's approval ratings are much higher than her party's. In Wales, only 32 per cent of the public approve of the Conservatives, while 42 per cent approve of Ms May. She is also more popular than the Tories among C2 skilled manual and the bottom DE social group, suggesting her personal appeal might win over working-class voters.
In contrast, only 26 per cent of the public approve of Mr Corbyn, while 49 per cent disapprove. Labour's ratings are better – 31 per cent and 41 per cent respectively. Among people who voted Labour at the 2015 election, 50 per cent approve of the party's current leader while 28 per cent do not.
One in five 2015 Labour voters (21 per cent) approves of Ms May, suggesting she could appeal to some of them, while only 7 per cent of those who voted Tory approve of Mr Corbyn.
Only 14 per cent of people say they approve of Mr Farron and 31 per cent disapprove, while 19 per cent approve of the Liberal Democrats and 35 per cent disapprove. Four in 10 Lib Dem 2015 voters (39 per cent) approve of Mr Farron while one in five (19 per cent) do not.
Gordon Brown: Theresa May will cause more poverty than Thatcher
Labour's plan to raise income tax for people earning more than £80,000 a year and the Conservatives' target to reduce net migration below 100,000 a year emerged as the most popular of nine key policies tested by ORB. But Ms May's flagship plan for more grammar schools is much less popular.
People were asked to choose their favourite three out of nine policies – three proposed by the Tories, Labour and the Lib Dems.
The tax rise proposed by Labour is controversial but appears to enjoy widespread support. It was chosen as a top-three policy by 44 per cent of the 2,057 people polled. The planned tax hike is popular among working-class voters and so could appeal to Labour's core vote. It is less popular among the top AB social group most likely to be hit by it. It was named among their favourite three policies by 56 per cent of 2015 Labour voters but only 27 per cent of people who supported the Tories then.
Ms May's migration target was chosen by 48 per cent of people as one of their top three policies out of the nine they were offered. It enjoys its strongest backing among over 65s but much less support among 18 to 34 year olds. The target was named as one of the favourite policies by 68 per cent of Tory voters in 2015 and 77 per cent of Ukip supporters but only 29 per cent of Labour voters.
When ORB translated people's favourite three of the nine policies into a league table, the migration target came top, Labour's tax rise second and the Lib Dem proposal for a 1p income tax increase to raise £6bn for health and social care third.
Next, in order of popularity, came the Tory plan to allow the regulator Ofgem to cap energy prices, followed by Labour's pledge to build one million homes in five years and Labour's proposal to end hospital car parking charges by increasing private health insurance premiums.
The three least popular of the nine policies tested were the Lib Dem plan to end winter fuel allowances for pensioners paying the 40p tax rate; the party's promise of a second referendum on the Brexit deal and in last place the Tories' commitment to more grammar schools.
Only 15 per cent of those polled named grammar schools as one of their three favourite policies of the nine listed. Only 28 per cent of 2015 Tory voters listed them, suggesting that Ms May could face an uphill struggle to "sell" her main domestic policy.
UK news in pictures

Show all 50
Half of those polled were told which party is proposing the nine policies, while the other half were asked to rate them without being told which party backs them.
The Lib Dems were the only party whose three policies won less support when people were told which party proposes them. The public appear to prefer Lib Dem policies when they are not aware they are being put forward by the party – a worry for Mr Farron if his policies are damaged by association with the brand.
Two of the three Labour policies polled – the income tax rise and building a million homes – were more popular when people were told they were proposed by Labour.
ORB interviewed 2,057 adults across the UK on 10 and 11 May.
Register for free to continue reading
Registration is a free and easy way to support our truly independent journalism
By registering, you will also enjoy limited access to Premium articles, exclusive newsletters, commenting, and virtual events with our leading journalists
Already have an account? sign in
Register for free to continue reading
Registration is a free and easy way to support our truly independent journalism
By registering, you will also enjoy limited access to Premium articles, exclusive newsletters, commenting, and virtual events with our leading journalists
Already have an account? sign in
Join our new commenting forum
Join thought-provoking conversations, follow other Independent readers and see their replies