UK will attempt to agree post-Brexit trade deal with New Zealand, Theresa May says
Leaders of both countries highlight historic ties and shared values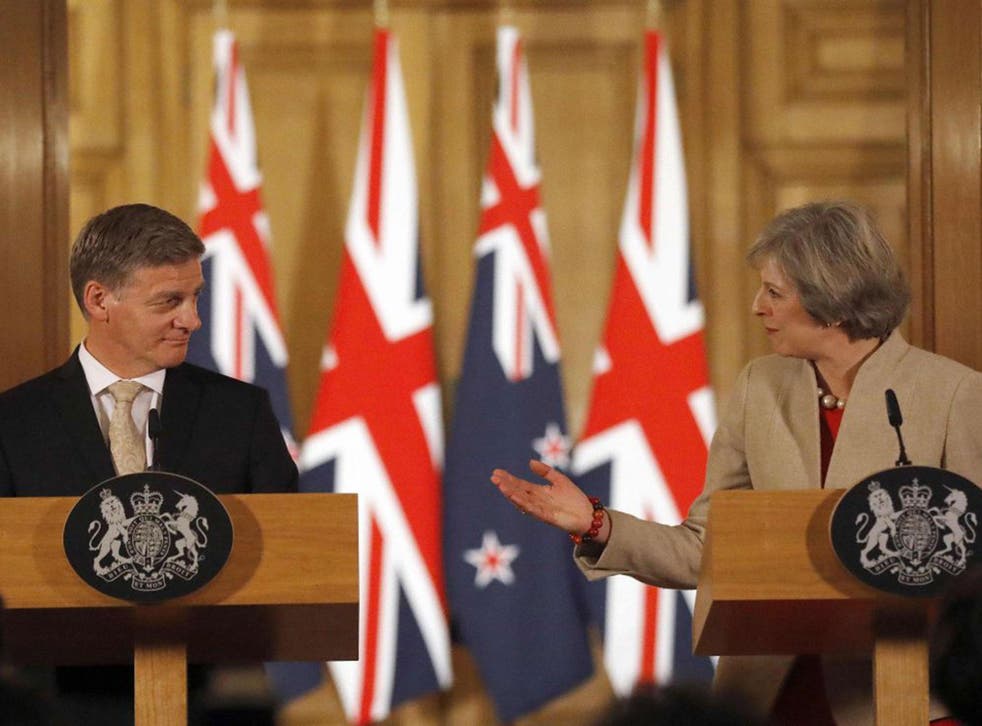 Britain will try to strike a free trade agreement with New Zealand when it leaves the European Union, Theresa May has said.
The Prime Minister said, after a working lunch with her New Zealand counterpart Bill English at Downing Street, that the two countries agree on the potential for a "bold" new trading relationship after Brexit.
International Trade Secretary Liam Fox will visit the Commonwealth nation in the coming months to begin a bilateral dialogue between the two nations with the ultimate aim of striking a trade deal.
The small Oceanic country of less than five million people is believed to be seen in Government circles as one of the best prospects for an early trade deal once Britain quits the EU.
It is also one of the global "five eyes" partners who share their security intelligence with the UK, along with the US, Canada and Australia.
Speaking at a press conference alongside Mr English, Mrs May said the two countries have a "strong and growing" trading relationship worth more than £3 billion a year.
Britain is also the second largest foreign investor in New Zealand and its fifth largest bilateral trading partner, she said.
Mrs May went on: "As two island nations we know that trade is essential to the prosperity of our countries and so it's natural that we share a firm, deep-rooted belief in the power of free trade and open markets to drive economic progress and the importance of ensuring the benefits of growth are shared widely and fairly.
"While the UK remains in the EU we will work together to support an EU-New Zealand trade deal and we will also look to the future and how we can expand our trade and investment partnership.
"Through our new bilateral trade dialogue, we will push for greater global trade liberalisation and reform, share expertise, and identify ways to strengthen our own trade relationship.
"And the International Trade Secretary Liam Fox will visit New Zealand in the coming months to launch these important talks.
"In the longer term we agree on the potential for a bold, new UK-New Zealand free trade agreement and I look forward to starting early discussions on this in due course."
Brexit Concerns

Show all 26
Mrs May said that she hoped it would be possible to conclude a trade deal with New Zealand "in a reasonable space of time".
She said: "You know the legal position that we can't formally sign up to free trade agreements while we remain a member of the European Union. But as I indicated earlier, a dialogue has started to see how we can scope out the work that needs to be done."
Mr English said he wanted to see a trade deal concluded "as soon as possible" after Brexit, and his country was the "ideal partner" for the UK to demonstrate its ability to secure a high-quality agreement.
Asked how soon a deal could be reached, the New Zealand premier said: "With respect to the trade agreement, we would hope that we could negotiate as soon as possible after the exit is completed.
"If the UK want to demonstrate that they can negotiate a high-quality trade agreement, then New Zealand is the ideal partner for that."
Mrs May added: "New Zealand is an important country for us precisely because of the historic ties that we share, the shared values that we have, the shared belief in free trade that we have.
"I think it's natural that we would look to a partner like New Zealand. Of course we will be negotiating a free trade agreement but we will be looking to get an agreement that is going to work for both sides."
Mrs May's comments appear to suggest that Britain will leave the EU customs union after Brexit so it can strike trade deals with other countries outside the tariff-free zone.
Mr English said New Zealand stands ready to strike a "comprehensive" free trade deal.
He said: "We are here to work with both the UK and the EU and we are ready to negotiate a high-quality free trade agreement with the UK when it is in a position to do so.
"We already have a strong and diversified trading relationship with the UK and a free trade agreement will build on that.
"We will seek a comprehensive and high-quality trade agreement because we know the benefits that free trade delivers - it helps create jobs, to raise incomes and delivers prosperity and opportunity at the level that New Zealanders and Britons deserve."
Mrs May was challenged by a reporter from New Zealand, who said her Government had "chipped away" the rights of Kiwis living in the UK.
Theresa May avoids directly answering four questions in a row on Brexit
The Prime Minister insisted that 97 per cent of visa requests from New Zealanders were granted and that Britain welcomed "the brightest and best".
But she added: "It's also important here in the UK that we do ensure that we have that control. We want to see net migration coming down because of the impact that we feel it has on people here in the UK."
Mr English was asked whether there was any prospect of a Commonwealth free trade area including freedom of movement, but said it was "a fairly adventurous idea".
"We would be focusing in the first place on an agreement with the UK," he said. "What we can bring to that is the commitment to the values and principles of open trade and a pretty wide range of experience ... for instance, in our close economic integration with Australia, which is not a customs union, and also a range of other agreements we've been part of, including a long negotiation on the TPP (Trans-Pacific Partnership).
"We come to the table as an experienced trader but also experienced in the understanding of what could work for the particular circumstances of the UK."
Press Association
Join our new commenting forum
Join thought-provoking conversations, follow other Independent readers and see their replies