Theresa May scrambles to avoid a defeat on abortion charges for Northern Irish women forced to travel to Britain
Several Conservative backbenchers have called for the charges to be axed – threatening the Government with its first defeat
Rob Merrick
Deputy Political Editor
Thursday 29 June 2017 12:33 Comments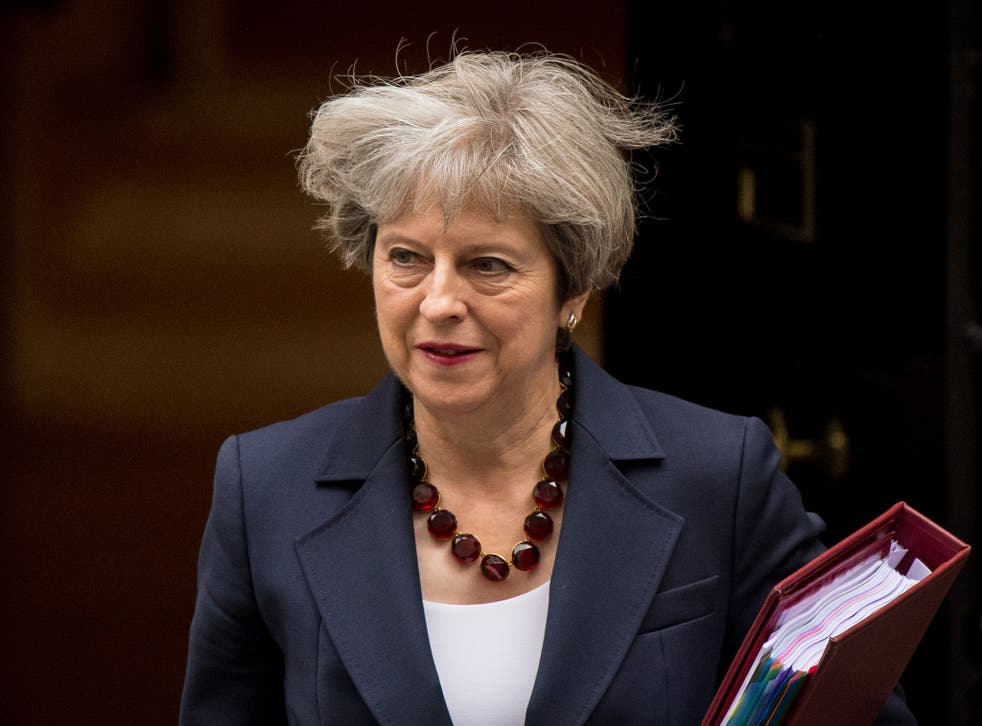 Theresa May is scrambling to avoid a damaging defeat on the controversy of charges for Northern Irish women forced to travel to Britain for an abortion.
An amendment to the Queen's Speech to secure free NHS terminations for the many hundreds of women who make the journey every year has been picked for a vote later today.
Several Conservative backbenchers have backed Labour MPs in calling for the charges to be axed – threatening the Government with its first defeat of the new Parliament.
Even with the support of the Democratic Unionist Party, the Tories have a Commons majority of just 13, making it vulnerable to revolt by just seven of its MPs.
Ms May herself is cutting short a visit to Berlin, which includes talks with German Chancellor Angela Merkel, in order to vote today – underlining her Government's fragile position.
More than 100 MPs have backed the amendment, tabled by Labour's Stella Creasy, demanding that Jeremy Hunt, the Health Secretary, acts.
"UK taxpayers are currently being denied access to abortion services in England and Wales, which is a matter for English and Welsh MPs to decide," Ms Creasy told The Independent.
Women from Northern Ireland – where abortion is illegal, except in very rare circumstances – typically pay £1,400 for a private termination in England, Scotland or Wales.
Official figures show 726 Northern Irish women paid for the operation last year, but the true figure is thought to be higher, because others gave a false address on this side of the Irish Sea.
There is confusion about the Government's position, after Mr Hunt said a "consultation" on scrapping charges is underway, but his own officials played down the suggestion.
One option might be for the Prime Minister to give Tory MPs a free vote, something Ms Creasy has called for on the grounds that abortion is always considered a "matter of conscience".
Ms May's official spokesman said only: "The Government will respond later today."
In the Commons, former Conservative Cabinet minister Maria Miller signalled her support for the amendment when she labelled the current access to abortion in Northern Ireland as "wrong".
"The High Court has ruled this law contravenes human rights law - which is a responsibility of the UK Government, not a devolved matter," Ms Miller said.
In reply, Commons Leader Andrea Leadsom said it was "an incredibly sensitive and important issue" which the Government was "discussing and looking very closely at".
Under the terms of confidence and supply agreement, the DUP must vote in favour of the Queen's Speech, even if abortion amendment is passed.
However, it does not appear to be a deal breaker for the Northern Ireland party. One of its MPs, Ian Paisley Jnr, agreed whether to provide free terminations was a matter for Westminster.
Last year, the Supreme Court ruled that Northern Irish women are not entitled to receive free abortions in England, Scotland, or Wales.
However, two of the justices said the current situation, nonetheless, breaches women's rights – piling pressure on the Government to act.
Register for free to continue reading
Registration is a free and easy way to support our truly independent journalism
By registering, you will also enjoy limited access to Premium articles, exclusive newsletters, commenting, and virtual events with our leading journalists
Already have an account? sign in
Join our new commenting forum
Join thought-provoking conversations, follow other Independent readers and see their replies