Tories are 'fanatics' for saying they would start a nuclear war, Green Party says
Green co-leader Jonathan Barley attacked the Tories and Labour's positions on Trident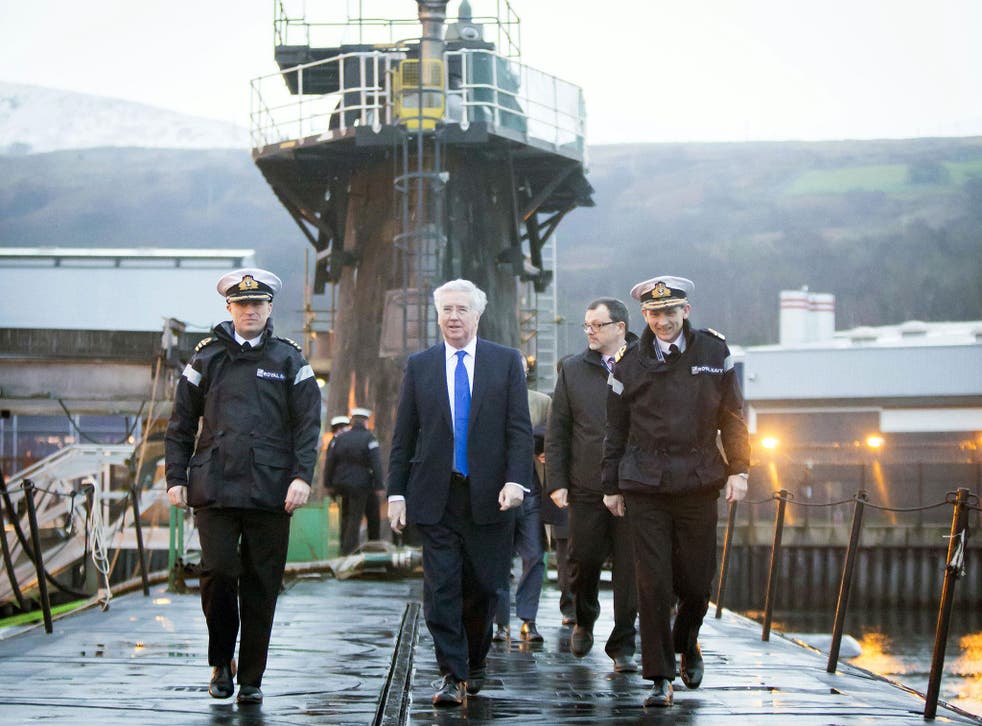 The Green Party has accused the Conservatives of "fanaticism" after the Defence Secretary admitted that Theresa May could start a nuclear war.
Michael Fallon had said the Prime Minister could launch a nuclear attack against another country, even if the UK was not under nuclear attack, in "the most extreme circumstances".
Jonathan Bartley, co-leader of the Green Party, branded the position "immoral" because it would lead to the deaths of countless civilians.
He also criticised Jeremy Corbyn, whose party says it will renew Trident despite its leader's clear statement that he would not use the weapon of mass destruction. Mr Bartley branded Labour's approach to the multi-billion pound missile system "HMS Pointless".
Speaking at St George's Hospital in Tooting on Monday the Green co-leader pledged spend the cost of the weapon on the NHS.
"Voters are being offered a choice between Tory first strike fanaticisms and Labour's HMS Pointless. What could be more immoral than considering a first use of nuclear weapons, knowing full well that it would lead to the death of countless civilians?" he said.
"And what could be more illogical that pledging to renew a multi-billion pound nuclear weapons system that will never be used? With people struggling to get by in Britain it's inexcusable to be ploughing people's money into this cold war relic.
"Instead of replacing this nuclear monstrosity the Green Party would give the NHS an emergency kiss of life. People are being treated in corridors while we flush money away on nuclear weapons. Cancelling Trident would give our NHS more than £3bn per year – which must be added to additional funding from raising taxes.
"Real security means having a world class health service, not locking ourselves into replacing these weapons we'll never use. Imagine the impact on our NHS of employing 85,000 more nurses, midwives and health professionals – that's what is at stake here."
Speaking on Sunday Labour leader Mr Corbyn said he would try to de-escalate a nuclear war and said that "any use of nuclear weapons is a disaster for the whole world". His party however says it is committed to maintaining a "nuclear deterrent" and would renew Trident.
Speaking on BBC Radio 4 this morning Mr Fallon, Ms May's defence secretary, said: "In the most extreme circumstances, we have made it very clear that you can't rule out the use of nuclear weapons as a first strike.
Asked in what circumstances, he replied: "They are better not specified or described, which would only give comfort to our enemies and make the deterrent less credible."
UK news in pictures

Show all 50
The highest estimate of the cost of replacing Trident is £205 billion over its lifetime, according to the Campaign for Nuclear Disarmament. One estimate collated from ministerial statement by Crispin Blunt, the Tory MP who chairs the Foreign Affairs Committee, pegged the cost at £167 billion.
The independent Trident Commission, which reported in 2014, pegged the cost at closer to £100 billion.
Join our new commenting forum
Join thought-provoking conversations, follow other Independent readers and see their replies