Theresa May's shift towards presumed-consent organ donation praised by charities and patients
Opt-out system for transplants welcomed as 'really positive step' in good news for PM struggling to recover from disastrous leader's speech at Conservative Party conference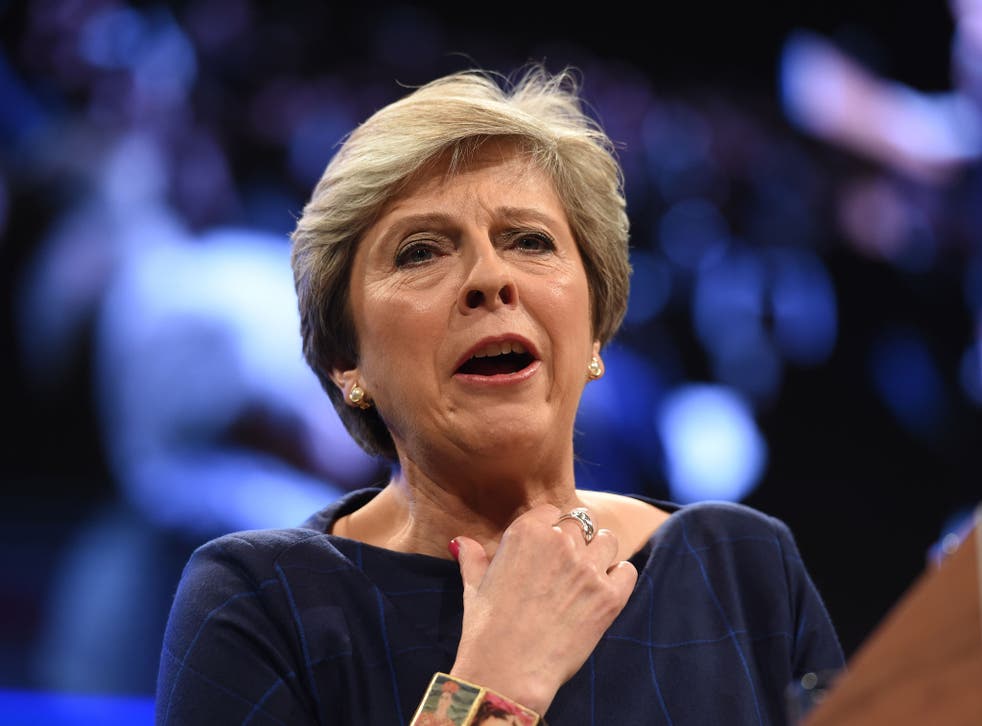 A kidney transplant patient has welcomed Theresa May announcement of "shifting the balance of presumption in favour of organ donations" in England, saying it will give more patients a realistic chance of receiving a transplant.
Sarah Harwood said the Prime Minster's move towards an opt-out system is a "really positive step".
"I had a transplant 10 years ago and I was lucky as I only waited eight months, but for me it felt endless because you just don't know when you will get that call," she said.
"So much has been done by patients, NHSBT (NHS Blood and Transplant) and charities to raise awareness about organ donation and the soft opt-out option is the right way to go. But we still need to raise awareness and remind people to talk to their families about their wishes."
Mrs May told the Tory Party conference that 500 people died last year because a suitable donor organ was not available.
"Our ability to help people who need transplants is limited by the number of organ donors that come forward," she said.
"That is why last year 500 people died because a suitable organ was not available. And there are 6,500 on the transplant list today.
"So to address this challenge that affects all communities in our country, we will change that system. Shifting the balance of presumption in favour of organ donation."
Nine-year-old Max Johnson, who has featured in a campaign by the Daily Mirror to get the law changed, received a heart transplant after seven months on a waiting list.
He told the paper: "I cannot believe it. I thought it would take so much longer... but yes. I know it will help other children like me.
"I hope they call it Max's Law, it would be fun if they did that."
The announcement at the Tory Party conference in Manchester has also been praised by health charities and doctors.
British Heart Foundation chief executive Simon Gillespie said: "The Government's commitment to a soft-opt out system is a commitment to ending the agonising pain felt by families who risk losing a loved one while they wait for a donor.
"This change can't come soon enough for patients."
Peter Storey, director of communications at Kidney Research UK, said: "The waiting list for people who need a kidney makes up more than 90% of the organ transplant waiting list yet only around 3,000 transplants are carried out each year. It means some five people die every week waiting for a kidney transplant they cannot get.
"We believe much more needs to be done to improve organ donation rates across the UK and a 'soft' system of presumed consent for organ donation would help combat the severe shortage of donors in this country."
The British Medical Association (BMA) said Mrs May's announcement had the potential to save many lives.
BMA council chairman Dr Chaand Nagpaul said: "The decision to introduce an opt-out system for organ donation in England is excellent news.
"The BMA has lobbied and campaigned tirelessly on this for many years and has the potential to save many lives.
Theresa May's 'disastrous' conference speech – in pictures

Show all 8
"It is important that the new process is well publicised to ensure the public are fully aware of and understand this important change."
The law has already been changed in Wales under Carwyn Jones's leadership.
Humanists UK director of public affairs and policy Richy Thompson added: "We are thrilled that the Government has committed to the introduction of an opt-out system, which has already been shown to be hugely successful in Wales. There is now broad cross-party support for legislation, which we are hopeful will now be implemented very soon."
PA
Register for free to continue reading
Registration is a free and easy way to support our truly independent journalism
By registering, you will also enjoy limited access to Premium articles, exclusive newsletters, commenting, and virtual events with our leading journalists
Already have an account? sign in
Register for free to continue reading
Registration is a free and easy way to support our truly independent journalism
By registering, you will also enjoy limited access to Premium articles, exclusive newsletters, commenting, and virtual events with our leading journalists
Already have an account? sign in
Join our new commenting forum
Join thought-provoking conversations, follow other Independent readers and see their replies