Theresa May's husband is a senior executive at a $1.4tn investment fund that profits from tax avoiding companies
Exclusive: May mentioned Amazon and Starbucks in speech about tax avoidance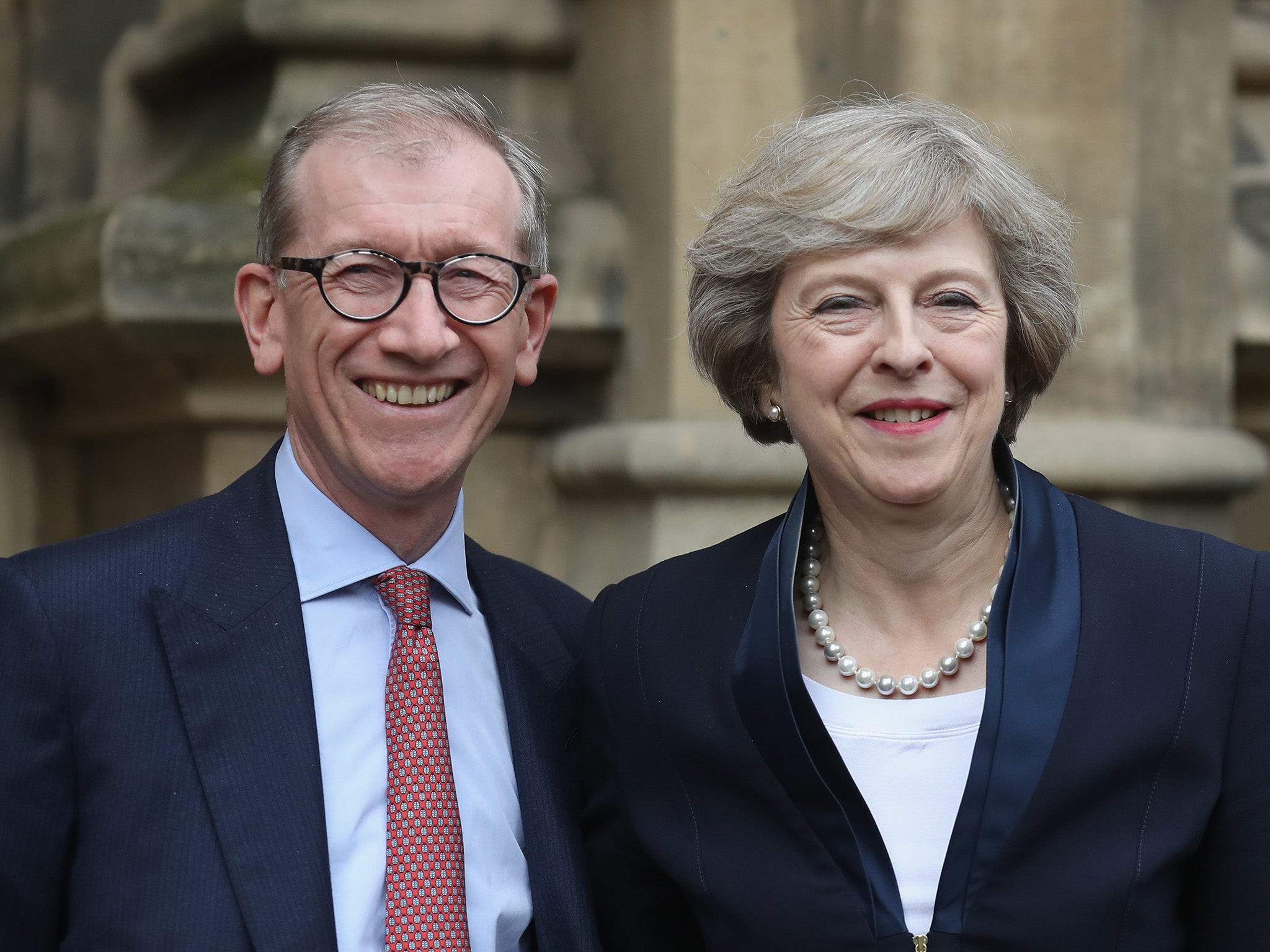 The relatively unknown investment fund where Theresa May's husband Philip works as a senior executive is one of the world's largest and most powerful financial institutions, controlling $1.4 trillion in assets.
Its portfolio also includes $20 billion of shares in Amazon and Starbucks, both of which were cited by the Prime Minister-designate in her pledge to crack down on tax avoidance yesterday.
Latest filings to US authorities show that Los Angeles based Capital Group owns huge stakes in a variety of companies, including investment bank JP Morgan Chase, defence giant Lockheed Martin, tobacco company Philip Morris International, the pharmaceutical sector's Merck & Co, and also Ryanair.
The company, which has a low profile outside the financial sector, has confirmed that Mr May, a pension fund expert, works out of its Mayfair office in London, with a spokeswoman telling The Independent: "Philip is a client relationship manager who stays in contact with organisations and institutions in the UK to ensure they are happy with the service being delivered by Capital Group and that we understand their goals. Philip is not involved with our investment research or portfolio management activities."
However, the company he works for has benefited from its investments in the likes of Amazon and Starbucks, both of which have been criticised for tax avoidance structures and which were mentioned by Ms May as she outlined her manifesto for Downing Street yesterday.
She said: "We need to talk about tax. It doesn't matter to me whether you're Amazon, Google or Starbucks: you have a duty to put something back, you have a debt to your fellow citizens, you have a responsibility to pay your taxes. So as Prime Minister, I will crack down on individual and corporate tax avoidance and evasion."
It is not clear whether she was aware that her husband's company was such a significant investor in the Amazon and Starbucks.
According to latest filings on 31 March this year, Capital Group, through its various divisions and funds, including Capital World Investors and Capital Research Global Investors, owned at least 32 million shares in Amazon, worth about $20bn.
5 tax avoiding companies in the UK
Show all 5
Its 6 per cent stake made it one of Amazon's biggest shareholders.
It also owned about $2bn of Starbuck shares at the end of March when the total assets under its management was $1.4 trillion.
Other shareholdings included at least $7bn in JP Morgan Chase, $9bn in Philip Morris International, $5bn in McDonald's, $6.6bn in Lockheed Martin, and $1.5bn in Ryanair.
A source close to Ms May said: 'She said in her speech that these companies have a duty to put something back. That is her strong view and it remains her strong view.'
It is not clear which clients Mr May deals with on behalf of Capital Group, but his name has been mentioned in the minutes for Norfolk County Council's pension committee reports, where he has appeared on behalf of his company as a pension manager.
A spokesman for Starbucks said: "We pay all our taxes in the UK and in 2014 we moved our European Headquarters to London. Last year we paid £18m in corporation tax."
Theresa May: How her leadership speech differed from her voting record
Amazon, which has been previously criticised for diverting profits out of the UK, last year began booking sales in Britain. It has previously denied deliberate tax avoidance.
Join our commenting forum
Join thought-provoking conversations, follow other Independent readers and see their replies