Theresa May retains lead in new poll taken after Manchester bombing
Exclusive: ComRes poll for The Independent puts the Conservatives 12 points ahead of Labour, despite growing support for Jeremy Corbyn over social care
John Rentoul Comments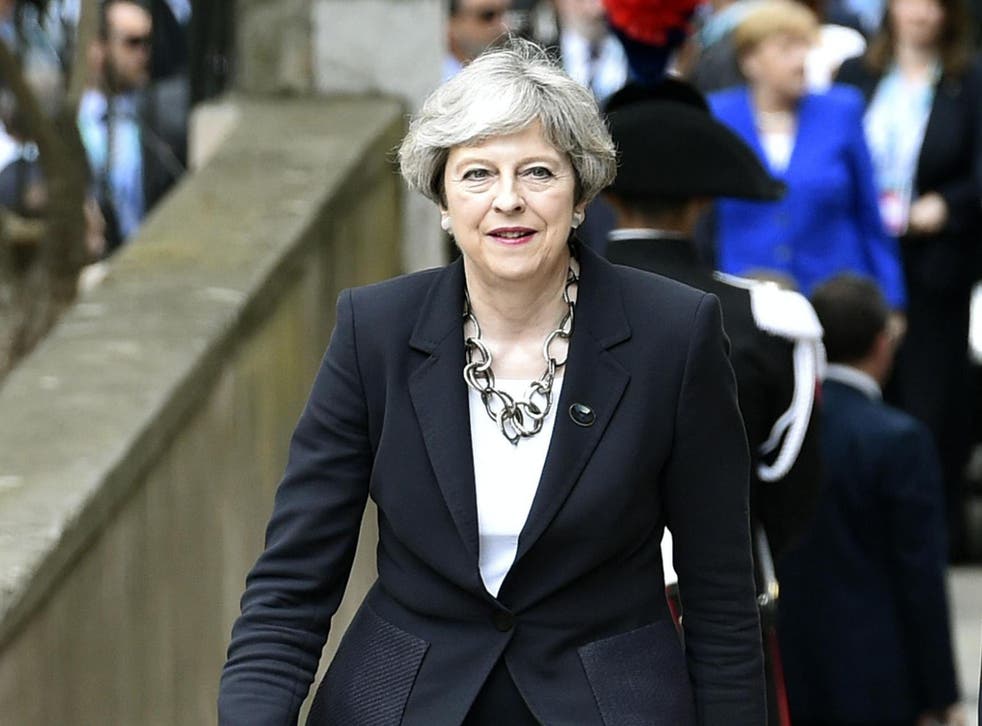 Theresa May retains a 12-point lead in a ComRes opinion poll for The Independent – a finding that will steady Conservative nerves after a YouGov poll on Friday showed the lead narrowing to just five points.
Despite growing support for Labour and Jeremy Corbyn, notably over social care, the Conservatives are on 46 per cent and Labour on 34 per cent. Labour is up four points from the last ComRes poll two weeks ago, and the Conservatives down two, but the figures suggest Ms May is still heading for a majority of about 110.
The poll was taken between Wednesday and Friday this week, a day later than the YouGov poll, but mostly before the resumption of election campaigning on Friday. The Liberal Democrats have been squeezed down two to 8 per cent – the same share of the vote as in the 2015 election – with only half of those who voted for them last time saying they will do so again. Ukip is unchanged on 5 per cent and the Greens down one to 2 per cent.
Labour leads the Tories by 17 points among voters younger than 45, but the Tories have a huge 27-point lead among older voters.
ComRes find that Ms May's rating on "keeping Britain safe from terrorism" has fallen by five points in the wake of the Manchester bombing on Monday, although more voters, 42 per cent, choose her rather than Mr Corbyn, 16 per cent (up two points). Voters are also more likely to agree "Amber Rudd would make a better Home Secretary than Diane Abbott" (43 per cent) than the opposite (12 per cent), although 45 per cent say they don't know.
The Prime Minister's ratings have fallen on everything except being "best to represent Britain on the world stage", unchanged on 49 per cent, while Mr Corbyn's ratings have risen since two weeks ago on all statements tested, including representing Britain, on 21 per cent, up four. Mr Corbyn now holds a 13-point lead, up 10 points, over Ms May on being "best to look after the interests of hard-working families", and has drawn level on "most likely to raise school standards".
In a straight choice (below) Mr Corbyn and Labour are seen by 42 per cent to have "the best policies for people like me and my family", just five points ahead of Ms May and the Conservatives on 37 per cent.
UK General Election 2017

Show all 47
Strikingly, Mr Corbyn holds the biggest lead on being "most likely to protect the interests of older people who are becoming more dependent on the social care system". This is a new question asked after the row over the Tory manifesto pledge to withdraw free care visits to pensioners who own their own homes. Mr Corbyn is seen as most likely to protect older people by 43 per cent, and Ms May by 20 per cent.
The other policy on which Mr Corbyn is favoured is that 41 per cent say he is "most likely to deliver improvements to the NHS", against 25 per cent for Ms May. Ms May is also considered best to lead Britain's negotiations over Brexit by 48 per cent to 18 per cent for Mr Corbyn, and "most likely to reduce net migration to the UK" by 33 per cent to 11 per cent for Mr Corbyn and 21 per cent for Paul Nuttall, leader of Ukip.
ComRes has changed its methods since the last election, when all the pollsters underestimated the Tory vote and overestimated Labour, to adjust turnout by age and social grade. Many analysts also thought that leader perceptions were not fully accounted for last time, and ComRes now finds a big gap on the question of who would be the better prime minister between Ms May (51 per cent) and Mr Corbyn (30 per cent).
So the company has run a second set of voting intention figures by reallocating undecideds who say they will vote, according to who they think would make the best prime minister. With this adjustment the Conservative vote share rises to 48 per cent and Labour falls to 33 per cent, a Conservative lead of 15 points.
That said, 65 per cent of voters tell ComRes, "I will decide my vote more on the basis of a political party's policies than its leadership", against 20 per cent who say leadership is more important.
ComRes interviewed 2,024 GB adults online 24-26 May 2017. Data were weighted to be demographically representative of all GB adults. Data were also weighted by past vote recall. Voting intention figures are calculated using the ComRes Voter Turnout Model. ComRes is a member of the British Polling Council and abides by its rules. Full tables on the ComRes website.
Register for free to continue reading
Registration is a free and easy way to support our truly independent journalism
By registering, you will also enjoy limited access to Premium articles, exclusive newsletters, commenting, and virtual events with our leading journalists
Already have an account? sign in
Join our new commenting forum
Join thought-provoking conversations, follow other Independent readers and see their replies