Theresa May refuses to rule out leading Brexit campaign in interview with Nick Clegg's wife Miriam González Durántez
Home Secretary insists she is focussing on David Cameron's renegotiation but did not reject prospect of leading the campaign for Brexit
Matt Dathan
Online political reporter
Wednesday 30 December 2015 12:48 Comments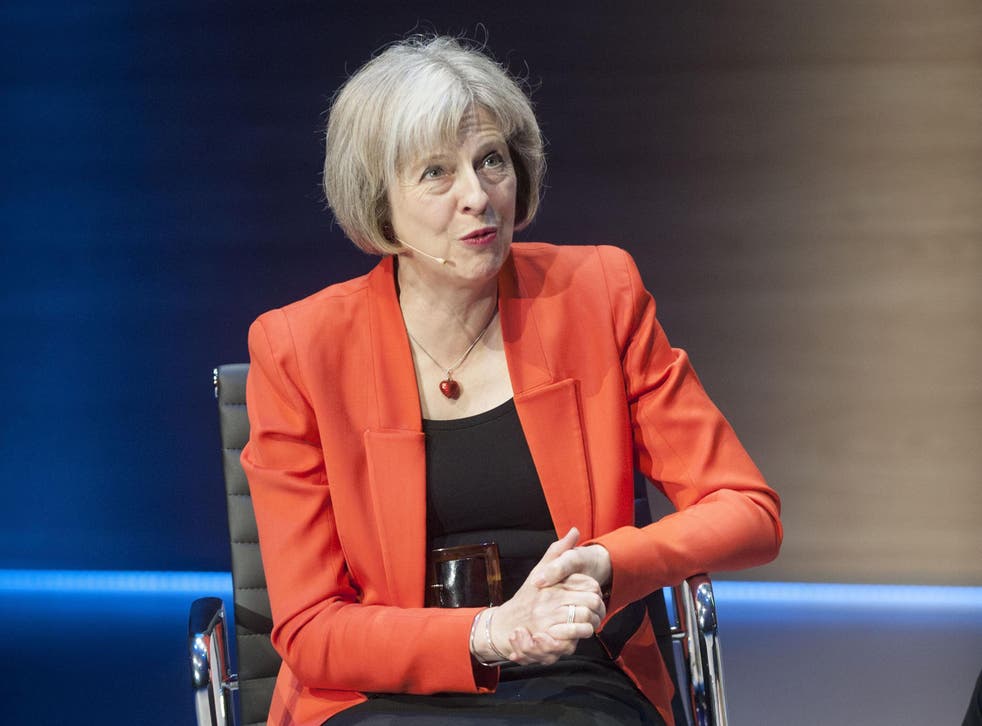 Theresa May has refused to rule out leading the Out campaign in the EU referendum campaign.
The Home Secretary is rumoured to be considering breaking ranks with David Cameron and agreeing to head-up the cross-party campaign for Britain to leave the EU when the Prime Minister calls the vote, expected to be in June 2016.
She insisted she was focussing on negotiations aimed at securing key reforms to the UK's membership of the EU but did not reject the prospect of leading the Out campaign if Mr Cameron's renegotiation efforts failed to achieve significant changes.
In an interview with Nick Clegg's wife and Spanish lawyer Miriam González Durántez, who was guest editing the Today programme, Mrs May also defended her controversial hardcore speech on immigration at the Conservative party conference and rejected the suggestion she was under pressure as a woman to come across as "tough".
"I don't feel that there is a pressure on to come across as tough and I didn't look at that party conference speech as in that context at all," she said.
"What I said was what I thought was important to say."
Mrs González Durántez, a partner of international legal practice at Dechert and leader of Inspiring Women, an organisation that encourages girls to aim higher in their career, asked Mrs May: "Are we going to see for the very first time a woman leading the 'No' campaign in a Brexit referendum in this country?"
The Home Secretary replied: "My focus is on actually the negotiations that are taking place at the moment."
A laughing Mrs González Durántez then told the Home Secretary that she had not answered the question.
"I'm a politician, Miriam," Mrs May said.
Mrs May was also asked if the "little girl" inside her is dreaming about becoming the next Prime Minister.
"She is dreaming of carrying on doing a good job in the Home Office in the role that I am at the moment," she said.
"There is still a lot to do."
Mrs May's ministerial colleague Anna Soubry took to Twitter to criticise Mrs González Durántez's style of questioning:
But others were quick to defend her interviewing style, including BBC presenter Clare Balding:
Mrs May, known for her love of shoes, was also asked how she felt about the possibility of women being put off pursuing a career in politics because of scrutiny over what they wear.
"I think often what puts some women off is the intrusion into the private life that can come with being in politics but I think there is a wider issue which is about young girls today," she said.
"All too often the sort of images that they are given are images that are about looks rather than about what people have achieved and what people are doing."
Register for free to continue reading
Registration is a free and easy way to support our truly independent journalism
By registering, you will also enjoy limited access to Premium articles, exclusive newsletters, commenting, and virtual events with our leading journalists
Already have an account? sign in
Join our new commenting forum
Join thought-provoking conversations, follow other Independent readers and see their replies