Theresa May rejects Russian claim MI6 was behind 'dirty dossier' about President elect Donald Trump
'It is absolutely clear that the individual who produced this dossier has not worked for the UK Government for years,' the Prime Minister told a No.10 press conference
Rob Merrick
Deputy Political Editor
Friday 13 January 2017 16:57 Comments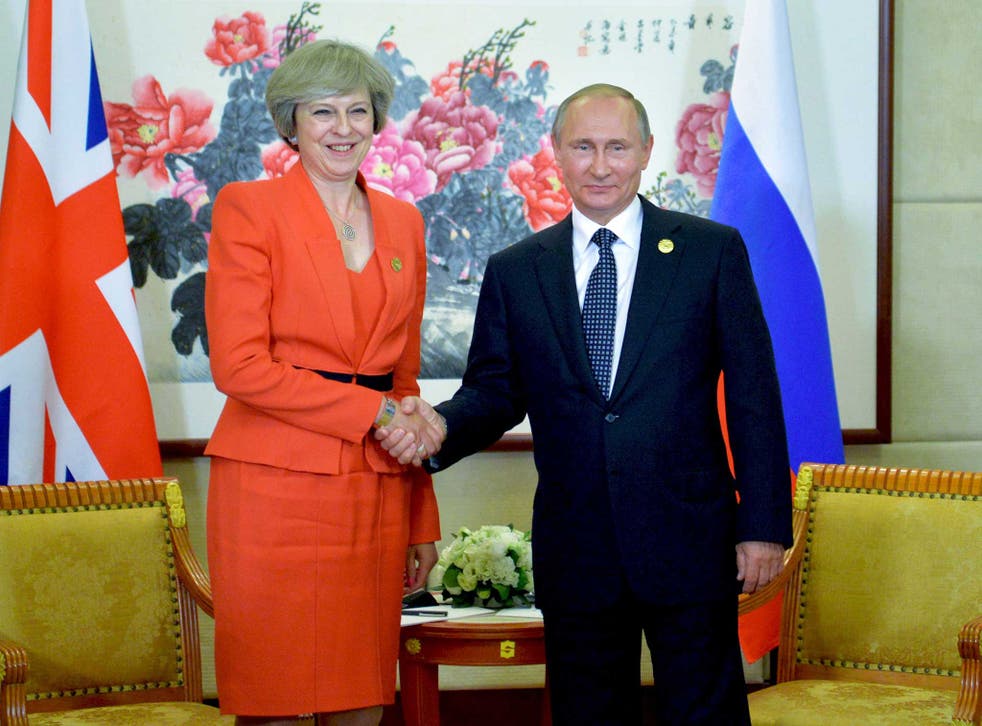 Theresa May has rejected Russian allegations that MI6 was to blame for the 'dirty dossier' of explosive claims about Donald Trump.
Former British spy Christopher Steele – the dossier's alleged author – has not worked for British intelligence "for years", the Prime Minister said.
The Russian embassy in London had alleged that Mr Steele was still working for MI6 and "briefing both ways" against Mr Trump and Moscow, in a Twitter post.
It came after Mr Steele, who spied in Moscow in the 1990s, vanished in hiding shortly before the extraordinary dossier made headlines around the world.
Ms May spoke for the first time about the controversy at a press conference following talks with her New Zealand counterpart in Downing Street.
She was asked whether the UK Government had any involvement in the creation of the dossier, a summary of which was handed to the FBI and to President Obama.
"It's a long-standing position that we don't comment on such matters, but I think from everything that you will have seen it is absolutely clear that the individual who produced this dossier has not worked for the UK Government for years," the Prime Minister replied.
The late-night allegation by the Russian embassy appeared to signal another worsening of Anglo-Russian relations, after many frosty years.
An embassy spokesman said the tweet – which said "MI6 officers are never ex" – "reflected the mood in Russia", prompting talk of a fresh Cold War.
American newspapers named Mr Steele as the author of the 35-page dossier, thought to have been commissioned by a wealthy Republican donor who opposed Mr Trump's bid for the White House.
It alleged Mr Trump had been cosying up to Vladimir Putin and cavorting with Russian prostitutes. The President-elect has dismissed it as "fake news", "phoney stuff" and "crap".
The controversy overshadowed the main topics of the talks with Bill English, the New Zealand prime minister, which were trade and security.
International Trade Secretary Liam Fox will visit the Commonwealth nation in the coming months to begin a dialogue between the two nations with the ultimate aim of striking a post-Brexit trade deal.
However, both leaders declined to put a timescale on when such a "bold" agreement would be reached – Ms May hoping it would be "in a reasonable space of time".
She said: "You know the legal position that we can't formally sign up to free trade agreements while we remain a member of the European Union.
"But as I indicated earlier, a dialogue has started to see how we can scope out the work that needs to be done."
Mr English said he wanted to see a trade deal concluded "as soon as possible" after Brexit, and his country was the "ideal partner" for the UK to demonstrate its ability to secure a high-quality agreement.
Britain is the second largest foreign investor in New Zealand and its fifth largest bilateral trading partner, Ms May added.
Register for free to continue reading
Registration is a free and easy way to support our truly independent journalism
By registering, you will also enjoy limited access to Premium articles, exclusive newsletters, commenting, and virtual events with our leading journalists
Already have an account? sign in
Join our new commenting forum
Join thought-provoking conversations, follow other Independent readers and see their replies