Theresa May's Conservatives are 21 points ahead of Labour in new poll
Exclusive: Jeremy Corbyn tells The Independent: 'The people of Britain have been held back too long but we have the ideas and the will to change the country for the better. There's so much more to come and as the party comes together to campaign for these popular polices, we are convinced our support in the polls will increase'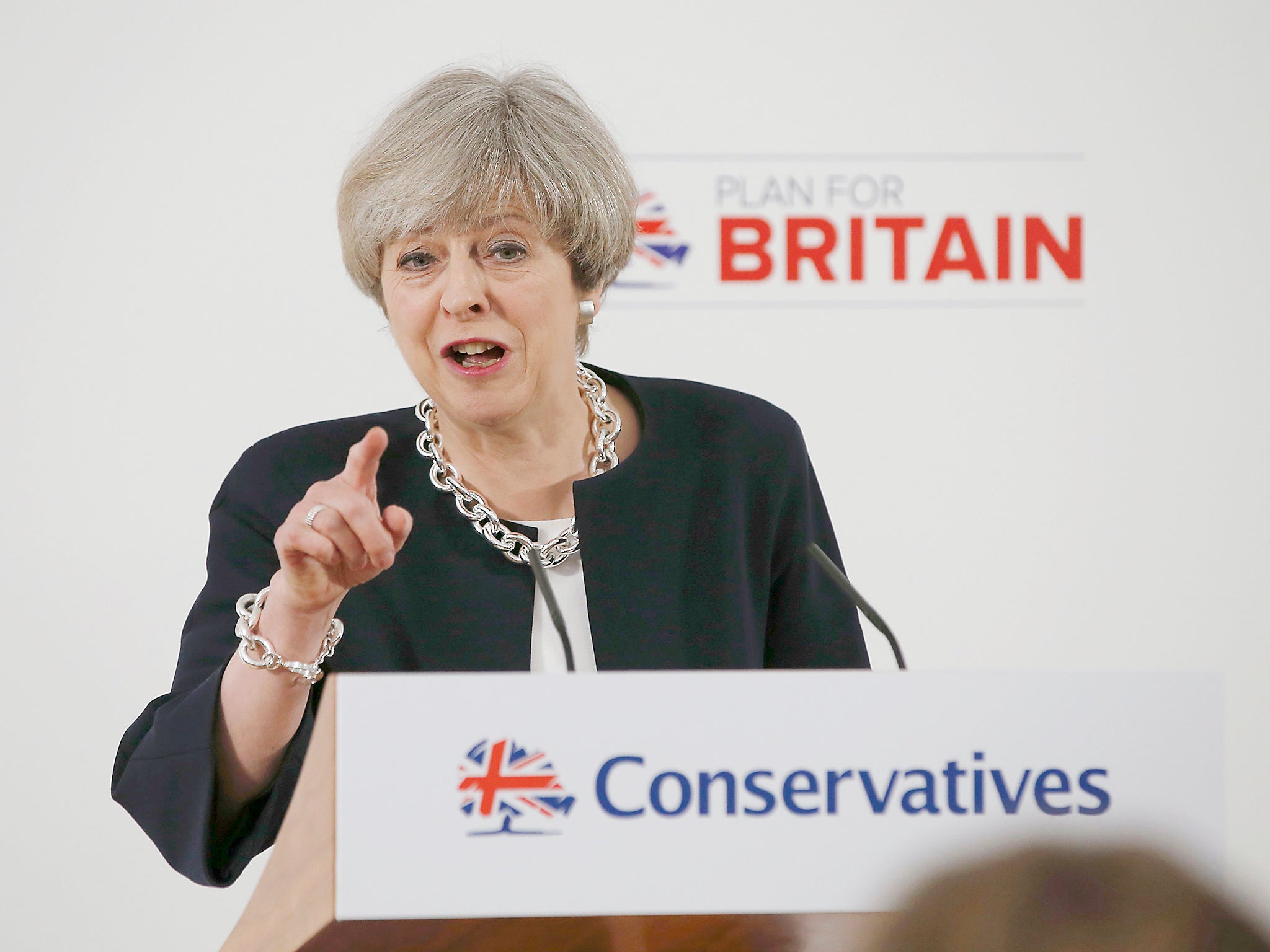 Theresa May's Conservatives are 21 points ahead of Labour in a new poll, giving the party their greatest lead while in government since 1983, shortly before Margaret Thatcher's second victory at the ballot box.
The poll, conducted by ComRes for The Independent, gives the Tories 46 per cent of the vote share, 25 per cent for Labour, 11 per cent for Tim Farron's pro-EU Liberal Democrats and 9 per cent for the embattled Ukip under Paul Nuttall's leadership.
According to historic data on the UK Polling Report, it is the highest lead for any party since May 2009, when three polls gave David Cameron a 22-point lead. That was the greatest lead for a party in government since July 2001, when Labour had a 21-point lead under Tony Blair, who enjoyed three consecutive victories at the ballot box. It is the biggest lead for a Conservative party in government since 1983.
The historic lead will undoubtedly come as a fresh blow to Jeremy Corbyn's party, which has been languishing in the polls since Ms May entered Downing Street last summer and the overwhelming vote of no confidence in his leadership by his own parliamentary colleagues. Rarely has the party been fewer than 10 points behind their Conservative rivals in this period.
But it also comes as further polling showed Mr Corbyn's policy blitz during the parliamentary recess – including free school meals for all children by forcing private schools to pay VAT – is supported by the majority of the British public. The poll also suggests that association with the leader has little, if any, impact on the public's perceptions of the Labour party's current policy agenda.
Responding to the polls, the Labour leader told The Independent: "Our policies are popular because to most people it's common sense that our Government should act in the interests of the overwhelming majority and that will mean taking on the powerful.
"The people of Britain have been held back too long, but we have the ideas and the will to change the country for the better. There's so much more to come and as the party comes together to campaign for these popular polices, we are convinced out support in the polls will increase."
It also comes after Diane Abbott, the shadow Home Secretary, suggested most of the party's support is down to Mr Corbyn, her long-time ally in Westminster, and that if his critics attempted to replace him, Labour could fall below 10 per cent in the national polls.
"One of their [Mr Corbyn's critics] current arguments is that Labour's difficulties in the polls are all attributable to him and that if only we had a new leader, almost any leader, then this would resolve our problems," she wrote in article for the blog Labour List. "This is completely untrue."
While Labour's support in the latest poll has not changed since ComRes last asked respondents for their voting intention, it is clear the Conservatives are gaining traction from the smaller parties in Westminster. The poll suggests three in 10 of those who voted for Ukip at the 2015 general election would now vote for the Tories – a likely reflection of the Prime Minister's hard Brexit rhetoric.
A crucial test for Mr Corbyn's party will also come on 4 May, when voters will head to the polls in a series of local elections in England, Wales and Scotland. A party hoping to win power at Westminster should aim to gain significant ground in these contests.
But in an article for The Independent, John Curtice, a professor of politics at Strathclyde University who is considered one of Britain's top polling experts, said Labour and Ukip, not the Conservatives, appear most at risk of losing ground.
Mr Curtice wrote: "If next month the Liberal Democrats succeed in repeating some of their more spectacular by-election advances, that might enable the party to begin to rebuild the local government base that five years of coalition managed to destroy. And any sign that its potential competitor on the centre-left of British politics is finally enjoying something of a revival could be the worst news of all for Jeremy Corbyn."
The ComRes poll also discovered significant support for a new political party in Britain. Two in five of British adults, or 41 per cent, agree that there is space for a centre-ground party. The majority of Liberal Democrat voters (58 per cent) agree as do more than two in five Labour voters (43 per cent), half of Ukip voters (47 per cent) and more than one-third of Conservatives (35 per cent).
ComRes interviewed 2,029 GB adults online between 11 and 13 April 2017. Data were weighted to be demographically representative of all GB adults. Data were also weighted by past vote recall. Voting intention figures are calculated using the ComRes Voter Turnout Model. ComRes is a member of the British Polling Council and abides by its rules
Join our commenting forum
Join thought-provoking conversations, follow other Independent readers and see their replies