Brexit: Theresa May's 'reckless' plans threaten millions in EU investments, says Vince Cable
'May is recklessly gambling with future investment in our schools and hospitals through her extreme Brexit plans,' the Liberal Democrat leader tells The Independent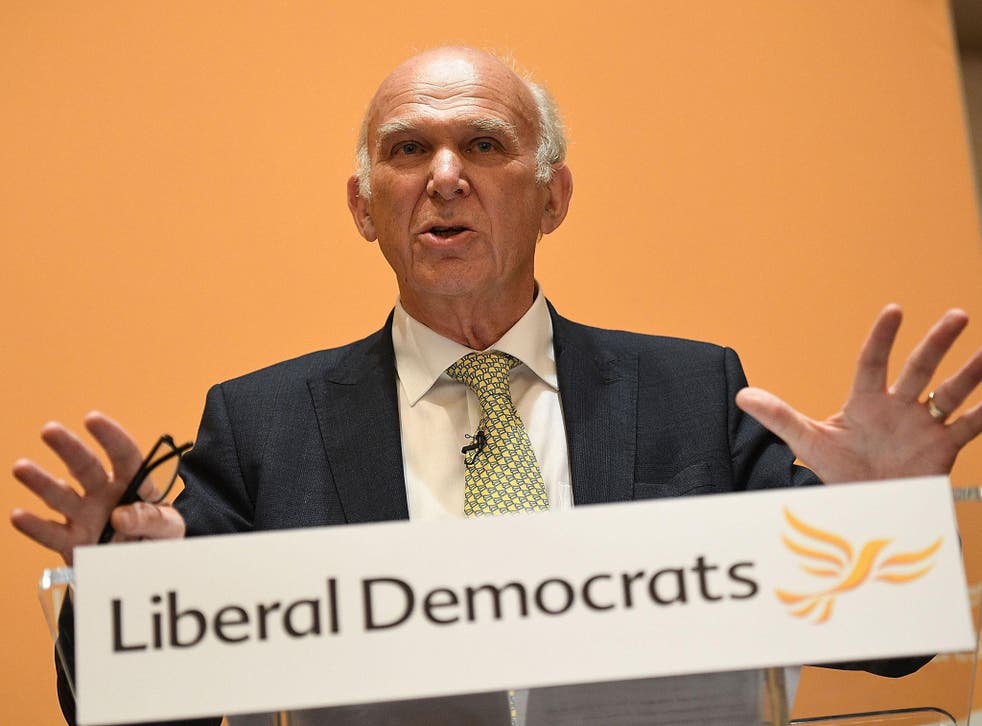 Theresa May's "reckless" Brexit plans pose a threat to millions of pounds worth of investment in schools and hospitals across the UK, Sir Vince Cable has claimed ahead of opening the Liberal Democrat party conference.
An analysis by the party claims the European Investment Bank (EIB) has provided £380m in investment to schools and £345m in hospitals since 2015 – a vital source of cheap loans for "cash-strapped" local authorities.
The Bank, which is the biggest multilateral borrower and lender in the world, has in total funded £31.3bn of infrastructure spending, entrepreneurship and development in Britain over the past five years.
Loans are also provided at very low interest rates as the Bank makes no profit on activities and aims to enact EU policies, integration and cohesion within the bloc.
Speaking ahead of the Liberal Democrat conference in Bournemouth this weekend, Sir Vince, the newly elected leader of the party, said the PM was "recklessly gambling with investment" in vital public services. The party claims the Prime Minister's hard Brexit approach risks pulling Britain out of the Bank.
In 2015 around a 25-year loan of £120m was agreed to improve schools across Croydon and in 2016 the Bank agreed to provide £56m to build seven new secondary schools in Bradford, Harrogate, Keighley and Huddersfield.
Just this week the construction of the new Dumfries and Galloway Royal Infirmary was also completed after the EIB provided £109m in early 2015.
Sir Vince told The Independent that the European Investment Bank has been a "significant source" of infrastructure lending in the UK in recent years. "Millions of pounds has been provided for new schools and hospitals across the country, transforming the lives of thousands of schoolchildren and patients," he said.
Brexit: the deciders

Show all 8
"This is especially important at a time when local authorities are short of money and our public services are struggling to cope with increasing demand.
"Theresa May is recklessly gambling with future investment in our schools and hospitals through her extreme Brexit plans.
"The Government must think again and negotiate to remain part of the European Investment Bank so the country can continue to benefit from this crucial source of funding."
But just last week David Davis, the Brexit Secretary, told the Commons that the Government intended to retain access to the EIB through an "ongoing relationship" after leaving the EU in March 2019 – the deadline for the Brexit negotiations.
He also told MPs that the British economy had been more successful than others in obtaining investment from the EIB.
"So far the discussions have only talked about departure arrangements," he added. "When we get to the point of talking about the ongoing relationship I think that we will be looking to maintain that ongoing relationship."
Register for free to continue reading
Registration is a free and easy way to support our truly independent journalism
By registering, you will also enjoy limited access to Premium articles, exclusive newsletters, commenting, and virtual events with our leading journalists
Already have an account? sign in
Register for free to continue reading
Registration is a free and easy way to support our truly independent journalism
By registering, you will also enjoy limited access to Premium articles, exclusive newsletters, commenting, and virtual events with our leading journalists
Already have an account? sign in
Join our new commenting forum
Join thought-provoking conversations, follow other Independent readers and see their replies