Theresa May says she will be role model for oppressed women in Saudi Arabia
PM says visit will show people 'what women can achieve and how women can be in significant positions'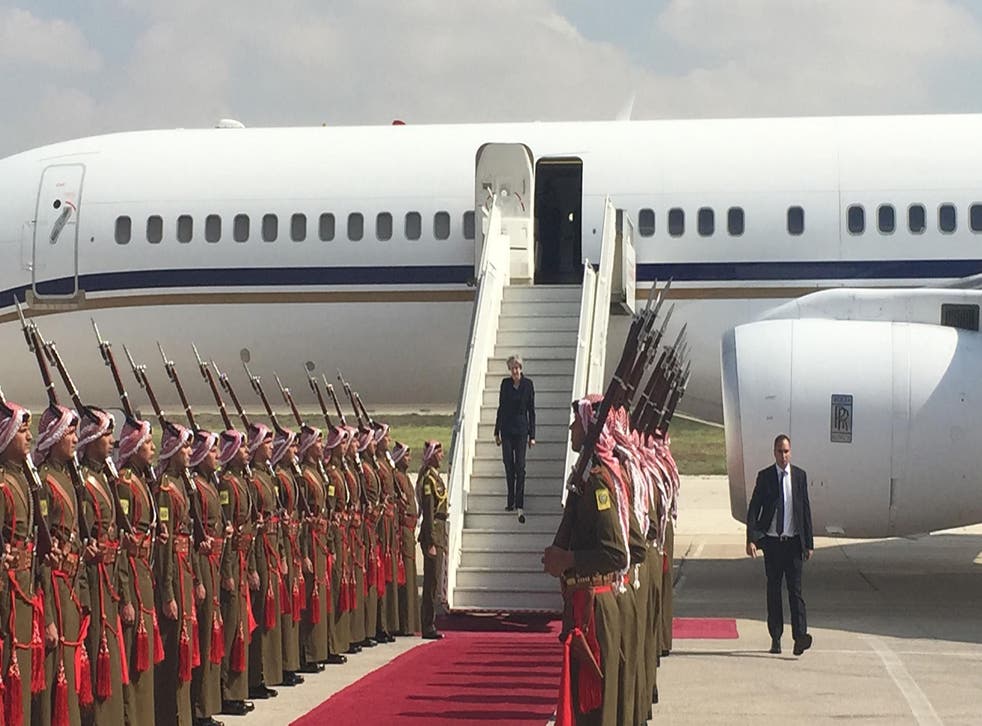 Theresa May has said she hopes to be an inspiration to oppressed women in Saudi Arabia by showing people there "what women can achieve".
Defending a visit to the kingdom on Tuesday, the Prime Minister said she hoped to embody the fact that women can hold "significant positions".
The country has faced international criticism over its system of male guardianship, which prevents women from carrying out some activities their counterparts in the West would take for granted.
Speaking in Jordan, Ms May said: "It's important for me as a woman leader and as leader of the government of the United Kingdom to maintain the relationships that are important to us as a country, for our security, and our trade for the future.
"But I hope also that people see me as a woman leader, will see what women can achieve and how women can be in significant positions."
The Prime Minister added that there had "already been some changes" as a result of her raising such issues, and highlighted that during her trip she would be meeting a female minister who she would talk to about the role she and other Saudi women play in society.
"I've talked to the Saudis on a number of occasions now and I raise issues of this sort. I think we have already seen some changes," Ms May said.
"One of the meetings I'm going to be having when I'm in Saudi will be with a female, they have a minister who is a female minister. I'll be meeting with her and talking to her about the role that she plays, and generally we do encourage people to look at a woman's role in society."
10 examples of Saudi Arabia's human rights abuses

Show all 10
The Prime Minister, whose trips to Jordan and then Saudi Arabia this week mark her first international visits since triggering Article 50, said she hoped to "herald a further intensification" in relations between the UK and those two countries.
But the visit has been deemed controversial as it falls on the second anniversary of the Saudi-led bombardment campaign in Yemen. The UK remains a key player in the conflict, with over £3 billion worth of military equipment having been licensed to the Saudi regime since the bombing began.
More than 10,000 people have been killed and 17 million left food-insecure and in urgent need of humanitarian assistance in Yemen since the current period of fighting began in 22 March 2015. Research by Unicef shows that the conflict has created a situation in which a child is dying of preventable causes every 10 minutes.
Register for free to continue reading
Registration is a free and easy way to support our truly independent journalism
By registering, you will also enjoy limited access to Premium articles, exclusive newsletters, commenting, and virtual events with our leading journalists
Already have an account? sign in
Register for free to continue reading
Registration is a free and easy way to support our truly independent journalism
By registering, you will also enjoy limited access to Premium articles, exclusive newsletters, commenting, and virtual events with our leading journalists
Already have an account? sign in
Join our new commenting forum
Join thought-provoking conversations, follow other Independent readers and see their replies