Theresa May makes bid for centre ground with shift away from QE – as critics accuse Tories of veering to right
The Prime Minister said George Osborne's policy of printing money had hit working-class people
Joe Watts
,
Rob Merrick
,
Jon Stone
Thursday 06 October 2016 08:35 Comments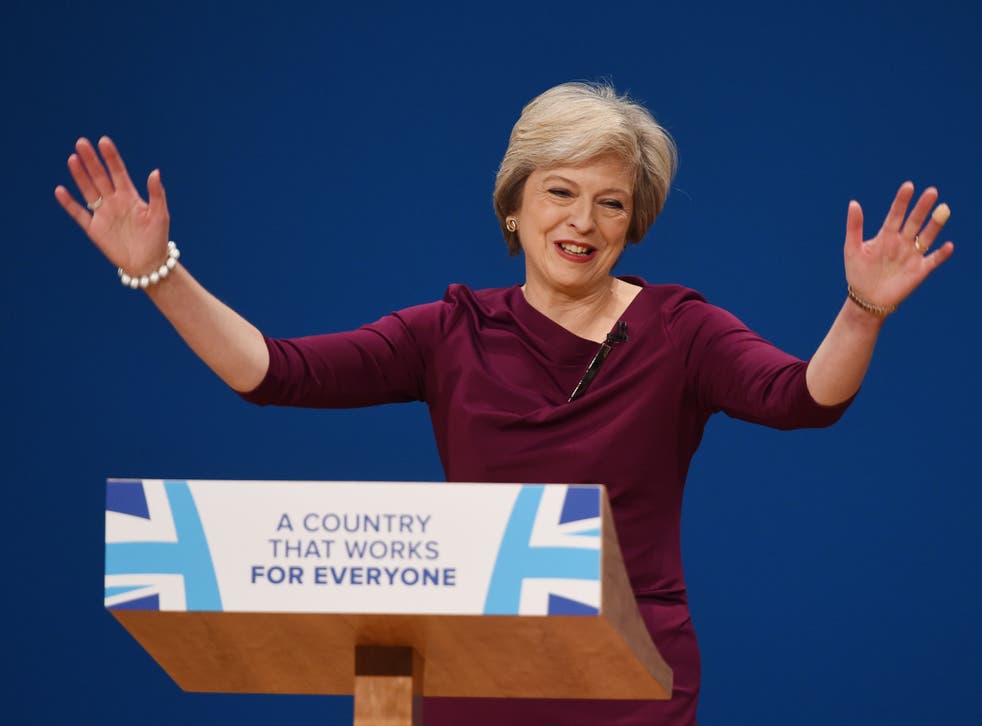 Theresa May has used her conference speech to make a land-grab for the centre ground of British politics by declaring that she will govern for "ordinary working-class people", but she was immediately accused by critics of shifting her party to the right.
The Prime Minister sought to sympathise with hard-pressed workers and clamp down on unethical employers and tax avoiders and, critically, signalled a major shift in economic policy by admitting George Osborne's era of quantitative easing has made the rich richer, while hitting ordinary people with "bad side effects".
Ms May claimed the QE policy, which flooded the economy with printed money in the wake of the 2008 crash, has benefited those lucky enough to own assets while leaving the rest behind.
But Labour accused Ms May of fanning the "flames of xenophobia and hatred" with her immigration crackdown, while the Liberal Democrats said she is stealing rhetoric from Ukip. Business groups also lashed out at what one organisation called a "populist" agenda on foreign workers.
Addressing the conference hall, the Prime Minister said: "Time for a new approach that says while government does not have all the answers, government can and should be a force for good.
"That the state exists to provide what individual people, communities and markets cannot and that we should employ the power of government for the good of the people.
"Time to reject the ideological templates provided by the socialist left and the libertarian right and to embrace a new centre ground in which government steps up – and not back – to act on behalf of us all."
In a key passage of her speech to conference she said QE, which to date has seen the Bank of England buy up to £375bn of bank assets, had been necessary to tackle the aftershock of the 2008 crash.
QE and low interest rates were the two pillars of Mr Osborne's monetary policy agenda that led him to claim credit for the recovering economy.
But in her speech, Ms May said: "While monetary policy – with super-low interest rates and quantitative easing – provided the necessary emergency medicine after the financial crash, we have to acknowledge there have been some bad side effects.
"People with assets have got richer. People without them have suffered. People with mortgages have found their debts cheaper. People with savings have found themselves poorer.
"A change has got to come. And we are going to deliver it."
Earlier in the week Chancellor Philip Hammond confirmed the Government would also ditch Mr Osborne's target of balancing the budget by 2020 – a symbol of the austerity era – adding that he was instead willing to borrow more to invest in infrastructure.
The shift in economic policy dovetailed with the broader message of her speech, in which she pledged a more interventionist Government and put big business and the rich "on warning" that she would chase them if they broke rules.
The Prime Minister's tough rhetoric on business mirrored that of Home Secretary Amber Rudd, who on Tuesday announced plans to make firms publish the proportion of their workforce that is foreign in a bid to push them to employ UK citizens.
Ms May told the conference hall: "If you're a boss who earns a fortune but doesn't look after your staff, an international company that treats tax laws as an optional extra, a household name that refuses to work with the authorities even to fight terrorism.
"A director who takes out massive dividends while knowing that the company pension is about to go bust – I'm putting you on warning. This can't go on anymore.
"A change has got to come."
Her spokespeople would not spell out which companies she had in mind. However, Sir Philip Green has been involved in a row over the BHS pension fund. He sold the company for £1 before it went into administration.
She also flagged up several areas in which aides said she planned to bring in policy in the coming weeks.
She said: "Where companies are exploiting the failures of the market in which they operate, where consumer choice is inhibited by deliberately complex pricing structures, we must set the market right.
"It's just not right, for example, that half of people living in rural areas, and so many small businesses, can't get a decent broadband connection.
"It's just not right that two-thirds of energy customers are stuck on the most expensive tariffs. And it's just not right that the housing market continues to fail working people either."
UK: Theresa May lays out post-Brexit plan at party conference
Labour leader Jeremy Corbyn said the Conservatives had begun to "fan the flames of xenophobia and hatred" and "blame foreigners for their own failures".
Shadow minister Jon Ashworth added: "This week was about Theresa May finally outlining her vision. It's now clear what that vision is, not optimistic about the future, but small, mean and nasty. This is not a shift to the centre ground, but a shift to the right."
Liberal Democrat leader Tim Farron said: "Regardless of the rhetoric, the Conservatives have moved to the right.
"The Prime Minister's words about a pitch to the centre ground are utterly divorced from her party's actions over the past few days."
He added: "I was surprised though that the Prime Minister did not take the time to thank the one person who helped create her agenda – not David Cameron, but Nigel Farage."
After climate change was mentioned only in passing, co-leader of the Green Party Caroline Lucas said: "Theresa May seems to have abandoned all pretence of caring for the environment."
Adam Marshall, acting director-general of the BCC, responded to the speech, saying UK firms recognise government can "play a strong and positive role".
But he added: "We need government to act in partnership with business communities, not dictate to them."
He said: "The task ahead is to make the big decisions that matter to our future, whilst avoiding populist measures that may have adverse consequences for business investment or job creation."
UK news in pictures

Show all 50
James Sproule, director of policy at the Institute of Directors, said Ms May should listen to "her own advice" when she said that it should not matter where you are born.
Referring to the tough immigration measures already set out, he said: "Plans to 'name and shame' companies who employ foreign workers, aside from adding to bureaucracy, send precisely the wrong message."
There was a more positive response from Gillian Guy, chief executive of Citizens Advice, who said Ms May had been right to focus government attention on struggling workers and failing markets.
She said: "The tough talking needs to translate into firm action. We help thousands of people every day whose jobs are insecure, meaning they don't know how much they will earn from one month to the next, or who are battling with big businesses that are providing poor services for high prices."
Register for free to continue reading
Registration is a free and easy way to support our truly independent journalism
By registering, you will also enjoy limited access to Premium articles, exclusive newsletters, commenting, and virtual events with our leading journalists
Already have an account? sign in
Join our new commenting forum
Join thought-provoking conversations, follow other Independent readers and see their replies