Theresa May softens stance towards keeping students in net migration data
The Prime Minister indicated foreign students may not need to be recorded in the same way anymore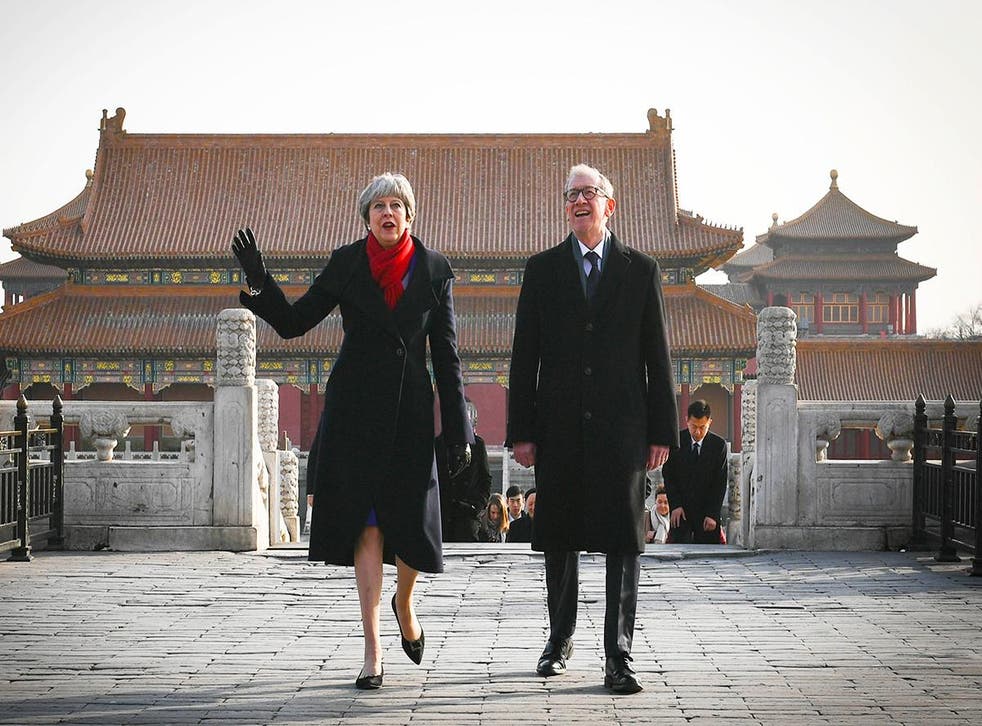 Theresa May has begun to soften her stance on keeping student numbers within net migration data, in a sign that she is bowing to pressure from MPs and her own Cabinet on the issue.
The Prime Minister said she is not ready to announce a change yet, but went on to explain that once abuse in the visa system is rooted out, student numbers will have little impact on immigration data anyway.
Her comments – indicating students may not need to be in the data anymore – are a shift from the rigid refusal she has maintained since her days at the Home Office.
It follows pressure from key cabinet figures, including current Home Secretary Amber Rudd, Chancellor Philip Hammond and Foreign Secretary Boris Johnson, but also as she faces a Commons revolt on the issue that threatens a key piece of Brexit legislation.
Speaking in China, where she has pushed to promote British universities to an enormous potential student market, she said she would not yet give a "different answer from what I've said over the years".
But she then went on: "It was important to look at what was happening with students in the UK when I was Home Secretary.
"There was a lot of abuse taking place in colleges – something like 900 colleges can no longer bring in overseas students, because all too often they were being brought in to work, rather than for education.
Theresa May seeks to strengthen UK-China relations
"Once you see that abuse out of the system, students coming in for the period of their education and then leaving actually wash through the numbers. They don't have a long term impact on the numbers."
The Independent and Open Britain, which campaigns for a soft Brexit, are running the Drop the Target campaign against the Conservative policy of reducing net migration to the tens of thousands, which includes calling for overseas students to be omitted from the statistics.
As well as Ms Rudd, Mr Hammond and Mr Johnson, International Trade Secretary Liam Fox and minister Jo Johnson are among those pushing Ms May to rethink her opposition to reforming how students are recorded.
Critics say removing students from net migration data, would not only help the Government meet its tens of thousands target, but also encourage more students to come after Brexit to help boost the economy.
Peers backed a change to exclude foreign students from net migration numbers in a Lords amendment to the Higher Education Bill last year, but the move's significance was swept away by the snap election.
But with the loss of her Commons majority, the Prime Minister is now vulnerable to a defeat on the issue, if an MP tables an amendment to her new immigration bill – a critical piece of Brexit legislation Ms May needs to pass.
UK news in pictures

Show all 50
Scottish Conservative leader Ruth Davidson, who has become an influential figure after reviving the party's fortunes north of the border, described the current system as "distortive, counterproductive and send[ing] out entirely the wrong signals", adding, "I hope this change happens soon."
The group of newly elected Scottish Tory MPs are also said to be pushing for change and may lead efforts to push the issue to a Commons vote.
Ms May chose to start her three-day tour of China by announcing deals for the education sector worth some £550m from the city of Wuhan, which has the largest student population of any city in the world.
Chinese people already constitute the largest single source of overseas students in the UK, with 155,000 currently in the country and worth an estimated £5bn annually to the economy.
Research jointly published by the Higher Education Policy Institute and Kaplan International Pathways, recently concluded that "almost every part" of the British economy benefits from the business brought in by overseas students.
It explained that after taking out the "cost", including those related to health and social security, amounting to £2.3bn, the net impact of hosting foreign students in the UK is "ten times greater", reaching about £20.3bn annually.
Register for free to continue reading
Registration is a free and easy way to support our truly independent journalism
By registering, you will also enjoy limited access to Premium articles, exclusive newsletters, commenting, and virtual events with our leading journalists
Already have an account? sign in
Register for free to continue reading
Registration is a free and easy way to support our truly independent journalism
By registering, you will also enjoy limited access to Premium articles, exclusive newsletters, commenting, and virtual events with our leading journalists
Already have an account? sign in
Join our new commenting forum
Join thought-provoking conversations, follow other Independent readers and see their replies