Theresa May: Sweeping powers for spooks to make internet no-go area for terrorists and paedophiles
Home Secretary sets out the new draft Investigatory Powers Bill, which has been described by the Prime Minister as one of the most important pieces of legislation of the next five years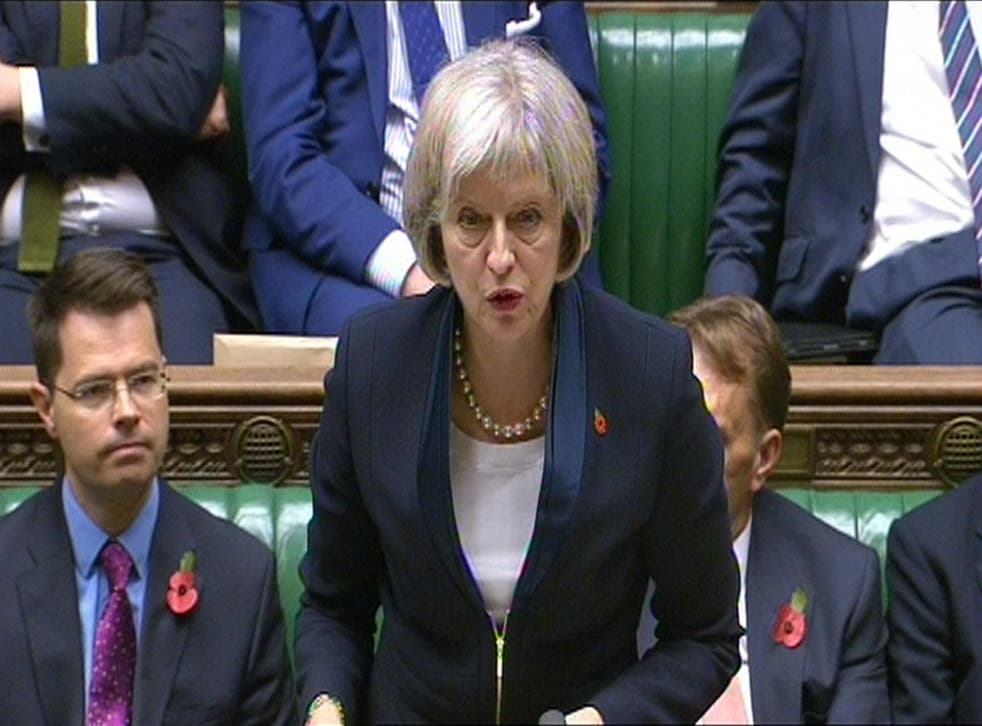 Theresa May today promised there would be nowhere for terrorists and paedophiles to hide in cyberspace as she detailed sweeping powers for security services and police to fight crime in the digital age.
But she insisted new legislation governing surveillance of mobile phones, emails and internet use did not amount to a revival of her "snooper's charter" plans which were blocked in the last government. She reassured MPs: "This is not surveillance."
The new draft Investigatory Powers Bill has been described by the Prime Minister as one of the most important pieces of legislation of the next five years.
It follows widespread acknowledgement that current legislation has failed to keep pace with rapid changes in technology.
Internet companies will be required to store records of web and social media use for up to 12 months, but not their full browsing history. For instance police would be able to see they have visited Google, but not see what searches they have made.
Firms will be legally required to help the security services to hack into suspects' smartphones and computers. Powers enshrined in the legislation will enable the agencies to gain access to computers to covertly download the contents of a mobile phone during a search.
Ms May announced a new "double lock" approval system under which agencies can see the content of communications or hack into computers and phones. Initial approval for operations would be initially given by a Cabinet minister – usually the Home Secretary – but have to be approved by a "judicial commissioner", security-cleared senior judge. The only exception would be in operations deemed urgent because lives could be put at risk without rapid action.
The Home Secretary told MPs that while the "digital society" had presented all with benefits but had also been "exploited by serious and organised criminals, online fraudsters and terrorists" that posed serious challenges for the security agencies.
She said: "The threat is clear. In the past 12 months alone six significant terrorist plots have been disrupted here in the UK, as well as a number of further plots overseas."
She said of the Bill "It will not include powers to force UK companies to capture and retain third party internet traffic from companies based overseas. It will not compel overseas communications service providers to meet our domestic retention obligations for communications data.
And it will not ban encryption or do anything to undermine the security of people's data. And the substance of all of the recommendations by the Joint Scrutiny Committee which examined that draft Bill have been accepted.
"So today's Bill represents a significant departure from the proposals of the past."
Whistleblowing controversies of the last decade

Show all 12
She said the bill provide some of the "strongest protections and safeguards anywhere in the democratic world".
Andy Burnham, the shadow home secretary, welcomed the proposals laid out in the draft bill, praising Ms May for reconsidering plans set out in the 'snooper's charter' and the two-stage accountability process. "We are pleased to see that the Home Secretary has listened," Mr Burnham said. "This is neither a snooper's charter, nor a plan for mass surveillance."
However he received an immediate backlash on Twitter for being so quick to back the plans before fully scrutinising the bill and is likely to come under fire from some of the party's more libertarian voices.
Join our new commenting forum
Join thought-provoking conversations, follow other Independent readers and see their replies