Theresa May to attempt to calm Tory Party civil war at Brexit 'war cabinet' meeting
Energy minister Claire Perry said hard Brexit supporters were 'swivel-eyed' and hell-bent on 'wrecking the economy'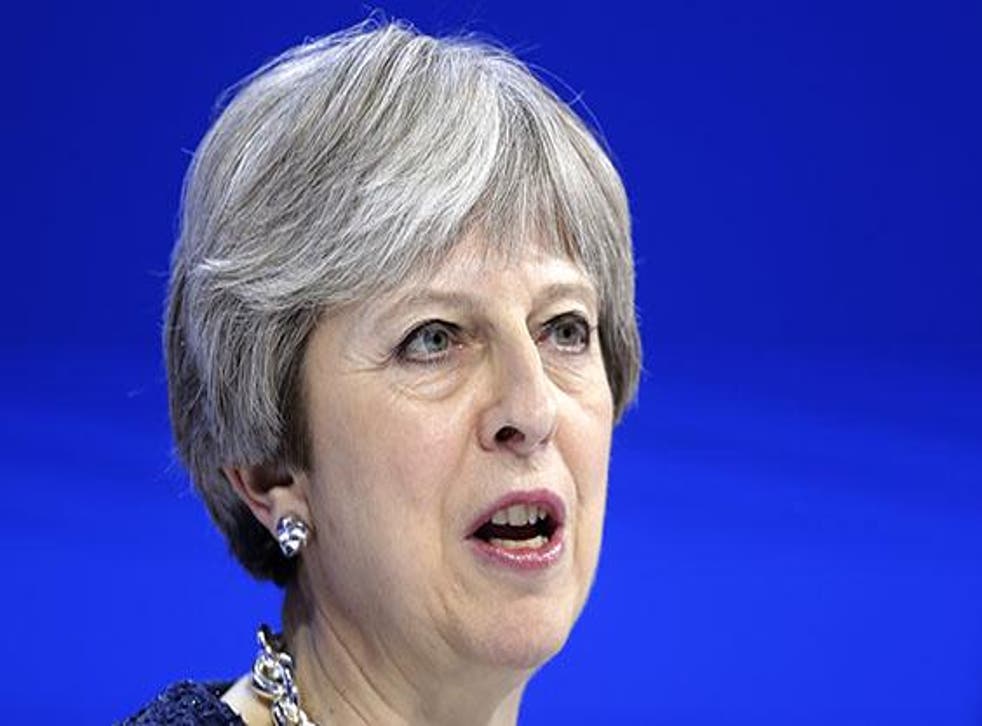 A besieged Theresa May will try to calm her party's civil war at a meeting of her Brexit "war cabinet" today, amid anger over a minister's attack on "swivel-eyed" fellow Tory MPs.
Claire Perry exposed the true scale of bitter infighting when she also warned hard Brexit supporters were hell-bent on "wrecking the economy", in a leaked WhatsApp message.
The energy minister was responding to a colleague who said he was "getting some shit from the usual subjects about sell-outs and traitors" over the £39bn "divorce bill", telling him: "The "sell out traitor mob" should be ignored.
"Listening to them means wrecking the economy in the short term and via a Corbyn government delivering a long steady slow decline for the country we love.
"I would hypothesise that they are mostly elderly retired men who do not have mortgages, school-aged children or caring responsibilities so they represent the swivel-eyed few not the many we represent."
The attack was revealed as more Brexiteer Tories demanded the sacking of Chancellor Philip Hammond over his call for an ultra-soft Brexit – laying bare a Conservative party at war with itself.
Meanwhile, more Tory MPs are preparing to sign letters demanding a vote of no confidence in Mrs May's leadership, taking the total closer to the 48 required to trigger the ballot.
The Prime Minister will attempt to impose order at the meeting of the Brexit sub-committee charged with mapping a route through the negotiations – but it is not expected to achieve a breakthrough.
Instead, her planned major speech next month – to set out what long-term trading arrangement Britain wants with the EU – is believed to have been downgraded, because the Cabinet cannot agree on its aims.
Brexit: the deciders

Show all 8
The Prime Minister is under growing pressure to end the drift and confusion, but her dilemma is that doing so would increase the risk that one wing of her party would then topple her.
The latest headache for Mrs May came when Ms Perry's remarks, to a private group of Conservative MPs on the encrypted instant messaging site, were obtained by The Daily Telegraph.
The minister later told the newspaper: "Passions were running high as we all worked to get the Brexit bill through and mine regrettably spilled over.
"No excuses but my comments were aimed squarely and exclusively at those calling my hard-working colleagues "traitors" - a shocking term to describe some of the best parliamentarians I know.
"Whether you voted Remain or Leave shouldn't really matter now: there is now a unity of purpose in the country to support the smooth and orderly Brexit that our Prime Minister is working to deliver."
Justine Greening, the sacked former Education Secretary, also appealed for calm, urging fellow Tories to "get behind" Mrs May, saying: "The soundings off need to stop."
However, in her first interview since leaving the Cabinet, Ms Greening – who backed Remain – warned that negotiating Brexit was an "impossible, almost" task for the Prime Minister.
A fragile truce was shattered when Mr Hammond called, last week, for Brexit to deliver only "very modest" changes. Brexiteers said that would leave Britain as a "vassal state", accepting EU rules with no voting rights.
Register for free to continue reading
Registration is a free and easy way to support our truly independent journalism
By registering, you will also enjoy limited access to Premium articles, exclusive newsletters, commenting, and virtual events with our leading journalists
Already have an account? sign in
Register for free to continue reading
Registration is a free and easy way to support our truly independent journalism
By registering, you will also enjoy limited access to Premium articles, exclusive newsletters, commenting, and virtual events with our leading journalists
Already have an account? sign in
Join our new commenting forum
Join thought-provoking conversations, follow other Independent readers and see their replies