Theresa May flies to China in major bid to secure post-Brexit trade
British exports are up 60 per cent since 2010 and China is expected to be one of the UK's biggest foreign investors by 2020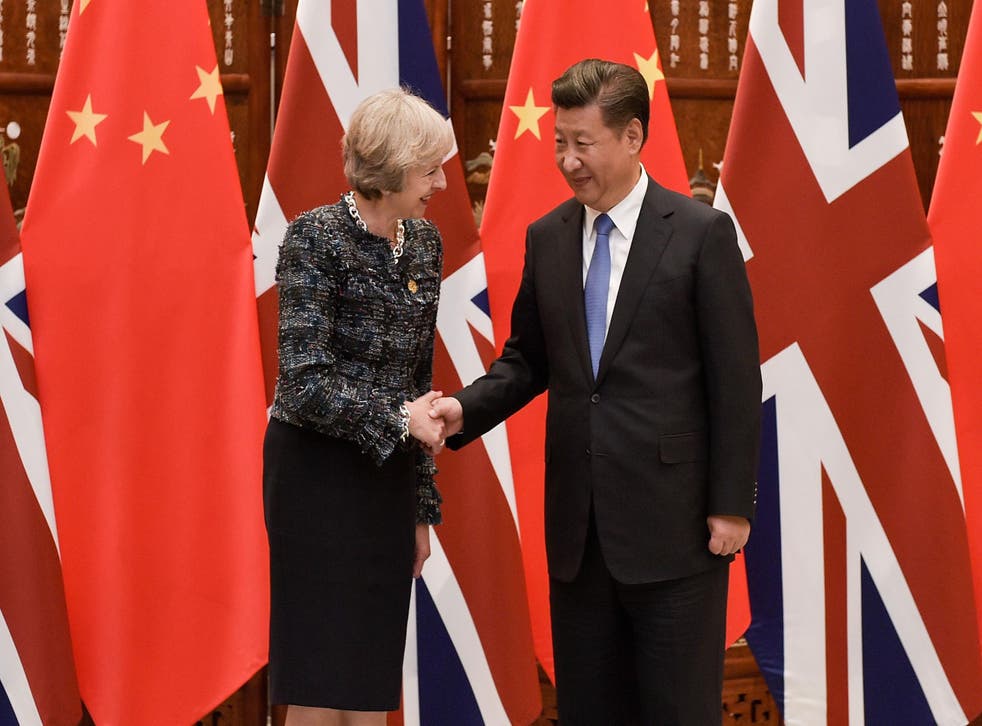 Theresa May will intensify the UK's push to secure a lucrative post-Brexit trade deal with China as she heads there with the largest business delegation she has ever taken on an official trip.
Executives from 50 firms and university representatives will fly with the Prime Minister on the three-day tour of Wuhan, Beijing and Shanghai.
Ms May will also be joined by her husband Philip for the first time on a bilateral overseas visit, in a step marking how critical Downing Street sees the trip.
But difficulties with Brexit negotiations and renewed speculation over her leadership threatened to overshadow the trip, which Ms May wants to use to bang the drum for investment in the UK.
Speaking ahead of her departure on Tuesday, Ms May said the trip would further boost China-UK relations following President Xi Jinping's state visit to Britain in 2015.
She said: "There are huge trade opportunities in China that we want to help British businesses take advantage of.
"That is why I'm taking a large multi-sector business delegation with me, representing all corners of the UK and sectors in which the UK excels.
UK news in pictures

Show all 50
"My visit will intensify the 'Golden Era' in UK-China relations. The depth of our relationship means we can have frank discussions on all issues."
British exports are up 60 per cent since 2010 and China is expected to be one of the UK's biggest foreign investors by 2020.
International Trade Secretary Liam Fox, who will travel with the PM, said trade between the two countries is already worth more than £59bn and UK exports to China had increased by over 25 per cent last year alone.
He went on: "Our relationship is now more important than ever, as we look to form new trading bonds with the biggest-growing markets around the world.
"Indeed, China's middle class is expected to number 600 million by 2020 - greater than the current entire population of the EU - presenting unrivalled opportunities for UK business.
"Together we are showcasing the best of British and promoting the UK as a great place to invest, creating further jobs and prosperity across the UK."
Mr May has only ever accompanied his wife to a summit of the G20 in Germany, but Downing Street confirmed he had accepted an invitation to travel to China and have his own schedule there.
Cultural events will see the Prime Minister and her husband see Chinese opera and take part in a traditional tea ceremony.
The trip will also see Ms May undertake face-to-face talks with President Xi and Premier Li Keqiang, though not all discussions will be easy.
The stand-off over China's nuclear-armed neighbour North Korea is set to feature, while the Prime Minister's official spokesman indicated Ms May would not back China's flagship Belt and Road initiative.
UN security council unanimously agrees new sanctions for North Korea
Downing Street said that the scheme which is seeing China invest billions of pounds in infrastructure in Asia and Europe, could contribute to global growth if it was "well implemented", but said that it had to meet "international standards".
Asked if that was not the case, the spokesman said: "That is one of the things the Prime Minister will be talking about when she's there."
The trip also comes as the last governor of Hong Kong, Lord Patten, and former Liberal Democrat leader Lord Ashdown, urged Ms May to raise the plight of democracy activists in the former colony with China's Communist party leaders.
"In the past five years, Hong Kong has seen increasing threats to the basic freedoms, human rights and autonomy which the people were promised at the handover just over 20 years ago," they wrote.
"These developments have been rightly criticised within Hong Kong and outside."
They said they hoped the PM would "be able to provide the people of Hong Kong with some assurance that our developing relationship with China, vital though it is, will not come at the cost of our obligations to them".
Register for free to continue reading
Registration is a free and easy way to support our truly independent journalism
By registering, you will also enjoy limited access to Premium articles, exclusive newsletters, commenting, and virtual events with our leading journalists
Already have an account? sign in
Join our new commenting forum
Join thought-provoking conversations, follow other Independent readers and see their replies