Theresa May set to cut 0.7% foreign aid spending commitment, Downing Street signals
The law requiring 0.7 per cent of gross national income to be spent on aid will be reviewed - as ministers hunt for badly-needed savings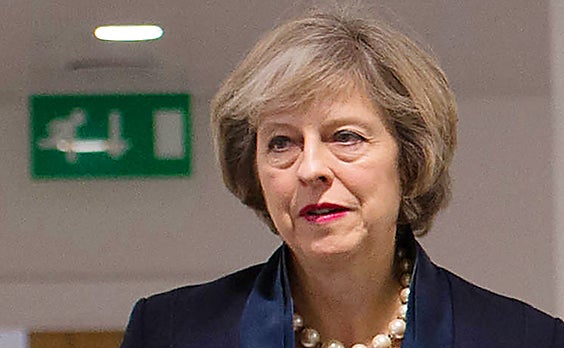 Britain's foreign aid budget is likely to be cut in the next parliament, Theresa May signalled today.
The law requiring 0.7 per cent of gross national income to be spent on aid will be reviewed before 2020, the Prime Minister's spokeswoman said
The move follows fierce attacks by Conservative MPs and newspapers of the legal commitment, while domestic spending continues to be cut.
There has also been growing criticism of the way some of the £12bn budget is spent, particularly the cash directed through the Government's private equity arm.
Nevertheless, any move to change the law will be the clearest breach yet with David Cameron's legacy – and will be condemned by aid agencies.
The possibility of a review first emerged when Chancellor Philip Hammond said that all areas of spending would be re-examined, probably in 2019, before the next Conservative manifesto is produced
However, foreign aid is more difficult to cut – because the 0.7 per cent figure is legally protected.
Today, Ms May's spokeswoman made clear that overseas aid would be part of the review, saying there were no commitments "beyond" the current Parliament.
She said: "That will be the point when we set out our commitments moving forward - and commitments that will rightly be left for the manifesto."
Ministers have already hinted the review could see the scrapping of the so-called 'triple lock' protecting pensioner incomes.
Save the Children urged Ms May not to scrap the legal commitment, pointing out that it was an "internationally agreed target, set by the UN".
A spokeswoman said: "Over the last 15 years, British aid has bought the mosquito nets that helped stop six million people dying from malaria, provided the equipment and training that ensured five million childbirths happened safely, and given 11 million children a chance in life by supporting them through education.
"There is cross-party support for 0.7 per cent precisely because it is important to have a standard measurement across countries, and across time, for the commitment we're willing to make to the world's poorest people."
Priti Patel, the International Development Secretary, has been accused of planning to privatise much of the aid budget, by funnelling the money through the private equity arm.
CDC Group – formerly the Commonwealth Development Corporation – has been criticised for pouring money into gated communities, shopping centres and luxury property in poor countries.
A draft Bill will allow the Department for International Development (DfiD) to hike the amount it can give to CDC Group from £1.5bn to £6bn.
Ms Patel also sparked controversy when she suggested some of the aid budget will be switched to help win post-Brexit trade deals.
Join our commenting forum
Join thought-provoking conversations, follow other Independent readers and see their replies