Theresa May launches Labour election land grab with raft of new policies for workers
Conservative manifesto will include statutory right to request leave for training purposes, legal right to child bereavement leave, and up to 52 weeks off for workers who wish to care for family members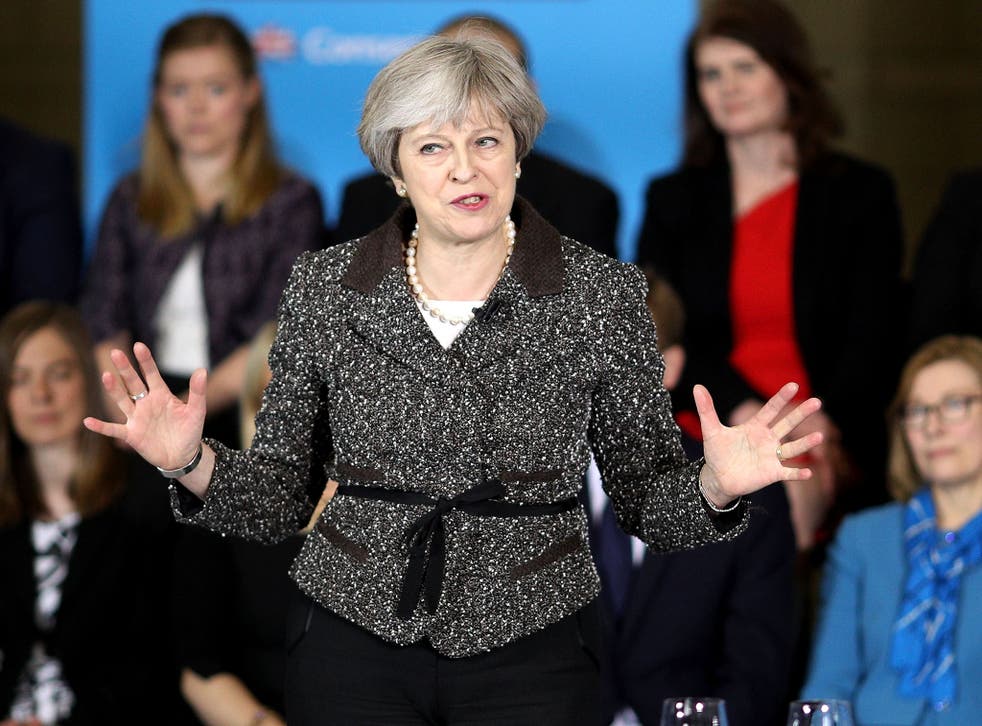 Theresa May is set to make her most audacious bid for Labour voters yet ahead of the general election with plans to ensure workers' rights are maintained after Brexit and a raft of new provisions for workers.
In her biggest raid into Labour's territory, the Prime Minister will announce the Conservative manifesto will include a wide range of social policies such as the right to request leave for training, the right to child bereavement leave, up to 52 weeks off for workers who are caring for family members, and possible criminal charges for bosses that break pensions rules.
On a visit to a training facility in the south of England on Monday, Ms May will say the manifesto – due to be published this week – will include "the greatest expansion in workers' rights by any Conservative government in history".
She will add: "I said I would use Brexit to extend the protections and rights that workers enjoy, and our manifesto will deliver exactly that.
"By working with business, reducing taxes and dealing with the deficit we have already delivered steady improvements to the economic prospects of working people. Now is the time to lock in that economic growth and ensure the proceeds are spread to everyone in our country.
"There is only one leader at this election who will put rights and opportunities for ordinary working families first. The choice next month is clear: economic stability and a better deal for workers under my Conservative team, or chaos under Jeremy Corbyn, whose nonsensical policies would trash the economy and destroy jobs."
The manifesto will include the continuation of all workers' rights currently guaranteed under European Union law, as set out in the Prime Minister's Article 50 letter to the bloc at the end of March. It comes after Frances O'Grady, the general secretary of the Trades Union Congress, which represents millions of workers in Britain, urged Ms May to give a clear commitment to match EU social protections after Brexit.
Ms May's administration will hand new powers to the pensions regulator and give the regulator "an automatic power to inspect a takeover could have on the impact on the sustainability of a pension fund, with fines and possible criminal charges against those who break the rules".
General election polls and projections: May 14
The 2017 Conservative manifesto will also include new protections for workers in the so-called "gig economy", following a review in modern employment practices due to be published this summer by Matthew Taylor, the former head of Tony Blair's policy unit. There will be a commitment to increase the the National Living Wage in line with median earnings for the whole of the next Parliament.
But absent from the Prime Minister's bold workplace reforms is any mention of tackling excessive executive pay, something the Prime Minister pledged to address as she took office in July 2016. Labour has gone further in this area, pledging to introduce a pay ratio for firms with Government contracts, preventing executives from earning more than 20 times the wage of their lowest paid employee.
The Conservative manifesto will also pledge to increase representation for workers on company boards, to "strengthen the voice of employees in boardrooms". The party's plan will ensure that listed companies create stakeholder advisory panels and "designate an existing non-executive director as the employee representative, or directly appoint a worker representative to the board". But in a speech to the Confederation of British Industry (CBI) earlier this year, Ms May said her Government would not force companies to do so, leading many to believe her original promise had been watered down.
Speaking to business leaders in November, she added: "First, while it is important that the voices of workers and consumers should be represented, I can categorically tell you this is not about mandating works councils, or the direct appointment of workers or trade union representatives on boards."
Other policies in the manifesto aimed at bolstering workers' rights will include a statutory right to child bereavement leave, for those "who suffer the tragedy of loosing a child". The Government will consult on the exact level of bereavement leave. "At the moment, many companies provide informal leave, but we will act to give employees a legal right to bereavement leave when they experience this tragedy," the manifesto will add.
A new Conservative government would also introduce the right to request unpaid leave for training purposes and a legal right to care for family members who require full-time support, for between 13 and 52 weeks.
Ms May will add that, if she wins the election in four weeks' time, she will introduce reforms to the Equality Act to extend protections from discrimination for those suffering "fluctuating or intermittent" mental ill health.
UK General Election 2017

Show all 47
Labour's manifesto, which was leaked to journalists last week, however, does go further. The party plans to introduce four new public holidays, ban unpaid internships, abolish tribunal fees so that people "can have access to justice", and repeal the Trade Union Act. If elected, Mr Corbyn's party will also double paternity leave to four weeks from two and the complete ban of zero hours contracts in Britain.
Responding to the announcement, Andrew Gwynne, Labour's campaign and elections chief, said Ms May is taking working people for "fools".
He added: "Theresa May and her Tory Government have failed to stand up for workers; with hundreds of thousands not being paid the money owed to them, thousands unable to get their case against their employer heard and hundreds of complaints of employment agency malpractice going un-investigated. The Tories have spent the last seven years prioritising the few, opposing Labour's proposals to give workers more rights and overseeing wage stagnation which has left people worse off."
Register for free to continue reading
Registration is a free and easy way to support our truly independent journalism
By registering, you will also enjoy limited access to Premium articles, exclusive newsletters, commenting, and virtual events with our leading journalists
Already have an account? sign in
Register for free to continue reading
Registration is a free and easy way to support our truly independent journalism
By registering, you will also enjoy limited access to Premium articles, exclusive newsletters, commenting, and virtual events with our leading journalists
Already have an account? sign in
Join our new commenting forum
Join thought-provoking conversations, follow other Independent readers and see their replies