This year can't possibly match the drama of last, can it? Don't bet against it
Brexit is happening, and it underpins everything. Can May's honeymoon continue; might a centre-left progressive alliance provide credible opposition; and will Ukip flourish? We are certain only of uncertainty, says Andrew Grice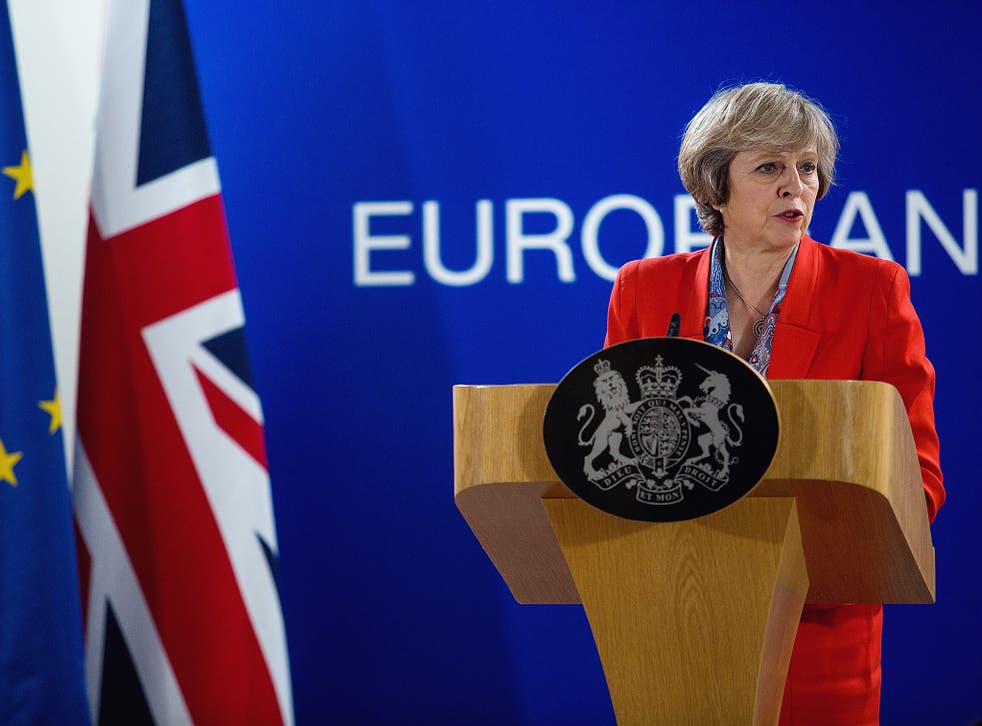 "We mustn't pre-judge the past," Willie Whitelaw, Margaret Thatcher's deputy Prime Minister, once said. Pre-judging the future in politics has suddenly got a lot harder after a remarkable year which brought us Brexit, the fall of David Cameron, the rise of Theresa May and a hero's welcome for Nigel Farage from President-elect Donald Trump.
Naturally, I have never known a year like it in 35 years on the Westminster beat. I thought the fall of Thatcher, Black Wednesday and Tony Blair's landslide were big. Brexit is bigger, and it is only just beginning. So can 2017 possibly match the past year?
There is one certainty: all roads will lead to Brexit. In January, the Supreme Court will decide whether Theresa May needs Parliament's approval to trigger Article 50 of the Lisbon Treaty and start exit negotiations. Although the verdict will generate lots of headlines, there is no prospect of Parliament blocking the talks; MPs and peers will not risk defying the referendum decision. So May will be able to invoke Article 50, either just before or soon after her 31 March deadline.
A bigger parliamentary battle will take place over the Great Repeal Bill, to be included in May's first Queen's Speech in May. This was a disguised as a bone for ravenous Tory Europhobes and described as ending the 1972 Act which took the UK into the EEC. In fact, it incorporates EU laws into UK law to make manageable the task of deciding which of them to keep – a job that could take 10 years.
Pro-EU MPs and peers will try to use the Bill's passage to press for a soft Brexit with as much access to the European single market as possible. But May and her ministers will seek to defy the likely parliamentary majority for a soft Brexit by urging Tory MPs not to undermine the Government's chances of securing a good deal.
Their refusal to give Parliament "a running commentary" will prove fruitless, as anything they say during the EU talks will leak instantly. The negotiations will proceed slowly in 2017, and not make much progress until after the German election in the autumn. None the less, Brexit will eclipse local issues at the county council elections in England in May, the Prime Minister's first big test at the ballot box.
She is lucky that they take place in the traditionally Tory shires, where it will not be easy for Labour to translate its remarkable growth to 600,000 members under Jeremy Corbyn into votes. When these authorities last held elections in 2013, Labour enjoyed a six-point lead in the opinion polls. It is likely to enter next May's contest trailing the Tories.
Rather than making the gains an opposition party would normally expect two years into a five-year parliament, Labour might find itself struggling to retain control in Derbyshire and Nottinghamshire. A strong Tory performance would show that May's honeymoon with the voters was not over.
However, it is unlikely that a poor Labour showing would provoke another attempt to oust Corbyn by his MP critics. They acted precipitately after the EU referendum and Corbyn won an even bigger mandate when he saw off Owen Smith's leadership challenge in September. Many of Corbyn's critics will now wish they had waited until 2017. An attempted coup in the next 12 months is highly unlikely.
Labour will hope to show it is alive and kicking in the first "metro mayor" elections in May in places such as Greater Manchester, Liverpool and Sheffield. The Tories will hope for a surprise win in the West Midlands, which really would be a sign that May commanded the political landscape. It would add to the temptation for her to seek a general election in 2017 if Parliament threw a spanner in the Brexit works. But on balance, a general election looks unlikely.
Labour will be hoping that other issues come to the fore; if Brexit defines everything, Labour is left stuck in the middle while Remainers look to the Liberal Democrats and Leavers to Ukip. This year will be a big test for Paul Nuttall, Ukip's new leader, as he turns the party's guns on Labour in the North and Midlands. The Lib Dems will try to extend their appeal to the 48 per cent who voted Remain. But they might need another parliamentary by-election in favourable territory like Richmond Park to maintain a high profile.
Even if the Lib Dems and Ukip manage some favourable headlines, they know that their prospects at the next general election will be hampered by a first-past-the-post system that saw the Lib Dems' 2.4 million votes produce eight MPs in 2015 and Ukip's 3.9 million just one. With Tory turkeys unwilling to vote for Christmas, there is no chance of electoral reform before the next general election.
Parties may have to get smarter at playing the system; 2017 will see the launch of a grassroots campaign for a progressive alliance between Labour, the Lib Dems, Greens and possibly the SNP. However, Nicola Sturgeon's main concern will be how to use its dispute with May over Brexit to build support for Scottish independence. That will not be easy.
May will need to hold her Cabinet together over Brexit. She may have to reshuffle her pack if one or more of her ministers cannot accept the blueprint that emerges from the Cabinet's Brexit committee (chair: T May). She might also have to decide whether Boris Johnson is too candid to remain as Foreign Secretary and move him on to pastures new.
Cabinet pressure is likely to build for more money for social care, where a cash crisis is putting enormous pressure on the NHS. Expect a bail-out in 2017. A big question is whether the next 12 months bring any real evidence of Leave voters regretting their decision. It hasn't happened yet but that could change. Much will depend on the economy.
Leave supporters have seized on the positive signs amid mixed economic figures since June. The picture might look different in a year's time. The "just managing" families May promised to champion may see their living standards decline rather than improve. After a momentous 2016, the only safe bet is to expect the unexpected.
Register for free to continue reading
Registration is a free and easy way to support our truly independent journalism
By registering, you will also enjoy limited access to Premium articles, exclusive newsletters, commenting, and virtual events with our leading journalists
Already have an account? sign in
Register for free to continue reading
Registration is a free and easy way to support our truly independent journalism
By registering, you will also enjoy limited access to Premium articles, exclusive newsletters, commenting, and virtual events with our leading journalists
Already have an account? sign in
Join our new commenting forum
Join thought-provoking conversations, follow other Independent readers and see their replies