Tim Farron apologises for 'hacked' tweet comparing gay people to fish and frogs
New Lib Dem leader has come under fire for his previously conservative views on homosexuality but he says tweet was sent after his account was hacked
Matt Dathan
Saturday 25 July 2015 18:54 Comments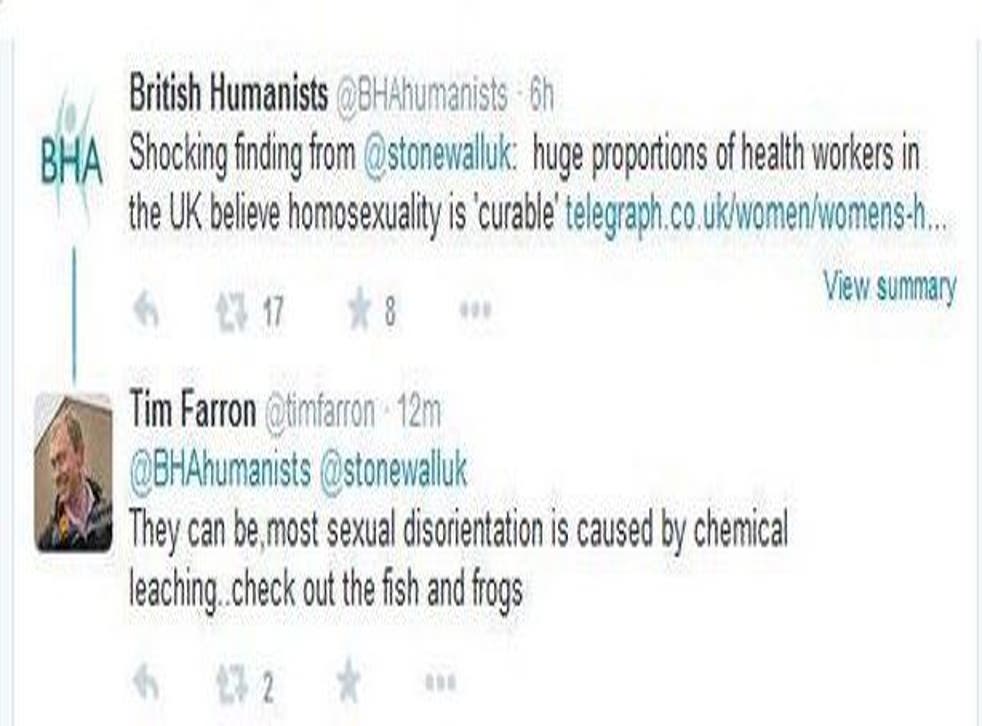 New Lib Dem leader Tim Farron has apologised after a tweet was sent from his Twitter account that compared gay people to fish and frogs and suggested homosexuality was curable.
The offensive remark came in response to a tweet from the British Humanist Association, who shared findings that "huge proportions" of health workers in the UK believe homosexuality is 'curable'.
Replying to the post, a tweet from Mr Farron's account wrote: "they can be, most sexual disorientation is caused by chemical leaching..check out the fish and frogs."
The tweet has now been deleted and Mr Farron posted an apology.
According to research by the Stonewall charity, one in 10 healthworkers in the NHS and private health sector has been in a situation where a colleague has expressed the belief that being LGBT is curable. The proportion jumps to two in ten healthworkers in London.
Mr Farron's strong Christian convictions have prompted questions about whether he is in step with the rest of his Lib Dem colleagues on gay rights' issues.
He abstained at the third reading of the bill to introduce same-sex marriage and voted against what became the 2010 Equality Act, which made discriminating against gay people in the workplace illegal.
He said during his campaign for the Lib Dem leadership that it was a matter of "regret" that this had been "misread" as him being "lukewarm" to equal marriage.
He has promised to put the fight for LGBT rights at the "top of my agenda".
Register for free to continue reading
Registration is a free and easy way to support our truly independent journalism
By registering, you will also enjoy limited access to Premium articles, exclusive newsletters, commenting, and virtual events with our leading journalists
Already have an account? sign in
Join our new commenting forum
Join thought-provoking conversations, follow other Independent readers and see their replies