Tim Farron makes 'unashamed land grab' for centre Labour voters who 'look at Jeremy Corbyn's business policy and despair'
Mr Farron will unveil the Liberal Democrats pro-business policy at their conference in Bournemouth
Mark Leftly
Saturday 19 September 2015 22:38 Comments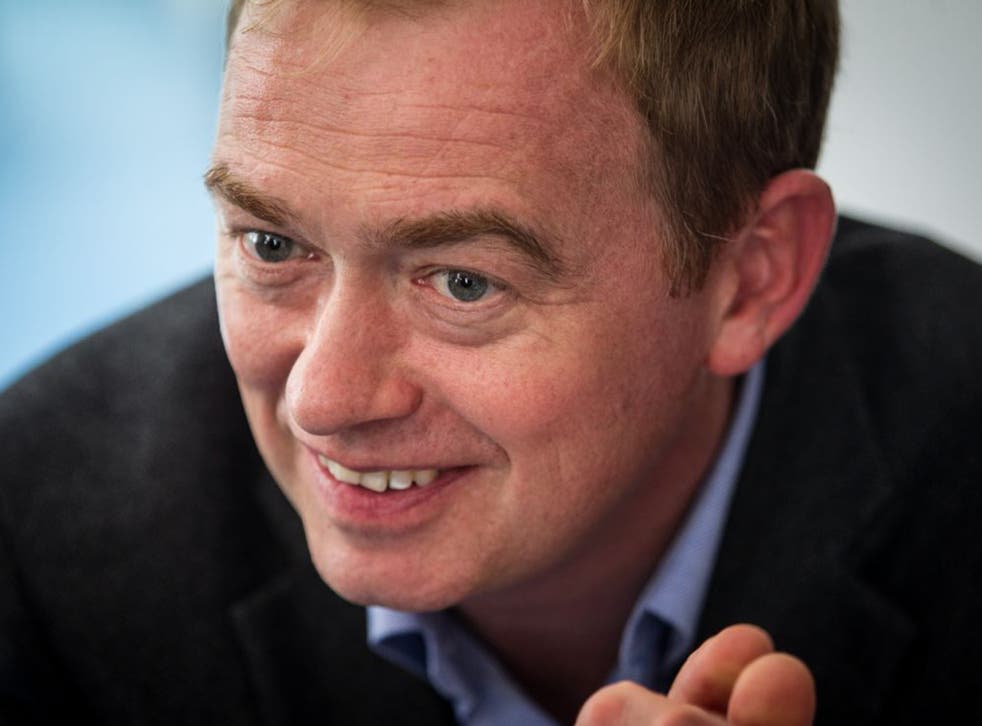 Tim Farron, the new leader of the Liberal Democrats, has moved to occupy the political centre-ground he thinks has been vacated by Labour under the hard-left regime of Jeremy Corbyn.
Mr Farron will unveil a pro-business policy at his party's conference in Bournemouth, offering budding entrepreneurs a grant of £2,600 over the first six months of opening a new business. The Lib Dems think Mr Corbyn is weak on business, having already said that he wants high earners to pay more tax.
A Lib Dem source said: "This policy is an unashamed land grab for those Labour voters who understand and care about Britain's economic stability and who look at Corbyn's offering and despair.
"It is a clear sign that we are on the side of those who are aspirational and want to build something for themselves. As Corbyn leads his party down a blind alley, away from the centre left, the Liberal Democrats are ...the only credible opponents of this Conservative government."
Mr Farron said: "Liberal Democrats believe that if you have a dream you should be supported to fulfil it. Those who take the chance to set out on their own and create a business should be celebrated and supported.
"Lib Dems recognise the courage of those who seek to create something new. While Labour have said they now want to strip government support for businesses and the Tories focus on giving tax cuts to giant corporations, we want to focus on entrepreneurs and small businesses seeking to grow."
At a rally, Mr Farron added: "If Labour aren't interested in standing up to the Tories and providing a credible opposition, that's their funeral. The Lib Dems will fill that space. Radical and liberal, and responsible, too. When the tectonic plates of politics move, they sometimes move immensely quickly – that is what is happening now."
Opening the conference, the Lib Dem president, Baroness Brinton, paid a warn tribute to Charles Kennedy, the former leader who died less than a month after he lost his seat of Ross, Skye and Lochaber in the Highlands. She said: "We shall miss him sorely."
Lady Brinton accused the Conservative-majority Government of "undoing many of the things we achieved in government", noting how ministers have removed subsidies for green energy projects, such as onshore wind farms, and reintroducing the so-called "snooper's charter".
The Lib Dems have experienced a surge in membership since the general election, growing by 10 per cent to 50,000 in the 72 hours after 7 May alone. The youth wing of the party has grown by 160 per cent to 7,400 since polling day.
Nomi Farhid, a 20-year-old who looks after membership services for Liberal Youth, said many young activists had been "politically apathetic", but had been stirred to join out of opposition to the Conservative-only Government.
One new member, 19-year-old Oxford University student Guy Butler, joined in July to vote in the party's leadership election. He said: "I've always been Lib-Dem leaning, but I was shocked by the [election] wipe-out."
He added that the university's Lib Dem society used to attract 10-15 people to meetings, but this has increased to 40-45 since May.
In an early pre-conference session, held behind closed doors, leading activists discussed how they could get this new membership more involved.
Register for free to continue reading
Registration is a free and easy way to support our truly independent journalism
By registering, you will also enjoy limited access to Premium articles, exclusive newsletters, commenting, and virtual events with our leading journalists
Already have an account? sign in
Register for free to continue reading
Registration is a free and easy way to support our truly independent journalism
By registering, you will also enjoy limited access to Premium articles, exclusive newsletters, commenting, and virtual events with our leading journalists
Already have an account? sign in
Join our new commenting forum
Join thought-provoking conversations, follow other Independent readers and see their replies