The Time is Now: Thousands of climate change demonstrators to march on parliament to demand action
Protesters urged set off alarm clocks in a message to MPs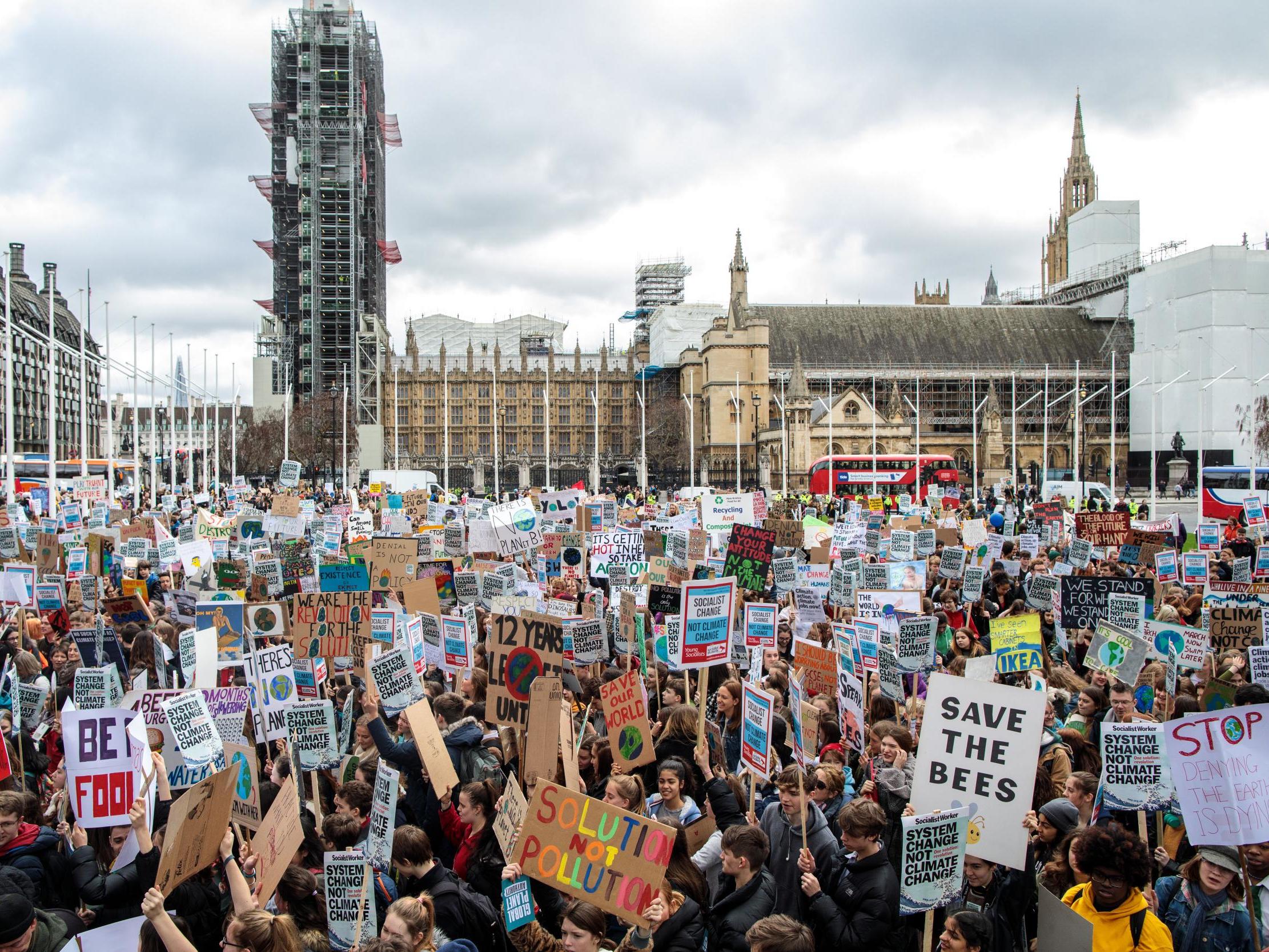 Thousands of protesters are planning to march on parliament to demand action on climate change.
As many as 15,000 people from across the country are expected to travel to London on Wednesday to take part in The Time is Now campaign.
The demonstration will take place between 11am and 4pm, outside to Westminster.
Organisers have encouraged participants to gather outside Parliament at 2pm when they have been urged set off their alarm clocks in a message to MPs.
Around 250 MPs will leave Westminster to speak with the protesters who say they want "to get the UK on track to halting UK climate change emissions by 2045 at the latest, and to protect the environment through urgently passing an ambitious environment bill".
Greta Thunberg inspires climate activists everywhere: In pictures
Show all 12
Research from Climate Coalition and Greener UK, the organisers of the protest, found 69 per cent of Britons "want to see urgent political action to combat climate change and protect the natural environment".
They also found 71 per cent also wanted their MPs to support plans to tackle issues such as rising temperatures and species extinction.
The Opinium research, which surveyed 2,009 adults, found 66 per cent believed the UK needed to cut its carbon emissions to zero within the next few days, and 66 say the government needs to "urgently" pass a new environment bill.
MPs make history by passing Commons motion to declare 'environment and climate change emergency'
Clara Goldsmith, campaigns director at the Climate Coalition, said: "The government's decision to set a net zero target in law was clearly a response to calls for action from voters which have grown louder and louder in recent months. Now we need our politicians to put policies in place to deliver on that target, as well as measures to clean up the air we breathe and the plastic in our seas.
"The findings in this poll make clear the scale of support for action in the form of statistics. The people travelling to Westminster to speak to MPs next week will show what that support looks like in person."
Rosie Harden-Vane, a member of Seaton Valley Women's Institute who plans to take part in the lobby, said: "I will be travelling by train from Northumberland, at my own expense, to attend The Time is Now lobby. It's a big leap for me because I have never done anything like this before and feel quite nervous.
"However, if I can't make my voice heard, I would be turning my back on the most important issue of our time.
"If we don't change the way we are treating our planet with immediate effect, in my lifetime – I'm 66 - the decline will be irreversible. Species lost forever, homes and land lost to rising sea levels, plastic and chemicals poisoning the land, the water, plants and animals – including ourselves."
Teenage climate activist Greta Thunberg tells Extinction Rebellion supporters 'humanity is at a crossroads'
Craig Bennett, Friends of the Earth chief executive, said: "Parliament has declared a climate emergency, but ringing alarm bells won't put out the fire. Thousands of people are taking a message to parliament to call for real action to fix the climate and protect our natural world.
"We know the practical steps needed. It means immediate action to ditch fossil fuels, cleaning up our mess around the world by supporting other nations to adapt to climate change and taking a strong line against future trade with nations that ignore the Paris Agreement. And, it means a brand-new Environment Bill to set out real ambition to restore nature.
"We can be the generation that turn the tide on climate change, and see growth, not extinction, in our natural world. But for that to happen, we need government to put its money where its mouth is and fund real action. The time is now."
Join our commenting forum
Join thought-provoking conversations, follow other Independent readers and see their replies