Time to close tax havens loophole, says Miliband
More than £2bn could be raised if action is taken against wealthy UK residents' offshore funds
Jane Merrick
Sunday 15 January 2012 01:00 Comments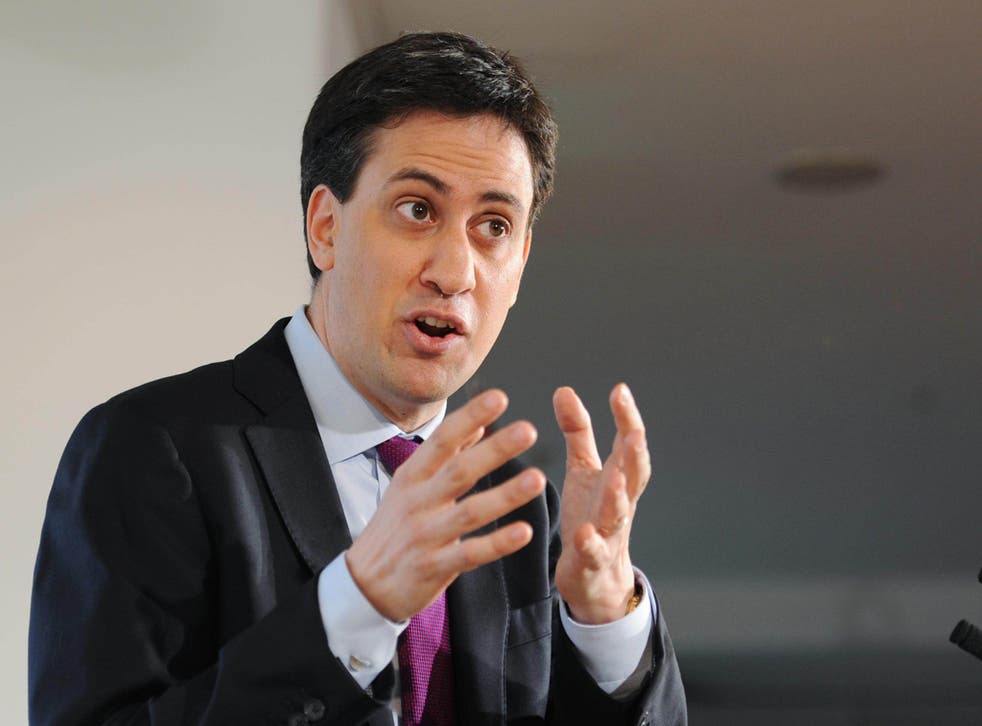 Ed Miliband declares war today on the UK's secretive offshore tax havens which he says could raise £2.4bn for the Exchequer and help to reduce the deficit.
As Ed Balls, the Shadow Chancellor, signals a major shift in economic strategy by admitting that a Labour government would be unable to reverse all of the coalition's cuts, Mr Miliband will expand on his theme of "fairness in tough times" by making those at the top of society contribute more.
In the Labour leader's sights are the Channel Islands and the Isle of Man, which shelter UK residents' cash which would otherwise have to be taxed by HM Revenue and Customs.
European Union loopholes allow UK residents to disguise money offshore held in front companies and trusts. The tax havens are not obliged to let HMRC know which British taxpayer the vehicle relates to.
The EU is attempting to close these loopholes, but Mr Miliband will say that this time-consuming process, which could take years, is allowing billions of pounds to go uncollected.
A Labour source said: "In these tough times, when unfair choices are being imposed on people – like cuts to tax credits, or changes to child benefit – everything needs to be done to ensure those that owe tax pay their fair share."
Mr Miliband will call on the Government to act as a matter of priority through diplomacy at EU level. The plans are an expansion of his theme, set out in his speech last week, for the deficit to be reduced through fairness – particularly tackling the richest in society, while defending the "squeezed middle" on low to middle incomes.
Tax experts estimate that as much as £2.4bn could be raised by calling time on UK tax havens. Richard Murphy, director of Tax Research UK, said: "Breaking tax haven secrecy is essential to collecting the tax that's the alternative to cuts."
The policy, which would be included in Labour's 2015 manifesto, is designed to show Mr Miliband is acting on reducing the UK's deficit amid ongoing questions about his leadership and the party's economic credibility.
Mr Balls, in a significant change in tack after increasing criticism about Labour's credibility, yesterday conceded that Labour could not oppose public sector pay freezes and every coalition cut. He told The Guardian: "My starting point is, I am afraid, we are going to have to keep all these cuts."
The change in strategy was agreed between the Shadow Chancellor and the Labour leader. Mr Balls angered the unions by backing George Osborne's freeze on public sector pay throughout this Parliament. He added: "It is now inevitable that public sector pay restraint will have to continue through this Parliament. Labour cannot duck that reality and won't."
In a speech to the Fabian Society yesterday, the Shadow Chancellor argued that it was more important to spend money on protecting jobs than increasing pay. He acknowledged that Labour faced a "big task" to regain economic credibility and win back public trust.
He insisted that Labour would not have taken the approach of the coalition, which he says has cut too far and too fast, but acknowledged that Labour should have been "clearer" before the 2010 general election that it would impose spending cuts and tax rises if re-elected. It follows Mr Miliband's admission last week that "whoever governs after 2015 will have to find more savings".
The general secretary of the RMT union, Bob Crow, said: "By lining up with the Tory-led coalition on the assault on public sector pay, Ed Balls will today sign Labour's electoral suicide note as he alienates his core voters in their millions."
Mark Serwotka, leader of the Public and Commercial Services union, described Mr Balls's comments as "hugely disappointing".
"Instead of matching them on the cuts, they should be articulating a clear alternative and speaking up for public sector workers and ordinary people in society," he said.
However, neither the PCS or RMT unions is affiliated to the Labour Party.
The Labour leader has fought criticism over his leadership, which has intensified over the past month. Rachel Reeves, the shadow Chief Secretary to the Treasury, suggested yesterday that Labour was not yet ready to form a government.
She told The Daily Telegraph: "If there was a general election tomorrow, of course we haven't got enough flesh on the bones. Ed does need more time. He wasn't set up for what to do on day one."
Register for free to continue reading
Registration is a free and easy way to support our truly independent journalism
By registering, you will also enjoy limited access to Premium articles, exclusive newsletters, commenting, and virtual events with our leading journalists
Already have an account? sign in
Join our new commenting forum
Join thought-provoking conversations, follow other Independent readers and see their replies