Tommy Robinson 'warned he could be breaking electoral law' at European elections campaign launch
Anti-Islam activist could be disqualified from running for northwest seat if he is jailed at High Court next month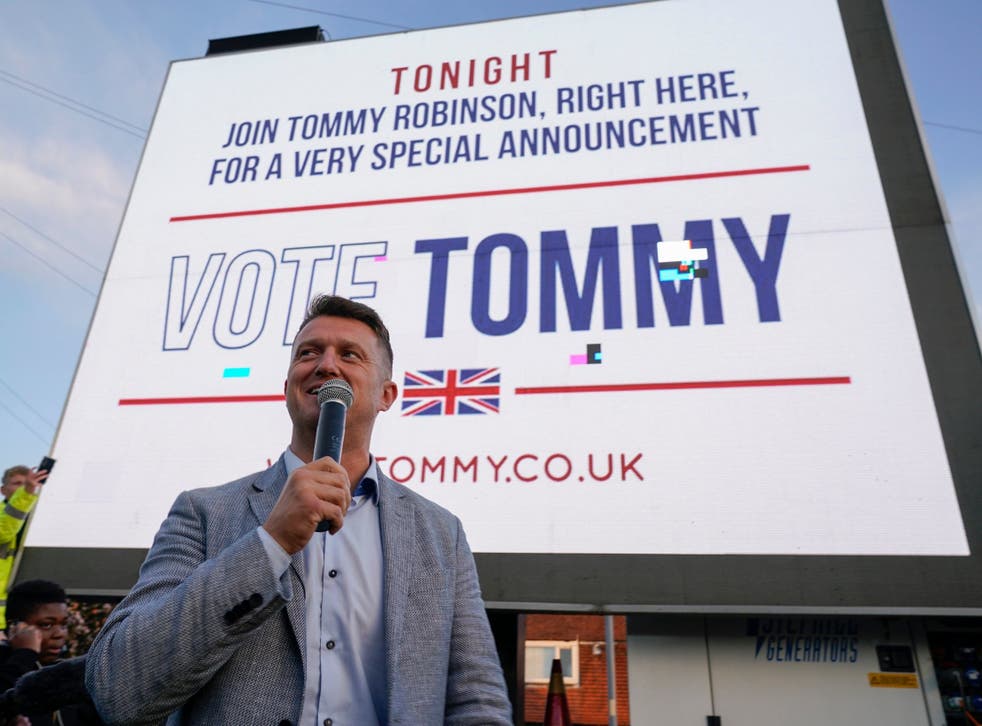 Tommy Robinson was warned he may be breaking electoral law within hours of announcing himself as a candidate for the European elections.
The English Defence League (EDL) founder, whose real name is Stephen Yaxley-Lennon, launched his campaign at a barbecue in Manchester on Thursday evening.
The rally had offered free burgers and hot dogs from a catering van, but Robinson later said he had to stop giving away food after police told him it broke electoral law.
A spokesperson for Greater Manchester Police (GMP) said: "Prior to an event held in Wythenshawe, GMP advised the organiser that providing gifts of food could potentially breach electoral regulations.
"This was not given as a direction but offered as a piece of advice to the organiser."
Tommy Robinson supporters protest outside the Old Bailey

Show all 16
Electoral Commission guidance states that "treating" is a criminal offence committed by "directly or indirectly giving or provide any food, drink, entertainment or provision to corruptly influence any voter".
Around 300 people gathered in Wythenshawe for the event, despite the housing group that owns the estate saying it had "explicitly declined the use of any of our land or assets".
Robinson pledged a "David versus Goliath" battle to represent the "betrayed" working class of England if elected next month.
After technical glitches seeing a large screen go black and PA system lose sound, Robinson told his followers that "liars in parliament" were betraying them.
"The only way they will fear us is if we take their seats," he added. "Send them a message they will never forget."
Shouts of "scum" broke out from supporters as he criticised alleged sharia law advocates and the mainstream media.
Failed Ukip leadership candidate Anne Marie Waters, who founded her own anti-Islam For Britain party, also spoke at the event.
Mike Kane, the Labour MP for Wythenshawe and Sale East, said Robinson's political views were "not welcome in our town and our great city".
He signed a joint letter with local Christian, Jewish and Muslim religious leaders speaking out against the event.
"We are firm in our beliefs that violence and racism have no place in our political discourse," said the letter.
Tommy Robinson boasts about being able to score drugs in video
"As community leaders we call upon our communities to reject the politics of division and hate."
Robinson announced his candidacy to followers on the encrypted messaging app Telegram, after being banned from mainstream social networks including Facebook, Twitter, Instagram and Snapchat.
He had been directing followers to new "Vote Tommy" accounts on Twitter and YouTube, but by Friday evening Twitter had removed the account for breaching the site's terms of service.
Robinson will continue as an adviser to Ukip leader Gerard Batten, despite running against eight of the party's candidates, a spokesperson for the party said.
He was prevented from becoming a Ukip member by rules barring former members of the EDL and British National Party.
The pro-Brexit vote is being further split by Nigel Farage's Brexit Party, which is also fielding eight candidates in the northwest.
Robinson's election campaign comes amid a legal case that could see him jailed for up to two years.
He is to appear at the High Court on 14 May accused of committing contempt of court, which he denies, with a Facebook Live broadcast that allegedly broke reporting restrictions on a grooming gang trial in Leeds.
Robinson was originally jailed for 13 months last May but was freed by the Court of Appeal in August over procedural failings.
If he is jailed again for a year or more, he will be ineligible to stand as an MEP under the Representation of the People Act.
The 36-year-old has previous convictions for offences including assault, drugs possession, public order offences. He was jailed for 18 months for mortgage fraud in 2014.
Robinson, who funds his own "news service" and anti-Islam activism through donations from supporters, will now have to follow strict rules on electoral fundraising.
Candidates must only accept donations from a "permissible source", including registered UK voters, and they must be over £50.
"The regulated period for individual candidates standing at the 2019 European parliamentary elections begins the day after a person officially becomes a candidate and ends on polling day," a spokesperson for the Electoral Commission said.
"After the election the candidates must report their spending."
Robinson had previously appealed for donations for a harassment case against Cambridgeshire Constabulary. He lost and was ordered to pay £20,000 in costs.
Britain will go to the polls on 23 May, the same date Robinson was scheduled to be in Adelaide on the first stage of a speaking tour of Australia.
Fans had paid up to A$995 (£532) for tickets to see the anti-Islam activist, alongside Proud Boys founder Gavin McInnes and former editor for Breitbart News Network Milo Yiannopoulos on the five-city tour.
Organisers have not yet responded to The Independent's request for comment.
Additional reporting by PA