Tony Benn dead: Veteran Labour politician passes away at 88
Labour leader Ed Miliband leads tributes to 'champion of the powerless, a great parliamentarian and a conviction politician'
Andy McSmith
,
Steve Anderson
Friday 14 March 2014 08:01 Comments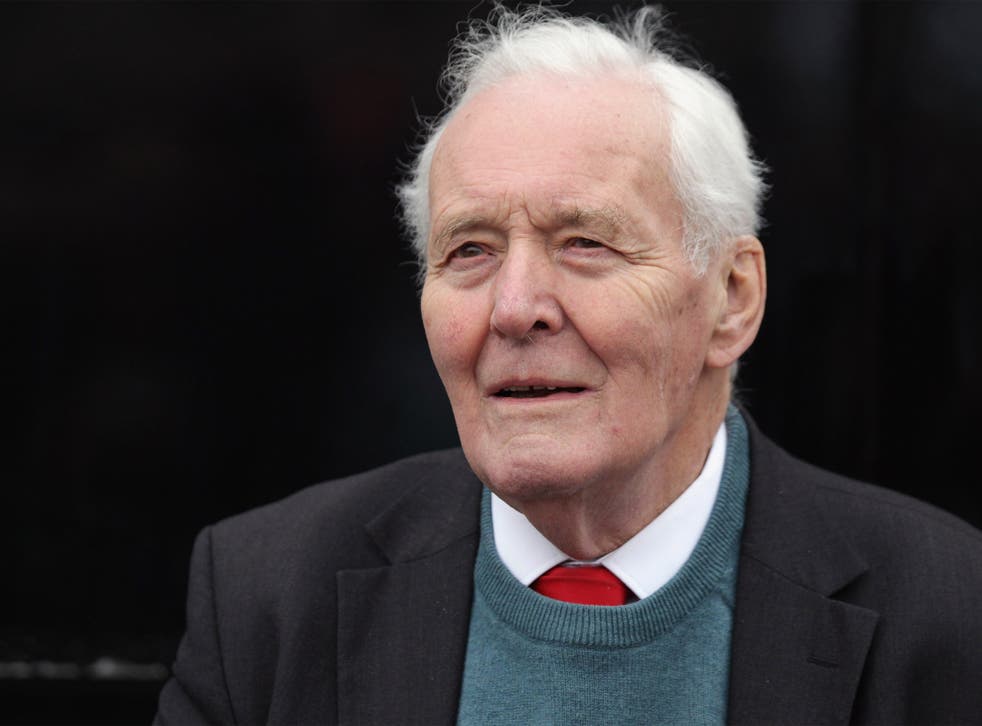 The veteran Labour politician and iconic figure of the left Tony Benn has died this morning at his home in west London, his family has said. He was 88.
In a statement his children Stephen, Hilary, Melissa and Joshua said: "It is with great sadness that we announce that our father Tony Benn died peacefully early this morning at his home in west London surrounded by his family. We would like to express our heartfelt thanks to all the NHS staff and carers who have looked after him with such kindness in hospital and at home.
"We will miss above all his love which has sustained us throughout our lives. But we are comforted by the memory of his long, full and inspiring life and so proud of his devotion to helping others as he sought to change the world for the better. Arrangements for his funeral will be announced in due course."
Born Anthony Neil Wedgwood Benn, he first entered parliament in November 1950 and served in the cabinet under Harold Wilson and Jim Callaghan. He narrowly missed out on election as Labour deputy leader in 1981, and was instrumental in party's 1983 manifesto.
In 2001 Benn stepped down from parliament in order to "spend more time on politics".
In pictures: Tony Benn, reflections of a life at the heart of British politics

Show all 20
He remained an active and outspoken member of the Labour party. In recent years he had been a central member of the anti-war movement.
He recently moved into sheltered accommodation near his home in Holland Park, London, following a stroke last year.
Last month he was taken into hospital, where his condition was reported as "seriously ill".
His most recent public appearance was in December when he spoke at a service remembering Nelson Mandela.
In his heyday in the 1970s and early 1980s, Benn was one of the rare individuals who added a word to the English language. The words 'Bennite', Bennism' and even 'Bennery' were part of the everyday political language even before the word the word ' Thatcherite', the polar opposite of 'Bennite', was first uttered.
Ed Miliband paid tribute to an "iconic figure of our age".
He said: "He will be remembered as a champion of the powerless, a great parliamentarian and a conviction politician.
"Tony Benn spoke his mind and spoke up for his values. Whether you agreed with him or disagreed with him, everyone knew where he stood and what he stood for.
"He believed in movements and mobilised people behind him for the causes he cared about, often unfashionable ones. In a world of politics that is often too small, he thought big about our country and our world."
Miliband was almost unique among the Labour party leaders of the past 50 years, in that he and Benn actually got on well. The Labour leader revealed that he visited Benn in hospital recently and  "as I left he said to me 'Well, old son. Let's have a proper talk when you have more time'."
The former prime minister Gordon Brown also paid tribute to a " powerful, fearless, relentless advocate for social justice and people's rights".
He said Mr Benn's speeches will continue to have a "profound influence on generations to come".
Though he was a highly controversial figure, who made a large number of enemies during his political life – a great many of them within the Labour party – he was acknowledged to be one of the last political orators from an age when the public meeting was a part of political life. In his memoirs, Tony Blair, whose politics Benn roundly despised, paid a fulsome tribute to Benn's stature as a speaker.
The son of a Labour Cabinet minister who became a peer, Benn first made his mark on national politics more than 60 years ago, when he fought a long and successful battle to be the first Briton to renounce a hereditary peerage. He was also the main driving force behind the decision to hold the first referendum in British history, in 1975, over membership of what is now called the EU.
Having been a conscientious Cabinet minister in the 1960s, Benn veered to the left in reaction to the political and economic crisis of the early 1970s, becoming an iconic figure for the political left, and the main author of the manifesto on which Labour fought the 1983 election, and suffered its worst post-war defeat. Harold Wilson, the first of a series of Labour leaders to clash with Benn, once claimed that he 'immatured' in middle age.
A political firebrand who was at times vilified by the right, his views once led The Sun newspaper to question whether he was "the most dangerous man in Britain".
He emerged, however, as one of the most respected MPs of the last 50 years.
David Cameron said of  Labour veteran on Twitter: "Tony Benn was a magnificent writer, speaker and campaigner. There was never a dull moment listening to him, even if you disagreed with him."
Labour MPs took to the social network to pay warm tributes.
Former cabinet minister Peter Hain said: "Tony Benn was a giant of socialism who encouraged me to join Labour in 1977: wonderful inspirational speaker and person: will be deeply missed."
Diane Abbott said: "Admired so many things about Benn: unwavering principles; always open to new ideas; stellar political speaker but unfailingly courteous."
Barry Sheerman, who entered parliament in 1979 and served alongside Mr Benn for many years, said : "Sad news of Tony Benn death. I had my differences with him but he was a "big beast" in our political life and party history."
Lucy Powell, one of the party's newest MPs added: "Very sorry to hear the sad news about Tony Benn. He was a political giant of the last century, principled and passionate."
Additional reporting by the Press Association
Register for free to continue reading
Registration is a free and easy way to support our truly independent journalism
By registering, you will also enjoy limited access to Premium articles, exclusive newsletters, commenting, and virtual events with our leading journalists
Already have an account? sign in
Join our new commenting forum
Join thought-provoking conversations, follow other Independent readers and see their replies