Tony Blair returns to UK politics to 'get hands dirty' in fight against Brexit
'I don't want to be in the situation where we pass through this moment of history and I hadn't said anything because that would mean I didn't care about this country'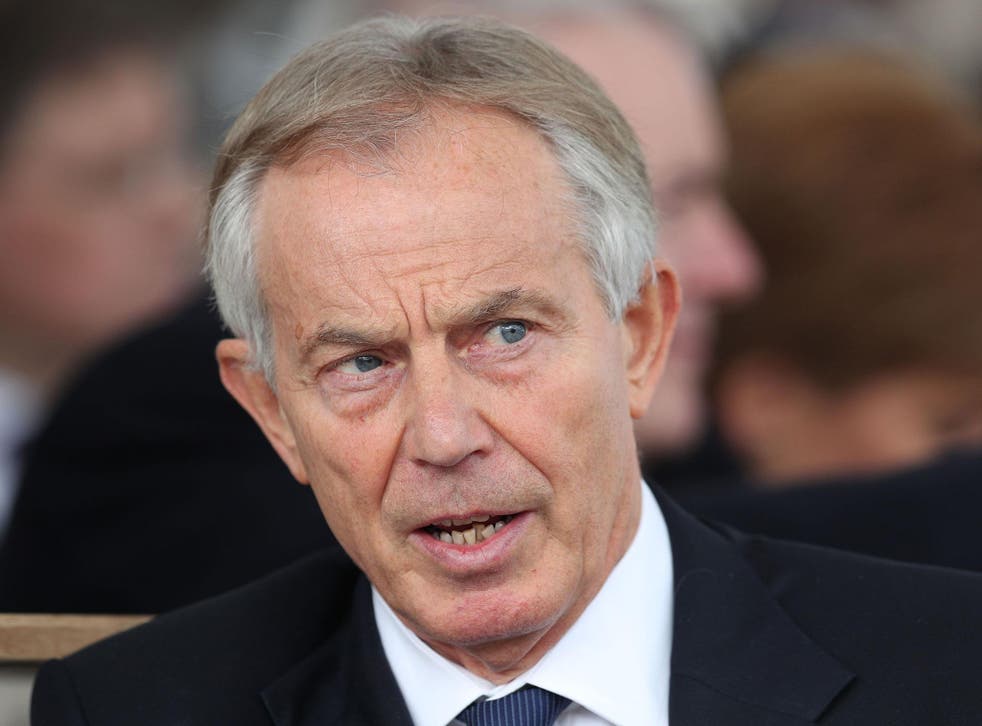 Former Prime Minister Tony Blair and said he was returning to politics to fight Brexit, but has shown no sign of relenting his criticism of current leader Jeremy Corbyn.
Mr Blair said he would not be standing in the 8 June General election, but he told the Daily Mirror newspaper that he wanted to speak out and have influence on policy as Britain negotiates to leave the European Union.
The 63-year-old, who won the 1997 General election in a landslide and whose multiple terms came to be dominated by the Iraq War, said he knew he would face criticism for plunging back into politics.
After the Iraq War, he became a Middle East peace envoy but he came under fire for working with controversial leaders and magnates in those countries. He resigned in 2015 after making little headway in eight years.
He has also commanded around £100,000 on the speech circuit around the world since he left office.
In contrast to current Labour leadership, he stated that voters should have the chance to change their mind once the final EU deal becomes clear.
"This Brexit thing has given me a direct motivation to get more involved in the politics," he told the Daily Mirror.
Tony Blair: Theresa May will be Prime Minister on June 9th
"You need to get your hands dirty and I will.
"I know the moment I stick my head out the door I'll get a bucket of wotsit poured all over me, but I really do feel passionate about this.
"I don't want to be in the situation where we pass through this moment of history and I hadn't said anything because that would mean I didn't care about this country. I do.
"I am not sure I can turn something into a political movement but I think there is a body of ideas out there people would support."
Tony Blair: 'Consider voting Tory or Lib Dems over Brexit'
Mr Blair said he did not agree with Prime Minister Theresa May's intention to leave the single market and seek out a free trade agreement, which would be "relegating ourselves" from the top spot.
In a separate speech last week, he also said Labour could win "at any point it wants to" and just needed to "make the decision to do it". He warned that voters would be left "homeless" if they had to choose between a hard Brexit Tory Party and a "hard left Labour Party".
His words come as the Tories' margin over Labour has slipped as much as 10 points in a week, but still runs ahead in the polls with a lead of around 17 points.
Mr Blair, who won three consecutive elections after Tory Prime Minister John Major, represents the most centrist strain of the party, and has had major disagreements with leftist leader Corbyn.
Mr Blair has repeatedly criticised the current leader, accusing him of "faciliatating Brexit", failing to vote against triggering Article 50 and claiming that giving Mr Corbyn the top job at Downing Street would be a "very dangerous experiment".
Mr Corbyn has in return slammed Mr Blair for his "unhelpful" plan to reverse Brexit, and told him to "respect the result" from 23 June.
"I would ask those to think about this – the referendum gave a result, gave a very clear decision on this, and we have to respect that decision.
"That's why we didn't block Article 50," Mr Corbyn said in February.
Join our new commenting forum
Join thought-provoking conversations, follow other Independent readers and see their replies