Tony Blair to urge EU to 'share the responsibility' for stopping Brexit with new immigration controls
'We have months, perhaps weeks, to think, plan and act,' former Labour prime minister will tell Brussels audience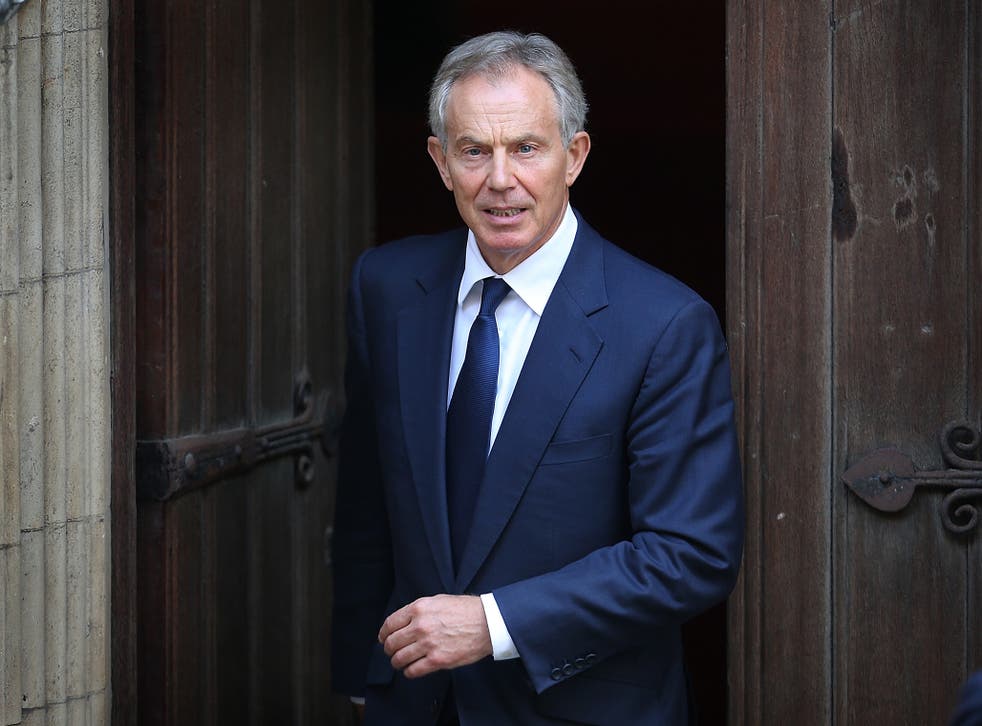 The EU must "share the responsibility" for finding a way to stop Brexit by agreeing to tighten immigration controls, Tony Blair will say.
Speaking in Brussels, the former Prime Minister will urge EU leaders to recognise the Leave vote as a "wake-up call" – arguing reform would help persuade the British public to change its mind.
Mr Blair will say Britain's departure also "weakens Europe's standing and power", undermining the single market and creating "a competitive pole" across the English Channel.
And he will point to immigration as the key reform needed, while also warning time is running out. "We have months, perhaps weeks, to think, plan and act," he will say.
"Europe knows it needs reform. Reform in Europe is key to getting Britain to change its mind," Mr Blair will tell the European Policy Centre.
The former Labour leader will call for "a comprehensive plan on immigration control, which preserves Europe's values but is consistent with the concerns of its people and includes sensitivity to the challenges of the freedom of movement principle".
And, in a plea to EU leaders, he will say: "If, at this moment, Europe was to offer a parallel path to Brexit of Britain staying in a reforming Europe, that would throw open the debate to transformation.
"People will say it can't happen. To which I say in these times in politics anything can happen."
The speech will be delivered just a day after John Major's dramatic intervention in the Brexit debate, suggesting a pincer movement agreed by the two former rival leaders.
The biggest issues facing UK on leaving EU

Show all 8
Their interventions come at a perilous time for Theresa May, after Labour's shift to supporting a customs union threatened defeat in a future Commons vote.
In his speech, Sir John said the British people had "every right" to reconsider Brexit in a further referendum, as he fiercely criticised the Prime Minister's handling of the negotiations
Mr Blair has long advocated a second poll and, last week, predicted Parliament is heading for "an impasse" over Brexit that suggested no majority for any proposed form of exit.
But, in Brussels, he will argue an effective response to change minds on the "genuine underlying grievance" of immigration must not be left to Britain alone.
The speech will set out "why Brexit is also bad for Europe, and why European leaders share the responsibility to lead us out of the Brexit cul-de-sac and find a path to preserve European unity".
The EU will be urged "to respond to Brexit by treating it as a "wake-up" call to change in Europe and not just an expression of British recalcitrance".
"Britain without Europe will lose weight and influence. But Europe without Britain will also be diminished. And both of us will be less than we are and much less than we could be together," Mr Blair will say.
Pointing to the post-war creators of what became the EU "after centuries of war", he will add: "They would not have yielded to fatalism and neither should we."
Register for free to continue reading
Registration is a free and easy way to support our truly independent journalism
By registering, you will also enjoy limited access to Premium articles, exclusive newsletters, commenting, and virtual events with our leading journalists
Already have an account? sign in
Register for free to continue reading
Registration is a free and easy way to support our truly independent journalism
By registering, you will also enjoy limited access to Premium articles, exclusive newsletters, commenting, and virtual events with our leading journalists
Already have an account? sign in
Join our new commenting forum
Join thought-provoking conversations, follow other Independent readers and see their replies