Tony Blair says he would refuse to sign trans rights pledge
Former Labour prime minister warns leadership candidates not to launch 'culture war' with right over identity issues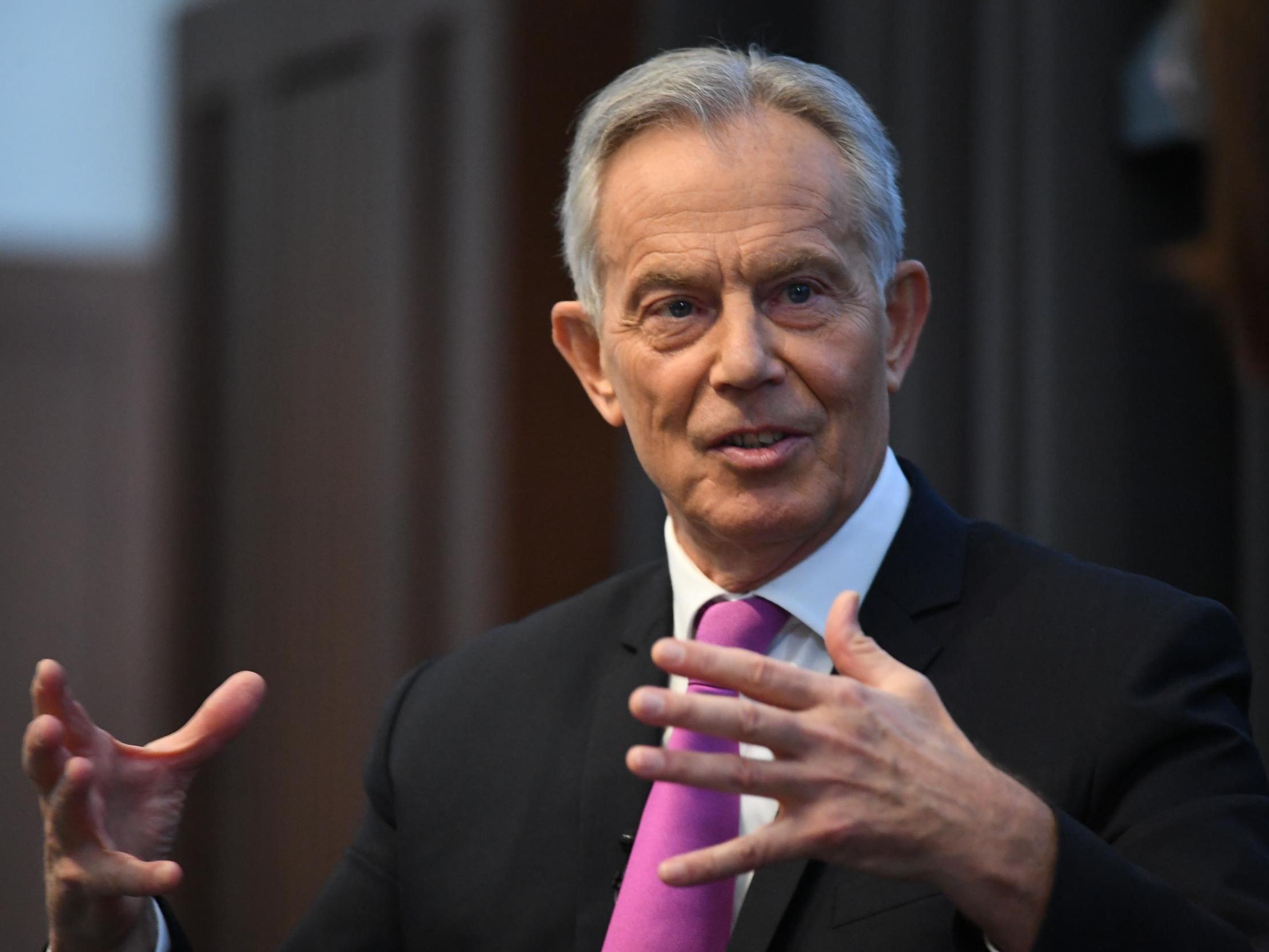 Tony Blair has warned Labour's leadership contenders not to get involved in a "culture war" over transgender rights, warning it could cost the party any chance of power.
The former prime minister said he would not sign a controversial trans rights pledge, which has been backed by Rebecca Long-Bailey and Lisa Nandy, but which leadership frontrunner Sir Keir Starmer has refused to put his name to.
Three-time election winner Mr Blair declined to endorse any of the trio fighting to succeed Jeremy Corbyn, saying that his support would only damage their chances.
But he said all the candidates would be a "significant improvement" on Mr Corbyn and said Labour would have done "a lot better" in December's election if it had ditched its leader for someone more moderate.
Answering questions after a speech at King's College London to mark the 120th anniversary of Labour's foundation, Mr Blair said the party needed "fundamental reconstruction" in order to challenge for power again, but said it was unclear whether any of those vying to lead it would be able to deliver this.
The battle to replace Jeremy Corbyn as Labour leader
Show all 8
The necessary changes would mean ditching "old-style" tax-and-spend policies and stances which could be characterised as anti-western, as well as the embrace of identity politics and the "shouty" denunciation of those who disagree.
While transgender rights might be a cause worth supporting, the party should avoid making it into a totemic part of its platform, he warned.
"You have got to distinguish between the advocacy of certain things that are right – and you can say that whether it's gay rights or transgender rights or whatever it is – and launching yourself politically into a kind of culture war with the right," he said.
"If you go, 'Transgender rights are our big thing,' and the right say, 'Immigration control is our big thing,' you are going to lose that war, so you are not going to advance any of the things you want to do.
"We don't need to be fighting that culture war. That doesn't mean you don't take the right positions on things."
Asked whether he would sign the Labour Campaign for Trans Rights pledge, which has caused controversy with calls for the expulsion of "transphobic" members, Mr Blair replied: "I wouldn't. I think there are all sorts of difficult issues that need to be resolved."
He added: "If you are going out there and saying you are going to advocate things in a finger-jabbing sectarian way, saying, 'If you don't sign up to what I am saying, I'm going to come and disrupt your meetings and shout at you,' you are not going to win that battle. You are just going to put a lot of people off."
Asked which of the three leadership candidates he would back, Mr Blair replied: "I don't want to damage anyone by supporting them, so I have made up my mind not to give an opinion on which candidate.
"Whatever happens is going to be a significant improvement… If we had got rid of Jeremy Corbyn and put in someone more moderate, I think we would have done a lot better at this last election."
He warned that the next election would be more difficult because Conservatives would have had five years to embed themselves in power and former Labour voters who switched to the Tories would find it easier to stick with the party second time round.
Describing Labour as being in a "moment of crisis", he said: "Fundamental reconstruction is what we need now. I don't think you can tell whether any of the leadership [candidates] are going to do that or not right now."
In comments which will infuriate many Labour members, Mr Blair suggested the party needs to "build a new progressive coalition" with Liberal Democrats if it wants to regain power.
He stopped short of advocating a merger with the smaller party or the creation of a new centrist force, but said the "progressive" side of politics needed to overcome the "birth defect" which had divided Liberals from Labour and given Conservatives an easy ride in elections throughout the last 120 years.
"We must build a new progressive coalition to put Labour values into practice," said Mr Blair.
"We must correct the defect from birth which separated the Liberal reforming traditions of Lloyd George, Beveridge and Keynes from the Labour ones of Keir Hardie, Attlee, Bevin and Bevan.
"These traditions became separated by ideas around class, industrial organisation, the role of the state and individual liberty, all of which are time-bound. But they had in common social reform, advancement of opportunity and passionate commitment to fighting poverty and injustice, all of which are timeless.
"How this is done institutionally is for debate. But intellectually and philosophically this is essential. With one qualification. Those Liberal politicians aspired to govern. Today's Lib Dems would have to show the same clarity of purpose."
Join our commenting forum
Join thought-provoking conversations, follow other Independent readers and see their replies