The day I tried (and failed) to arrest Tony Blair for war crimes: Barman attempts to detain former PM at trendy Shoreditch restaurant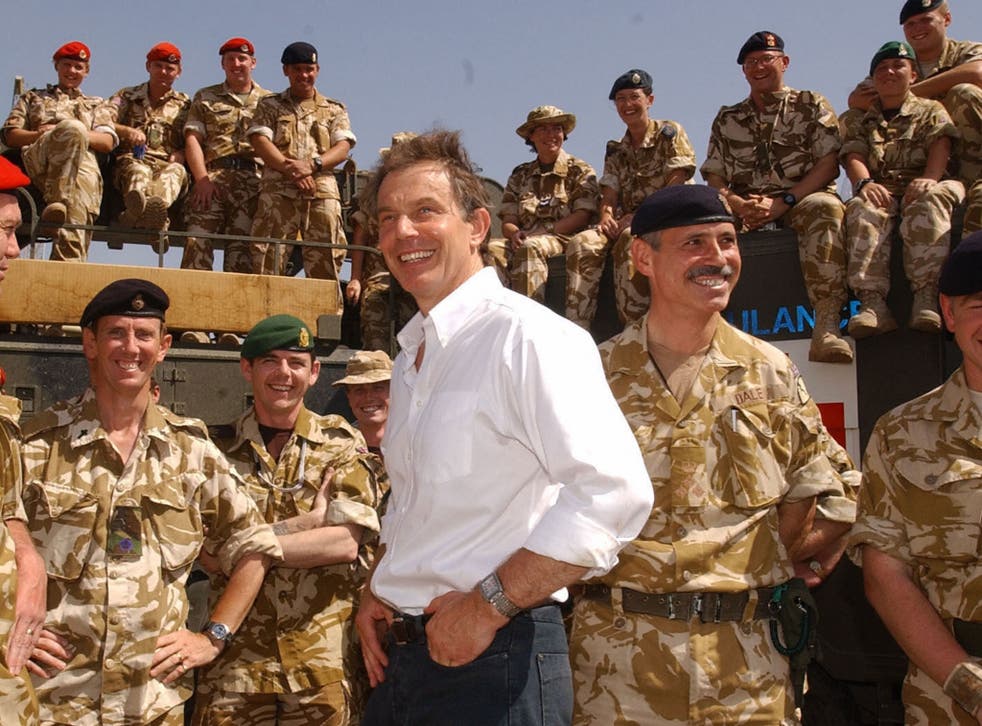 One is an internationally renowned statesman; the other was a barman working at one of east London's hippest restaurants. But it was the former Prime Minister, Tony Blair, who came out on top in an unusual clash on Friday. He managed to use his years of verbal dexterity – some would put it less politely – to talk himself out of what could have been a humiliating situation: a citizen's arrest.
Mr Blair is followed to almost every public engagement by protesters who blame him for the hundreds of thousands of deaths caused by the Iraq war and its aftermath.
The website arrestblair.org offers a bounty of about £2,150, or about a quarter of their total funds to anyone who can "arrest" him for crimes against peace. So when Twiggy Garcia saw his chance on Friday night, he leapt into action.
The former Labour leader was enjoying an intimate meal with family and friends at the Tramshed restaurant in trendy Shoreditch, where Mr Garcia was working. The venue, owned by the chef and Independent columnist Mark Hix, serves only two main courses – chicken and steak – and has artworks by Damien Hirst on the wall.
Mr Garcia told Vice: "He [Blair] was sitting at the head of a table upstairs with about eight other people eating dinner. I think he was out with his family and a few friends. I went over to him, put my hand on his shoulder and said: "Mr Blair, this is a citizen's arrest for a crime against peace, namely your decision to launch an unprovoked war against Iraq. I am inviting you to accompany me to a police station to answer the charge'."
Mr Blair responded with a typical "Teflon Tony" performance, trying to engage the barman in a civilised debate about Syria. Mr Garcia said the former premier "kept changing the subject and talking about Syria" and told him: "I think you should be more concerned about Syria."
Mr Garcia said: "I didn't expect him to start debating with me. I think he actually believed the lies that were coming out of his mouth."
But the barman's time was running out. "One of his sons got up and went to get the plain-clothes security from downstairs. I decided to get out of there sharpish... I quit my job there and then."
Article continues beneath gallery
Tony Blair: A career of controversies

Show all 11
Mr Garcia said he had fantasised for years about "arresting" Mr Blair, who is now a Middle East peace envoy. It was not a plan, he claimed, but "something I have wanted to do for a few years".
"I had been waiting for the opportunity after seeing the website arrestblair.org and it just so happened we were in the same place at the same time," he said. "I believe Blair is responsible for the mass murder of Iraqi civilians after taking our country into an illegal war."
Mr Garcia added that his "heart rate increased" when he discovered Mr Blair's "eerie presence" in the building and that he feared the politician's security team might have overheard him asking a colleague: "Should I citizen's arrest him?"
A spokesman for the former Prime Minister told The Independent: "There is nothing to report here apart from the fact that Mr Blair did offer to discuss the issue – that offer was declined and the individual walked off. Nothing else happened. Everyone is fine and they had a great time."
Mr Garcia is the fifth person to have tried to arrest Mr Blair. He said: "It will keep people from forgetting he is a war criminal. I hope one day he faces his charges in The Hague. People seem to think those laws only apply to Nazis and African warlords."

Register for free to continue reading
Registration is a free and easy way to support our truly independent journalism
By registering, you will also enjoy limited access to Premium articles, exclusive newsletters, commenting, and virtual events with our leading journalists
Already have an account? sign in
Register for free to continue reading
Registration is a free and easy way to support our truly independent journalism
By registering, you will also enjoy limited access to Premium articles, exclusive newsletters, commenting, and virtual events with our leading journalists
Already have an account? sign in
Join our new commenting forum
Join thought-provoking conversations, follow other Independent readers and see their replies