Tony Blair to be quizzed by MPs over his ties to the Gaddafi regime
Exclusive: Former Prime Minister has agreed to appear before Parliament's Foreign Affairs Committee early next month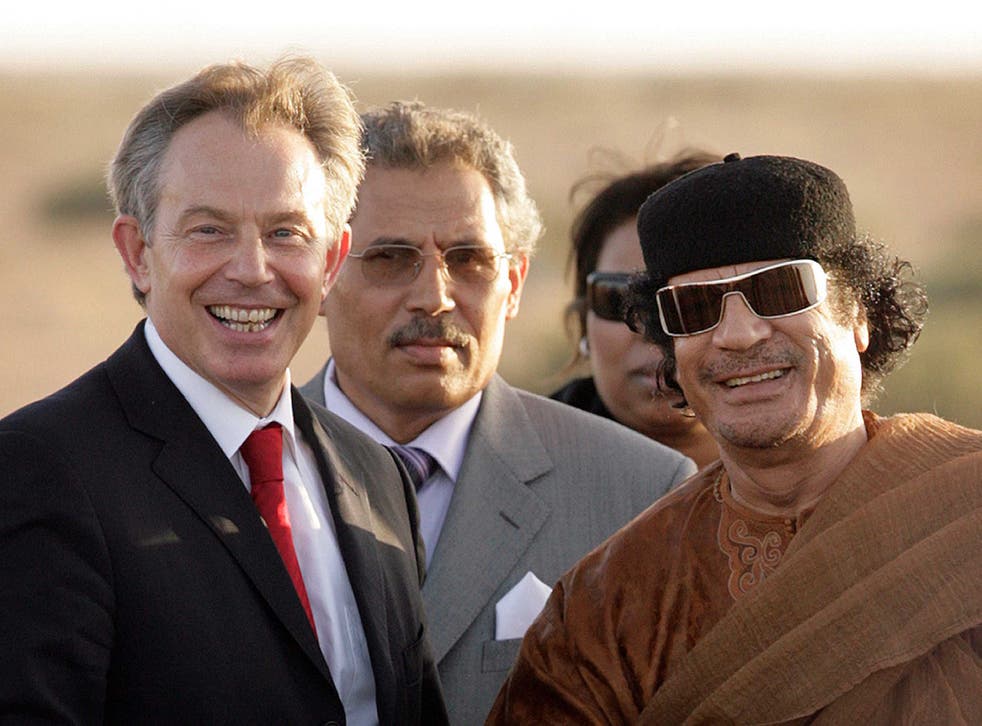 Tony Blair is to face questioning by MPs about his ties to the fallen Libyan regime of Muammar Gaddafi.
The former Prime Minister has agreed to appear before Parliament's Foreign Affairs Committee early next month. The select committee is investigating British foreign policy towards Libya since Mr Blair's infamous 2004 "deal in the desert". The agreement allowed Gaddafi to stay in power and develop diplomatic ties with the West in return for giving up weapons of mass destruction.
Signed in Libya a year after the 2003 invasion of Iraq, it was hailed as a major diplomatic coup. But it also sparked fierce condemnation in both the UK and US because of the Libyan government's role in the bombing of Pan Am Flight 103 over Lockerbie in 1988, with the loss of 270 people.
After Gaddafi was ousted and killed in 2011, evidence emerged of Britain's apparent involvement in the rendition of terror suspects to Libya for questioning, piling further pressure on Mr Blair.
The chairman of the Foreign Affairs Committee, Conservative MP Crispin Blunt, said that the UK's policy on Libya had been set by Mr Blair.
"The policy construct inherited in 2011 was Blair's. He was the one who reset Libya – it was his signal achievement, he claimed, to disarm Colonel Gaddafi of his weapons, his WMDs."
Mr Blunt said Gaddafi was allowed to "buy himself out of the sanctions regime" established to constrain the dictator, even though he was "certainly a supporter of terrorists".
Extraordinary details of Mr Blair's involvement with Libya emerged in emails sent to US presidential hopeful Hillary Clinton and released by the US State Department. Mr Blair, then Middle East peace envoy, repeatedly spoke to Gaddafi's regime to try to broker an end to the Libya's 2011 civil war.
He is thought to have visited Libya at least six times after leaving Downing Street in 2007.
Mr Blair told Mrs Clinton, at that time US Secretary of State, that America should not "humiliate" the dictator.
Register for free to continue reading
Registration is a free and easy way to support our truly independent journalism
By registering, you will also enjoy limited access to Premium articles, exclusive newsletters, commenting, and virtual events with our leading journalists
Already have an account? sign in
Register for free to continue reading
Registration is a free and easy way to support our truly independent journalism
By registering, you will also enjoy limited access to Premium articles, exclusive newsletters, commenting, and virtual events with our leading journalists
Already have an account? sign in
Join our new commenting forum
Join thought-provoking conversations, follow other Independent readers and see their replies