Top military chiefs go cold on nuclear deterrent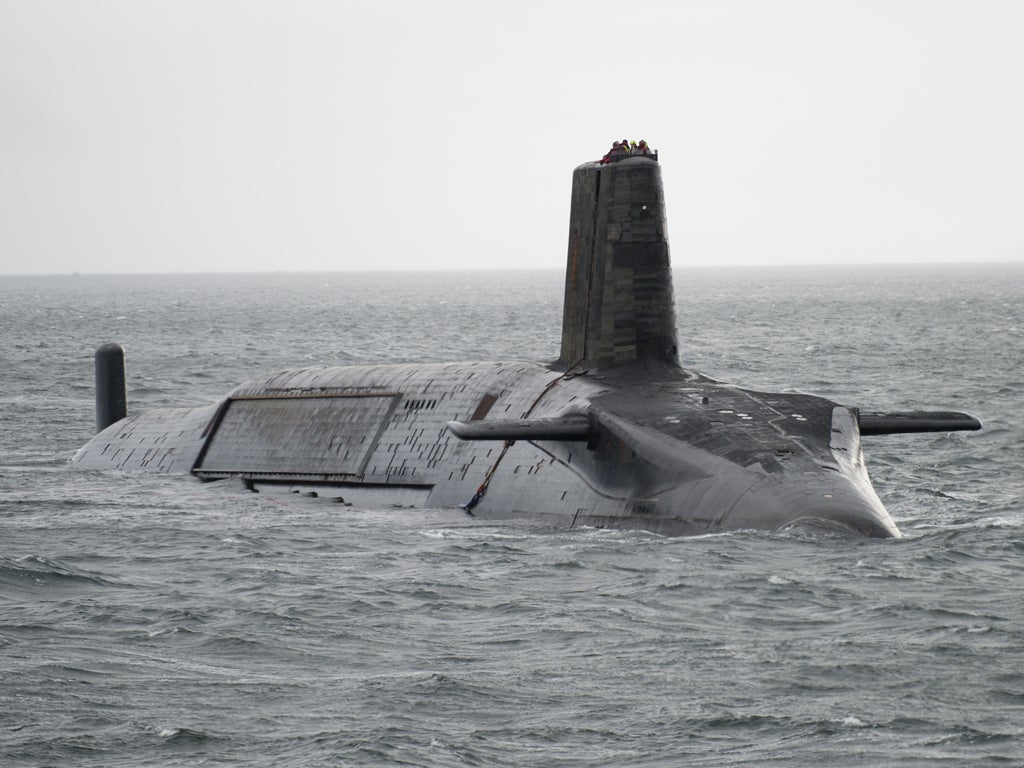 Senior military commanders have privately questioned whether Britain needs to maintain its current level of nuclear deterrence when the country's ageing Trident submarines are decommissioned.
Nick Harvey, the former defence minister who until September had responsibility for the Government's nuclear capability review, said officers had expressed reservations to him about both the costs and the benefits of such a deterrent.
And he warned that Britain's armed forces are facing a "perfect storm" of additional costs in the next five years that meant any decision to replace Trident would force cutbacks in other areas.
Serving military commanders told The Independent that while the decision on the future of the Trident had to be a political one the economic imperatives "must lead" to an "evaluation of what is ideal to have and what is more realistic in the situation we face".
"There are all kinds of considerations beyond purely military ones, such as whether not having a nuclear deterrent have any impact on our seat in the [UN] Security Council," said one of the most senior generals in the Army.
The senior general added that in terms of pure defence we must explore whether the money spent on Trident can't be spent better elsewhere, considering the very stringent cuts we face thanks to the SDSR.
"We are certainly up for a debate on this," he said.
The Government is due to publish the findings of its own review into the options for replacing Trident at the start of next year. Ministers have put the bill for a full scale new system at between £15bn and £20bn which is due to come out of existing Ministry of Defence budgets.
In his first public comments on the issue since leaving office Mr Harvey said senior officers were now beginning to question to wisdom of the status quo.
"Believe you me there are very senior people within all three services who are highly aware of the perfect storm of costs that are coming," he said.
"They don't believe that the Treasury is going to ride to their rescue with a cheque. They are asking the question: do we really want to do this. Is the opportunity cost of having another generation of nuclear weapons too high in terms of what it would prevent us doing on other fronts?"
Mr Harvey said that by 2020 the armed forces would have to find the money to pay for the joint striker aircraft, a new generation of unmanned aircraft as well as the Type 26 frigate.
This, he added, was in addition to re-kitting the army which, he said, had not had a proper programme of new equipment "for about 50 years".
"All of that will come at the same time as this massive outlay for Trident.
"I believe that the army, the air force and the surface part of the navy will look at the competing costs facing defence in 2020 and there will be an open debate as to whether replacing Trident with another full scale programme of nuclear weapons is an absolute must."
He added: "Serving military officers have to say what they've got to say behind closed doors but you can sometimes hear from what retired military officers say what the military community thinks."
Mr Harvey said he hoped that the nuclear review would spark a wider political debate about whether Britain needed to keep a cold war style nuclear deterrence for the sake of international prestige or whether there were cheaper alternatives available.
"I think we might struggle to persuade the British public to get off the nuclear ladder altogether," he said.
"But we might persuade them to keep our nuclear capability but put it away and not have it as part of your everyday activity."
And he dismissed that argument of that the wider economic benefits of replacing Trident made it a worthwhile programme.
"The idea that you should produce weapons of mass destruction in order to keep 1,500 jobs going in the Barrow shipyard is simply ludicrous," he said.
"Frankly you could give them all a couple of million quid and send them to the Bahamas for the rest of their lives - and you would have saved an awful lot of money."
Former commanders have been openly questioning the wisdom of Trident replacement. General Lord Ramsbotham stated: "What is the point in spending a vast proportion of our defence budget on it when that portion could be better spent on better equipping our conventional armed forces and giving them the precision guided weapons that they need."
A serving senior officer added: "The imperative is to ensure we have adequate conventional defences and this should not be sacrificed for the sake of replacing Trident."
Join our commenting forum
Join thought-provoking conversations, follow other Independent readers and see their replies