Top Tory funder runs high-cost loans company
Conservative party grandee controls firm which charges interest at 75 per cent APR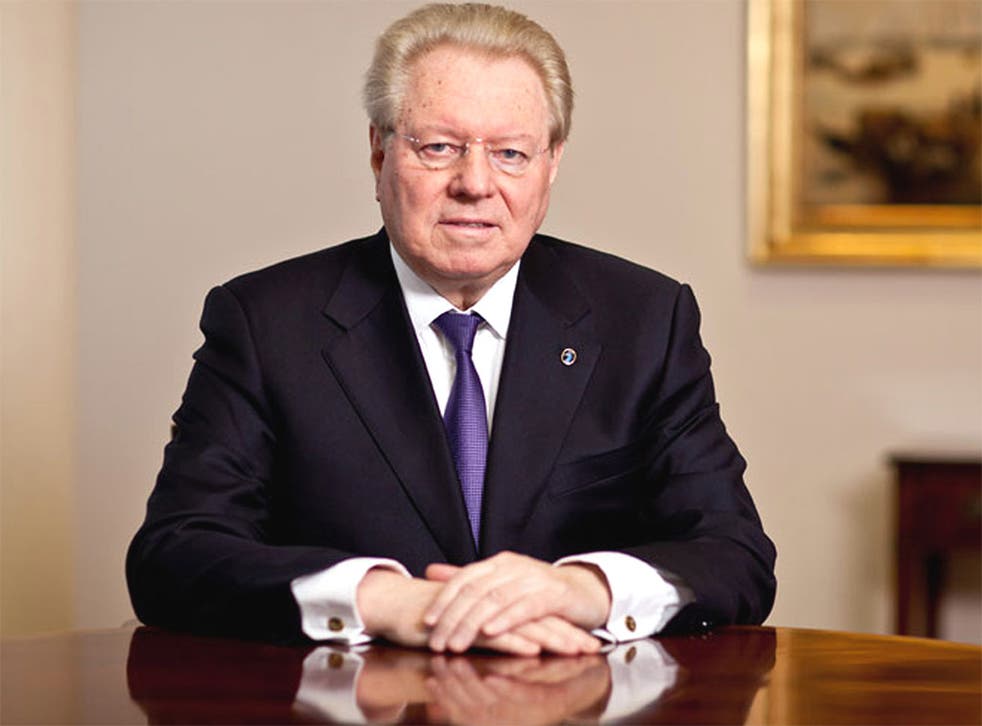 A top Conservative Party funder is revealed today as the man behind one of Britain's biggest high-cost lenders.
Financier Henry Angest – a friend of the Camerons and a former Tory Treasurer – gave the Conservatives a £5m overdraft facility shortly before the last General Election at an attractive interest rate of just 3.5 per cent.
The high-cost credit company Mr Angest controls, Everyday Loans, charges members of the public interest at an average 74.8 per cent APR.
The news – uncovered following analysis of accounts by the Bureau of Investigative Journalism – will prove awkward for the Conservatives, as Mr Angest becomes the second high-profile Tory donor profiting from the growing high-cost credit industry.
The Conservative donor and government adviser Adrian Beecroft has a major stake in Wonga, Britain's best-known payday lender, which charges borrowers more than 4,000 per cent APR.
Mr Beecroft has given almost £800,000 to the Tories in the last seven years, contributing more than £100,000 last December.
Last October, Jonathan Luff, a senior adviser to David Cameron, quit Downing Street to become a lobbyist for Wonga.
The Government claimed earlier this year to be cracking down on high-interest lenders.
The Treasury and Department for Business, Innovation and Skills announced a range of measures in March which it said would ensure a fairer deal for consumers. Meanwhile, the Office of Fair Trading has threatened to refer the payday lending sector to the Competition Commission.
The involvement of Conservative grandees in the high-cost lending industry is awkward for the Prime Minister, who has invited Mr Angest to private dinners with his wife Samantha at Chequers and Downing Street.
The Swiss-born millionaire is chairman and chief executive of Arbuthnot Banking, which last year bought Everyday Loans, which has a head office in Solihull and 31 branches in places such as Bradford, Croydon, Liverpool and Stoke.
A spokesman for the bank was quick to distance the firm from payday lenders. "Everyday Loans provides loans to customers who are underserved by the high street banks," he said. "If Everyday Loans did not provide this service, those looking for loans would have to approach payday loan companies, pawnbrokers or home collected credit companies where interest rates would be very much higher."
Anyone borrowing £1,000 over a year from the firm could be forced to pay around 15 times the amount someone could be charged at a mainstream lender, where interest rates have dropped to as little as 5 per cent in recent weeks.
The high-cost credit sector has exploded in recent years as struggling families have been forced into debt to cope with soaring bills and rising unemployment.
That has led to major investment from many US-based lenders hoping to boost their profits from British consumers.
Analysis of 50 leading payday and high-cost credit firms by the Bureau revealed that the top firms boast profit margins of up to 49 per cent with revenues trebling in the last year at seven firms.
The high-cost lender with the biggest turnover is CashEuroNetUK, which owns the payday lender Quick Quid. Its turnover last year of £198m just beat Wonga's turnover figures of £185m during the year.
Wonga's turnover increased by 225 per cent over the year while Quick Quid's owner saw its turnover soar 214 per cent. Mr Angest's Everyday Loans is the 11th largest high-cost lender by turnover, according to the research, with revenues of £20m last year.
A spokesman from Arbuthnot Banking said: "We have not discussed the business of Everyday Loans Limited with either the Conservative Party, the current Government or civil servants."
The facility provided to the Conservative Party by Arbuthnot Latham preceded the acquisition of Everyday Loans. Profits from Everyday Loans have not been provided to any political party.
Everyday Loans have told us that it considers customers' affordability prospects and only lends in a responsible manner which is fundamentally different to the approach used by payday lenders. Interest rates reflect the risk involved in lending to individual borrowers and are typically 20 times less than payday lenders.
Henry Angest: Big spender who keeps a low profile
The Tory grandee behind one of Britain's biggest high-cost lenders, Henry Angest, is estimated to earn £519,000 as chief executive of the exclusive private bank Arbuthnot. He is one of the Conservative Party's largest financial backers, having channelled almost £7m to the Tories in loans and donations over the past decade.
Married to Dorothy, he is a publicity-shy, Swiss-born, respected City investment banker who is a former master of the Worshipful Company of International Bankers. His passion – apparently – is dendrology, the study of trees.
The Tories were forced to admit that he was one of several party donors who was invited to private dinners with David Cameron, despite the fact that Mr Angest was reported to have backed Michael Portillo's Tory leadership campaign in 2001.
Arbuthnot Banking Group owns retail bank Secure Trust, which bought Everyday Loans last year.
Register for free to continue reading
Registration is a free and easy way to support our truly independent journalism
By registering, you will also enjoy limited access to Premium articles, exclusive newsletters, commenting, and virtual events with our leading journalists
Already have an account? sign in
Register for free to continue reading
Registration is a free and easy way to support our truly independent journalism
By registering, you will also enjoy limited access to Premium articles, exclusive newsletters, commenting, and virtual events with our leading journalists
Already have an account? sign in
Join our new commenting forum
Join thought-provoking conversations, follow other Independent readers and see their replies