Tories U-turn on plan to build more socially rented council housing
Plan to build genuinely affordable homes ditched by housing minister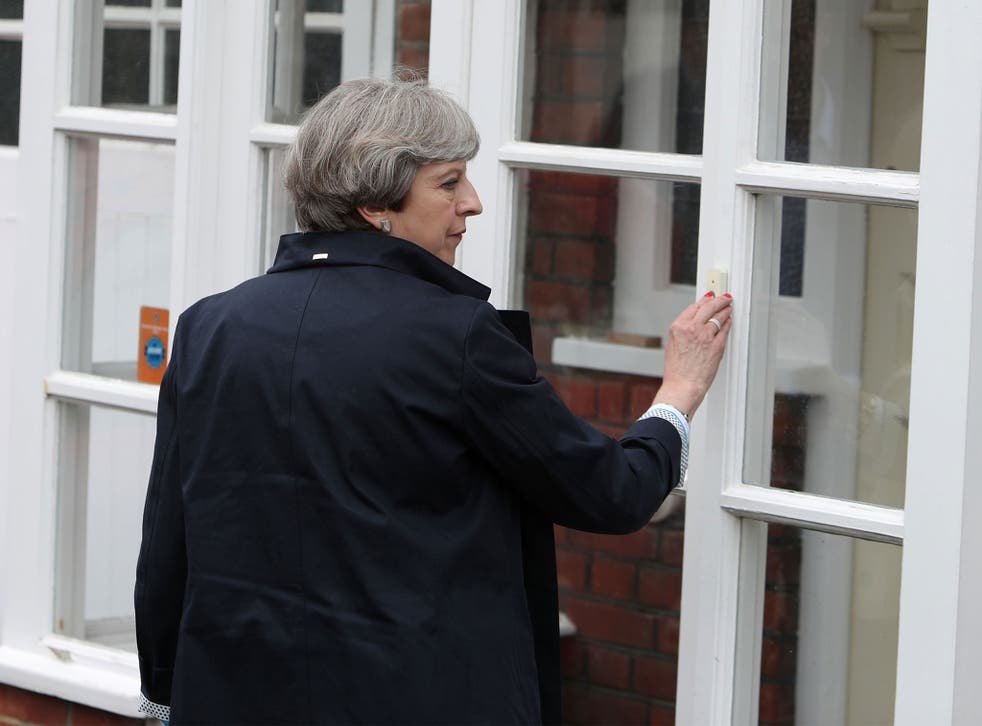 The Conservatives have U-turned on a flagship pledge to build "a new generation" of social housing announced in their manifesto just weeks ago.
Theresa May personally promised her policy would deliver "a constant supply of new homes for social rent", but her housing minister has now admitted planned homes would in fact be of a significantly less affordable type.
The embarrassing admission represents the second about-turn on a Conservative manifesto pledge, after the damaging furore around the "dementia tax".
Tory officials played down the reversal, but Labour claimed it showed one of the Prime Minister's key pledges to help low-income families had "fallen apart", while the Chartered Institute of Housing branded it "very disappointing".
In mid-May the Conservatives announced they would build "a new generation of homes for social rent", in a policy seen as critical to winning over the kind of working-class voters Ms May needs to steal seats off Labour.
The Tory manifesto spelt out a plan for "new council housing deals", which would help councils "build more social housing". And, in an intervention that spoke to the policy's importance, Theresa May personally pledged it would create "a constant supply of new homes for social rent".
But in an interview on Friday with trade magazine Inside Housing, minister Gavin Barwell admitted the party was planning to continue to build homes with higher rents and was not in fact reinstating traditional socially rented council housing.
Asked whether the homes planned by his party would be let at low-level council rents, the minister said: "No, I think the idea is that they are what you'd call affordable rents in housing terminology, but they are social housing."
The Department for Communities and Local Government defines social rented housing as having lower rents "determined through the national rent regime" – a specific formula set by the Government.
Affordable-rent housing, meanwhile, is separately defined, and simply requires homes to be "of no more than 80 per cent of the local market rent" – meaning rents could be considerably higher. In practice, social rent tends to come in at around 40 per cent of market rent, meaning that in some areas the difference in rent could be twice as much.
CIH chief executive Terrie Alafat called the switch "very disappointing", adding: "In reality affordable rents are still often out of reach to a significant proportion of the population.
"We have to commit to building new homes that people can afford."
The apparent reversal comes after Theresa May was forced to U-turn on the "dementia tax" care policy – introducing a cap at the last minute as her Tory poll trickled away amid the backlash.
Ms May also dropped a pledge to force companies to put ordinary workers on their boards of directors, scrapped a flagship rise in National Insurance for self-employed workers in this year's Budget, and changed her mind on whether to call an election.
There has also been confusion over the Tory policy to scrap universal free school lunches for infants to save money and replace them with breakfasts – after it emerged the party had only budgeted 7p for each child. The party has indicated that those costings are now defunct.
Labour's shadow housing secretary John Healey said the Tories' only housing announcement of the general election was collapsing.
"This is another policy pledge from the Prime Minister that has fallen apart," he told The Independent.
UK General Election 2017

Show all 47
"The housing minister has now contradicted Theresa May's only housing announcement of this election campaign. She promised that the Conservatives would build new homes for 'social rent', he has confirmed they will not.
"The Prime Minister now urgently needs to level with the public. Either her housing minister is wrong about Conservative housing policy or she is. Which is it?"
Asked about Mr Barwell's comments, a Conservative spokesperson said: "We will be supporting new council housing at below market rents. Councils will be in the lead in deciding the precise form of tenure – we expect a mixture of social and affordable rent, as at present."
Register for free to continue reading
Registration is a free and easy way to support our truly independent journalism
By registering, you will also enjoy limited access to Premium articles, exclusive newsletters, commenting, and virtual events with our leading journalists
Already have an account? sign in
Register for free to continue reading
Registration is a free and easy way to support our truly independent journalism
By registering, you will also enjoy limited access to Premium articles, exclusive newsletters, commenting, and virtual events with our leading journalists
Already have an account? sign in
Join our new commenting forum
Join thought-provoking conversations, follow other Independent readers and see their replies