Tories' plans on EU referendum are 'flawed and bound to unravel', says Nick Clegg
Downing Street insists Conservative backbench attempt to bring forward vote would not be allowed to pass 'in any circumstances'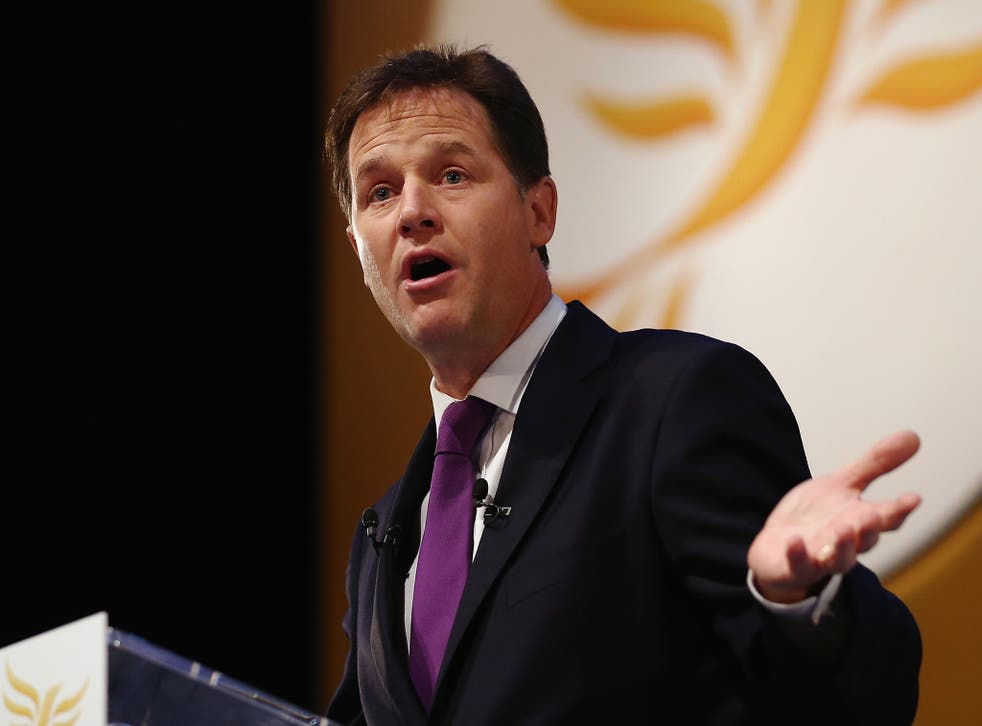 The Tories' promise to hold a referendum on Britain's membership of the European Union is "deeply flawed and bound to unravel", Nick Clegg will say this week, as senior Conservative ministers move to try to quell an attempt to bring forward the vote to before the 2015 election.
An exit from Brussels would be "economic suicide" for the UK and derail the fragile economic recovery, Mr Clegg will say in a speech tomorrow. "You cannot overstate the damage it would do to British livelihoods and prosperity," he will tell employees from Swiss firm Buhler Group.
He will accuse Mr Cameron of promising a referendum to "plaster over" internal Tory divisions on Europe, despite the fact that it could harm Britain's national interest. On Sunday Adam Afriyie, the Tory MP for Windsor who has previously been the source of speculation over a leadership bid, said he planned to table an amendment to the legislation that paves the way for a referendum in 2017. Writing in the Mail on Sunday, Mr Afriyie said he wanted a vote on 23 October 2014 and said that any delay posed "significant dangers" including allowing Ukip time to build support for moves to leave the EU.
"Only by setting an early date can we kick-start EU renegotiation talks and give the British people what they so clearly want – a say on our country's future with Europe," he wrote.
"The political establishment are naturally hesitant but we have nothing to fear."
That view was supported by other figures on Sunday, including former Labour minister Tom Watson and Ukip leader Nigel Farage.
Sources inside No 10, however, insisted last night that an amendment would not be allowed to pass "in any circumstances". "The PM will not let it stand," a spokesman said.
That view was echoed by the Home Secretary Theresa May, who said Mr Afriyie had "got it wrong" and that his proposal could jeopardise the leadership's plans for a referendum, which is based on the Tory MP James Wharton's Government-backed Private Members' Bill.
"What the amendment possibly could do, as James Wharton himself who put in the referendum bill through Parliament has said, is it could actually jeopardise that bill," Mrs May told the BBC's Andrew Marr Show.
Mr Wharton's European Union (Referendum) Bill cleared its first Commons hurdle with ease in July after Labour and the Liberal Democrats abstained from the vote.
Ed Miliband and Nick Clegg have dismissed the bill as a stunt designed to shore up the Prime Minister's position with his rank and file – pointing out that it has virtually no chance of becoming law. Yesterday Mr Wharton met Mr Afriyie's proposal with derision. "I hope MPs will decline to support it as the ultimate impact might well be to kill my bill, which would only help those who don't want any referendum at all," he said.
In May 115 Conservative MPs backed a rebel amendment to the Queen's Speech criticising the failure to include a referendum bill in the Government's legislative programme. Mr Cameron said that was impossible due to being in coalition with the pro-European Liberal Democrats but has supported Mr Wharton's Bill.
Join our new commenting forum
Join thought-provoking conversations, follow other Independent readers and see their replies