Tories open 11-point poll lead over Labour as assured Theresa May attacks Jeremy Corbyn in first PMQs
Tory MPs declare a 'game, set and match' victory over Corbyn in new leader's first PMQs appearance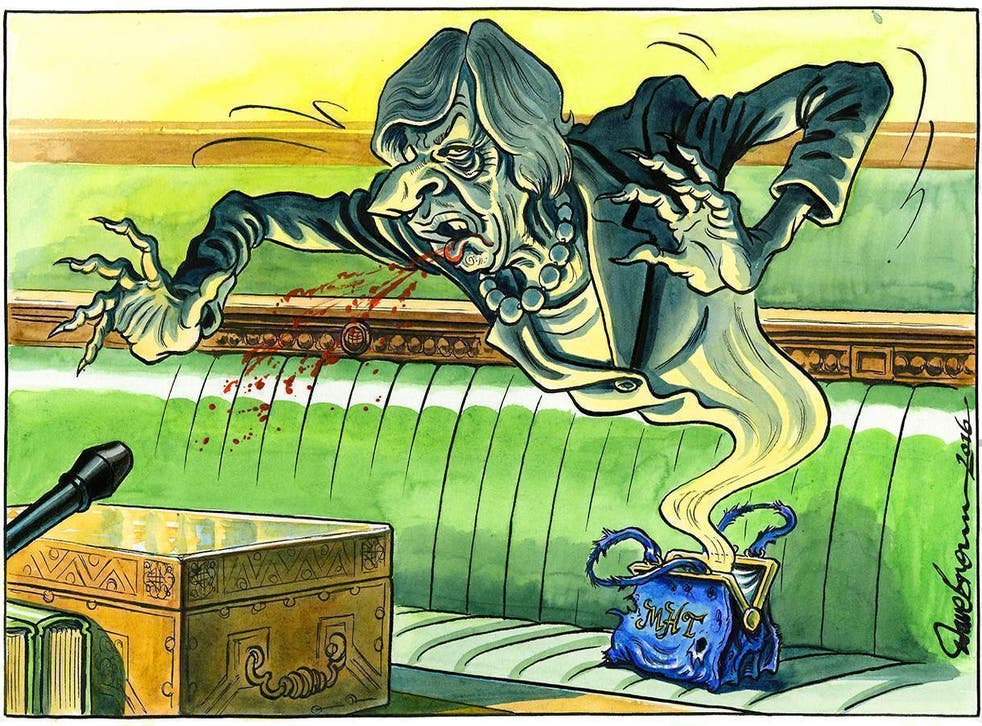 Theresa May has given the Conservative Party an immediate bounce in the opinion polls which, if sustained, could revive speculation that she will call an early general election.
Ms May made an assured debut at Prime Minister's Questions when she ridiculed Jeremy Corbyn after he raised the issue of insecurity at work. She told him: "I suspect that there are many members on the Opposition benches who might be familiar with an unscrupulous boss. A boss who doesn't listen to his workers, a boss who requires some of his workers to double their workload and maybe a boss who exploits the rules to further his own career. Remind him of anybody?"
Tory MPs declared "game, set and match" over Mr Corbyn after she echoed Margaret Thatcher by defining what he called "austerity" as "living within our means".
Ms May revived memories of Baroness Thatcher's battles with Britain's EU partners by telling Chancellor Angela Merkel at their first meeting that she would not be rushed into negotiations on the UK's exit from the EU. She said in Berlin that she would not invoke Article 50 of the Lisbon Treaty until after the end of this year, admitting that the other 27 EU leaders would not be pleased by the delay. They hoped they would start the process this year after Ms May entered Downing Street two months earlier than expected.
On her first foreign trip as Prime Minister, Ms May said: "All of us will need time to prepare for these negotiations and the UK will not invoke Article 50 until our objectives are clear." After the two leaders held constructive "get to know you" talks, the German Chancellor said it was understandable that the UK wanted to delay the formal process but warned: "No one wants things to be up in the air."
According to YouGov, the Tories have opened up an 11-point lead over Labour, which was three points ahead in its last voting intention survey in April. The Tories are now on 40 per cent (up 10 points); Labour 29 per cent (down four points); Ukip 12 per cent (down eight points) and the Lib Dems nine (up three points).
Although bitter Tory divisions were displayed during the EU referendum, Labour appears to be paying a price for its in-fighting. Some 90 per cent of people who voted Conservative in 2015 plan to do so again, while only 76 per cent of Labour voters remain loyal to the party. The Conservatives are now ahead of Labour in every region of the country except the North, and among the key C2DE social group.
Ms May has ruled out an election before the one due in 2020. But if her honeymoon continues and Labour remains divided, some Tory MPs believe she could be tempted to seek her own mandate from the voters next spring. An election before then is thought unlikely because it would add to the uncertainty following the Brexit vote.
Theresa May accuses Jeremy Corbyn of being an "unscrupulous boss"
It is unclear how the Prime Minister will square her desire for the closest possible economic links with the 27 EU countries with the public demand to limit immigration. EU leaders have made it clear that full access to the single market would mean the UK keeping current free movement rules, which would be politically impossible for Ms May.
Theresa May's Cabinet: Who's in – and who's out?

Show all 27
The Prime Minister told MPs she was not abandoning the Government's target to bring net migration below 100,000 a year. She remained "absolutely firm in my belief that we need to bring net migration down to sustainable levels. The Government believes that that is tens of thousands." But she admitted that would "take some time", even though EU migration will eventually be reduced. Her officials declined to say that the target would be hit by 2020, describing it as an "ambition" and "priority" without a "timeframe".
Ms May rebuffed a call from the senior Tory MP Sir Edward Leigh for the UK to leave the European single market. She replied: "In negotiating the deal, we need to ensure that we listen to what people have said about the need for controls on free movement, and that we also negotiate the right and best deal for trade in goods and services for the British people."
Mr Corbyn quoted back at Ms May her statements outside Downing Street on becoming Prime Minister about extending opportunity to all, contrasting her "warm words" with the record of the Government in which she served. The Labour leader said: "Six years of government austerity has failed, the long-term economic plan is clearly dead. Is there a new one?" He added: "Austerity actually means people being poorer, services being cut and local facilities being closed." Ms May told him: "It's about not saddling our children and grandchildren with significant debts to come."
She sidestepped Mr Corbyn's question about comments by Foreign Secretary Boris Johnson calling black people "piccaninnies" and questioning the motives of US President Barack Obama because of his "part-Kenyan" heritage.
Register for free to continue reading
Registration is a free and easy way to support our truly independent journalism
By registering, you will also enjoy limited access to Premium articles, exclusive newsletters, commenting, and virtual events with our leading journalists
Already have an account? sign in
Register for free to continue reading
Registration is a free and easy way to support our truly independent journalism
By registering, you will also enjoy limited access to Premium articles, exclusive newsletters, commenting, and virtual events with our leading journalists
Already have an account? sign in
Join our new commenting forum
Join thought-provoking conversations, follow other Independent readers and see their replies