Tories round on 'bastard' Osborne
Chancellor is gaining enemies around the cabinet table
Matt Chorley
,
Jane Merrick
Saturday 30 June 2012 23:29 Comments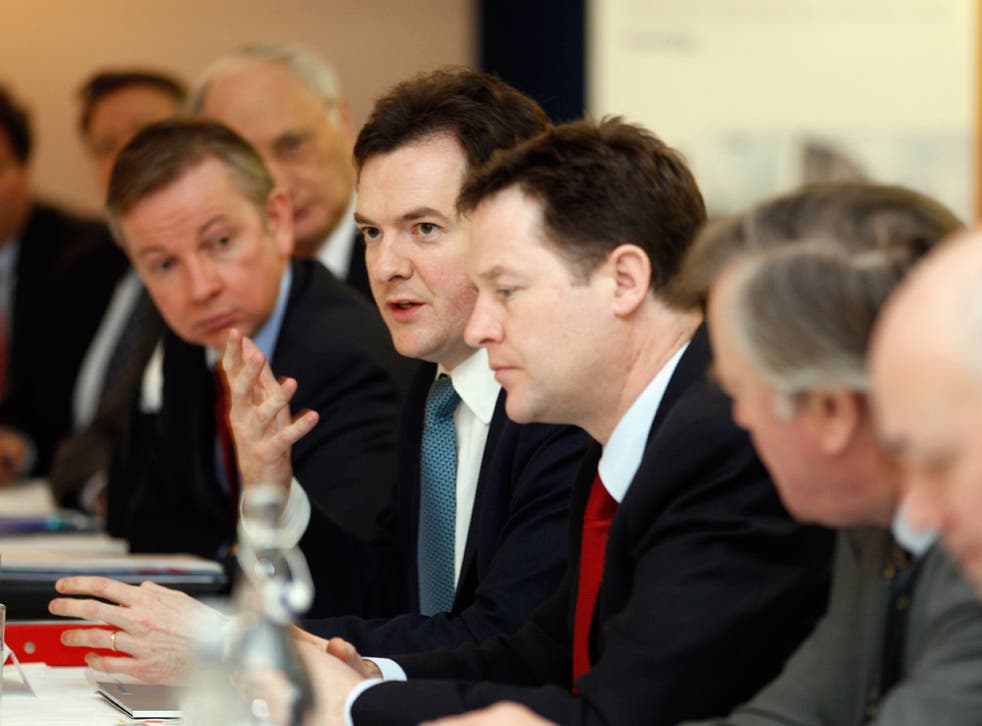 Conservative cabinet ministers have rounded on George Osborne for his catalogue of Budget U-turns, with one branding the Chancellor a "bastard" for humiliating his colleagues.
Last week's partial reversal on fuel duty was intended to garner positive headlines for having helped hard-pressed motorists. Instead, Mr Osborne attracted the opprobrium of his fellow ministers for leaving them in the dark after they had publicly rejected the idea just days before. Two poor TV interviews one evening by Chloe Smith, a junior Treasury minister, added to the sense of chaos.
A Tory cabinet member claimed the last-minute decision to delay next month's 3p rise in fuel duty until January was "just mad" and risked undermining the Government's claim to have a credible plan for deficit reduction. "If there is half a billion pounds sitting unspent somewhere, I would like to see it," he said.
There is a growing sense of unease about the Government being run by the "duopoly" of David Cameron, the Prime Minister, and Mr Osborne, with complaints over Europe and House of Lords reform top of the list.
The Independent on Sunday has learnt that another furious Cabinet minister lashed out after the fuel duty U-turn, telling friends they would in future do nothing to help "that bastard Osborne".
A third minister said there was now widespread disillusion across the Tory party. "We cannot simply rely on dripping out policies and then announcing a U-turn the next day. It looks like government by PR, not by ideology."
One minister said: "The coalition is rotting from the bottom up. It started with the local associations, it's reached the back benches and it is creeping up. We need to [stop it] reaching the top before 2015. The PM mustn't be pulled by our hard right. It would mean the retoxifcation of the party. To think we will win by being more right wing is mad."
Ministers are pinning their hopes on this month's Olympics to lift the coalition out of the gloom.
The IoS understands that Boris Johnson is to join the Cabinet – at least for the duration of the sporting spectacular. Each morning, Mr Cameron will chair an Olympics cabinet."It will be interesting to see how Cameron deals with Boris," said one prospective attendee. "They will be fighting for the glory, and trying to dodge the blame."
Mr Cameron tried to soothe his backbenchers last night by promising a referendum on the EU – but only when there was a "real choice" for voters. The PM wrote in The Sunday Telegraph that he wouldn't hold an immediate in/out vote but added: "For me the two words 'Europe' and 'referendum' can go together... but let us get the people a real choice first."
Register for free to continue reading
Registration is a free and easy way to support our truly independent journalism
By registering, you will also enjoy limited access to Premium articles, exclusive newsletters, commenting, and virtual events with our leading journalists
Already have an account? sign in
Join our new commenting forum
Join thought-provoking conversations, follow other Independent readers and see their replies