Tory attitudes to poverty under fire amid benefit sanctions and Baroness Jenkin comment that poor 'don't know how to cook'
Baroness Jenkin forced to apologise after blaming food bank use on culinary incompetence
Oliver Wright
Monday 08 December 2014 22:52 Comments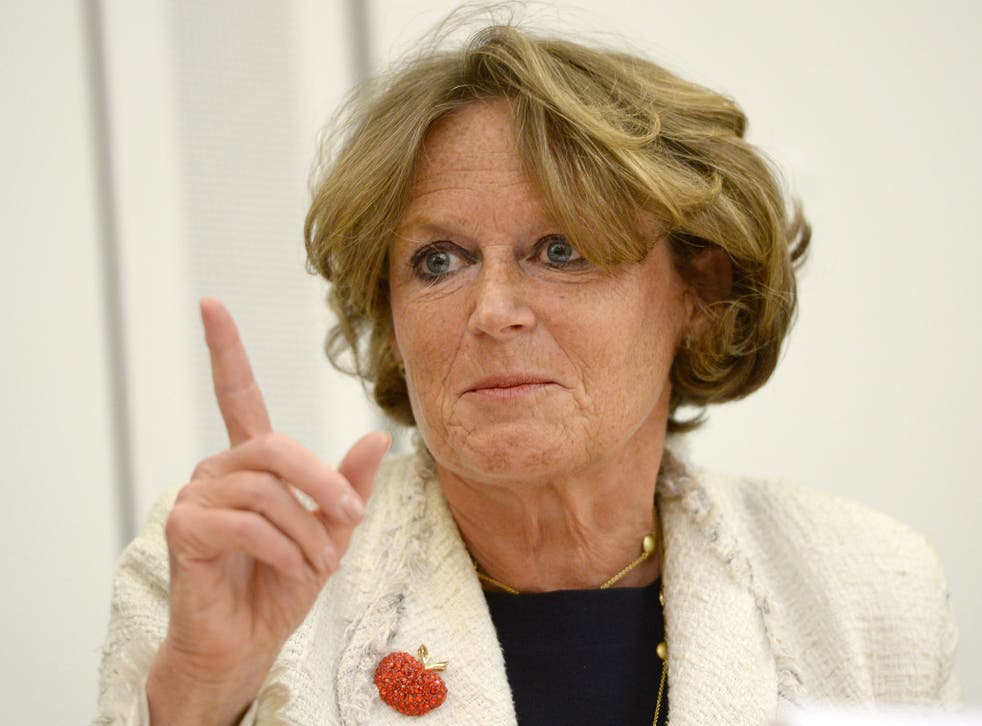 Tory attitudes towards the poor came under intense scrutiny yesterday as new government figures showed record numbers of people having their benefits docked, and a Conservative peer suggested those on low incomes should eat porridge to save money. Nearly a million people lost at least a month's worth of benefits for failing to do enough to find work in the year to April, according to figures from the Department for Work & Pensions (DWP).
The figure is the highest since the sanctions regime was introduced in 2012 and appears to back up claims that Jobcentre staff are operating a zero-tolerance approach to those who fail to demonstrate that they are actively seeking employment.
New figures released by the Office for National Statistics (ONS) also showed that the UK spent less on welfare protection per head of population than any other Western European economy other than Spain, Greece and Portugal.
Charities say benefit sanctions are one of the main reasons for the dramatic rise in the numbers of people turning up at food banks.
But at the launch of a Church of England-sponsored report into food poverty in the UK the Conservative peer Baroness Jenkin of Kennington suggested another reason why poor people were struggling with food costs was because they "don't know how to cook".
Lady Jenkin, who served on the inquiry team that produced the document, also seemed to suggest that those on low incomes should eat porridge rather than cereals to save money.
"We have lost our cooking skills," said the peer and the wife of Conservative MP Bernard Jenkin. "Poor people don't know how to cook. I had a large bowl of porridge today, which cost 4p. A bowl of sugary cereals will cost you 25p."
She later acknowledged that her words had been badly chosen and said she was trying to get across the message that home-cooked meals are often cheaper and more nutritious than packaged food.
"I am well aware that I made a mistake in saying it and apologise to anybody who's been offended by it," she said.
"The point is valid. If people today had the cooking skills that previous generations had, none of us would be eating so much pre-prepared food."
But charities said a lot of food poverty was caused by a rise in the number of people having their benefits sanctioned by at least a month for failing to do enough to find work. They said some people had lost their income for a month or more for trivial mistakes and misunderstandings such as missing appointments they were never told about or rearranging a job interview that clashed with childcare obligations.
Overall 900,000 people had their jobseeker's allowance docked in the year to April while the figures showed that a third of those who lost their benefits had been claiming jobseeker's allowance for less than 13 weeks. This suggests that many were not fully aware of the rules they had to comply with.
In pictures: Food banks

Show all 9
Charities say many are being left destitute with no money for food and are increasingly reliant on food banks as a result. Research from the Citizens Advice Bureau suggests that one in four had dependent children while one in six already had a debt problem before having their benefits docked.
Gillian Guy, chief executive of Citizens Advice, said the four-week sanctions were also "wreaking havoc with people's ability to find work".
"Four weeks without jobseeker's allowance being paid creates a barrier to work, as people's struggle to find the money for food, rent and bills means that their job search is interrupted," she said.
"We're calling on the Government to move to the more responsive sanctions model being implemented as part of universal credit sooner rather than later."
Alison Garnham, chief executive of the Child Poverty Action Group, added: "The sanctions regime is plagued by bad decisions with claimants often left bewildered and successful appeals at an all-time high.
"The regime isn't working for anyone; not for the Government, not for the labour market and especially not for claimants. The system is clogged with the fall-out from poor decision-making while families are plunged into crisis. The Department for Work & Pensions desperately needs to start getting far more decisions right first time around."
In the House of Commons the Work & Pensions Secretary Iain Duncan Smith appeared to admit that there was a link between the sanction regime and food poverty and pledged to do more to alert claimants to what they needed to do to ensure they did not lose benefits in the light of the food poverty report.
"I do take this report seriously," he said. "One of the areas that they and our own internal report highlighted was what we do to raise awareness. Today I have announced that we shall be doing much more to raise awareness of interim payments for people who need them, particularly those who are in difficulty."
But Rachel Reeves, the shadow Work & Pensions Secretary, said the move was "not enough". "The findings of this morning's all-party report are clear: the rise in food poverty is the consequence of the failing safety net," she said.
"Just a few weeks before Christmas, it is shocking that more and more families are worrying about where their next meal is going to come from. Food banks have become the shameful symbol of this Tory-led Government, and yet another example of Tory welfare waste."
A DWP spokesman said: "Sanctions are only used as a last resort for a tiny minority who don't follow the rules and hardship payments are available if people need them. Figures from last month show that in the first half of this year there were around 53,000 fewer sanctions compared to the same period last year."
In October, the mayor of Calais claimed that Britain is seen as an El Dorado for migrants because of the benefits they believe they will receive, but the UK is less generous than France in its welfare handouts.
Figures from the ONS showed that more than a dozen European countries spent more on financial support for people in need or at risk of hardship because of illness or low income.
Register for free to continue reading
Registration is a free and easy way to support our truly independent journalism
By registering, you will also enjoy limited access to Premium articles, exclusive newsletters, commenting, and virtual events with our leading journalists
Already have an account? sign in
Join our new commenting forum
Join thought-provoking conversations, follow other Independent readers and see their replies