Conservative party conference: Tens of thousands protest against Tories in central Manchester
An estimated 30,000 anti-austerity and pro-EU demonstrators gathered ahead of conference opening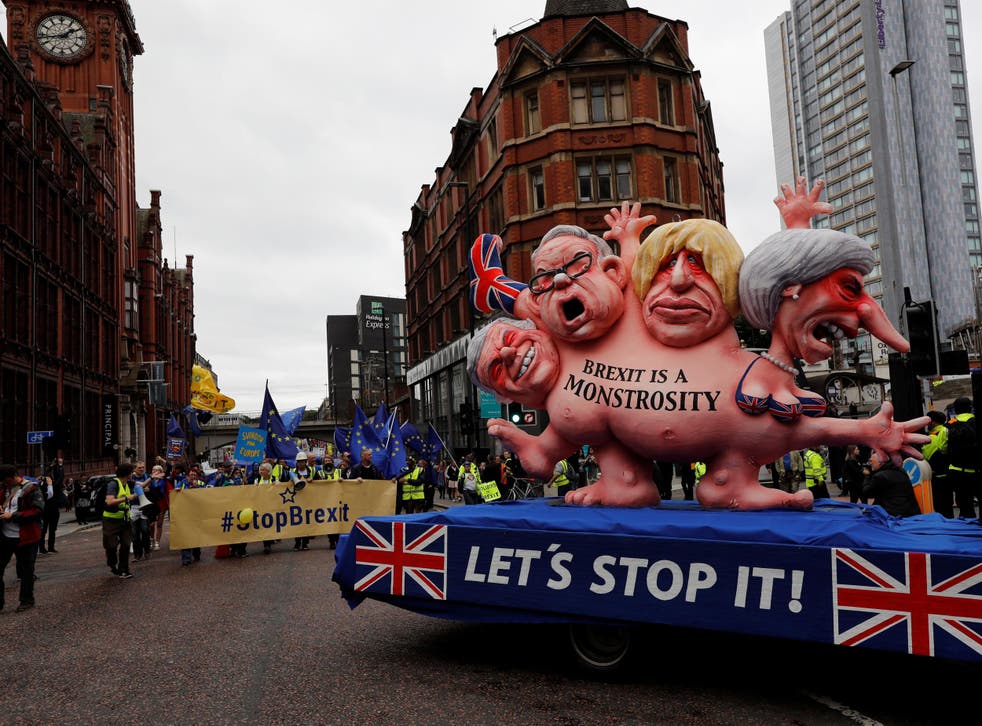 Up to 30,000 protestors have gathered in Manchester at the start of the Tory Party conference.
Pro-EU and anti-austerity demonstrators both marched through the city on Sunday.
Theresa May is expected to try to stamp her authority on her party and the cabinet during the four-day conference, having lost her parliamentary majority with a botched election gamble in June.
Thousands of marchers were heard chanting "b******* to Brexit" and waving the gold stars of the European Union flag as they demanded Britain remain in the European Union.
A float with caricatures of Theresa May and other cabinet members carried the message "Brexit is a monstrosity".
Under a heavy police presence, demonstrators called on Prime Minister Theresa May to embrace closer ties with Europe.
Paolo Orrigo , 51, managing director of a business which imports goods from Italy, said he had voted Conservative all his life but was now switching to the pro-EU party, the Liberal Democrats.
"How am I supposed to import goods on WTO tariffs?" he told Reuters. "We are already seeing the effects. Brexit is a house built on sand. It will fall over, it is just a folly.
"Theresa May is a zombie. She is not going to last."
At a separate protest, organised by the People's Assembly Against Austerity many shouted: "Tories, out, out, out", and "Oh, Jeremy Corbyn".
Smoke bombs were thrown and demonstrators - some wearing masks to hide their identity - chanted "Let us out!'' after police refused to let a van join the march route because it did not have security clearance.
About 25 police officers lined up to block the road and stood silently as the demonstration continued. The stand off came as the march made its way through the centre of Manchester.
UK news in pictures

Show all 51
Public and Commercial Services Union boss Mark Serwotka called for a general strike on public sector pay to "bring the Tories down", saying Tory policies were "literally killing people".
Conservative cuts to health and safety regulations preceded the Grenfell Tower fire disaster, he told the People's Assembly crowd. "David Cameron told us he has slayed the health and safety monster, but we now know they slayed men and women and children as they slept in their houses," he said.
Yesterday, protestors were labelled "fascists" after a banner reading "HANG THE TORIES" was hung from a Manchester bridge. Michael Fabricant, Conservative MP for Lichfield shared an image of the "charming welcome to Manchester" on his Twitter page. He added, "these aren't protestors, they're fascists".
Mayor of Greater Manchester, Andy Burnham was quick to distance the banner from the Labour Party. "This is just wrong. We will always protect the right to protest but never to threaten, abuse, or incite violence", he tweeted.
Agencies contributed to this report
Join our new commenting forum
Join thought-provoking conversations, follow other Independent readers and see their replies