Tory-DUP deal mired in fresh jeopardy as unionists 'demand £2bn investment in Northern Ireland'
Expensive wish-list makes it unlikely that an agreement will be struck tomorrow, as No 10 hoped – or, perhaps, ever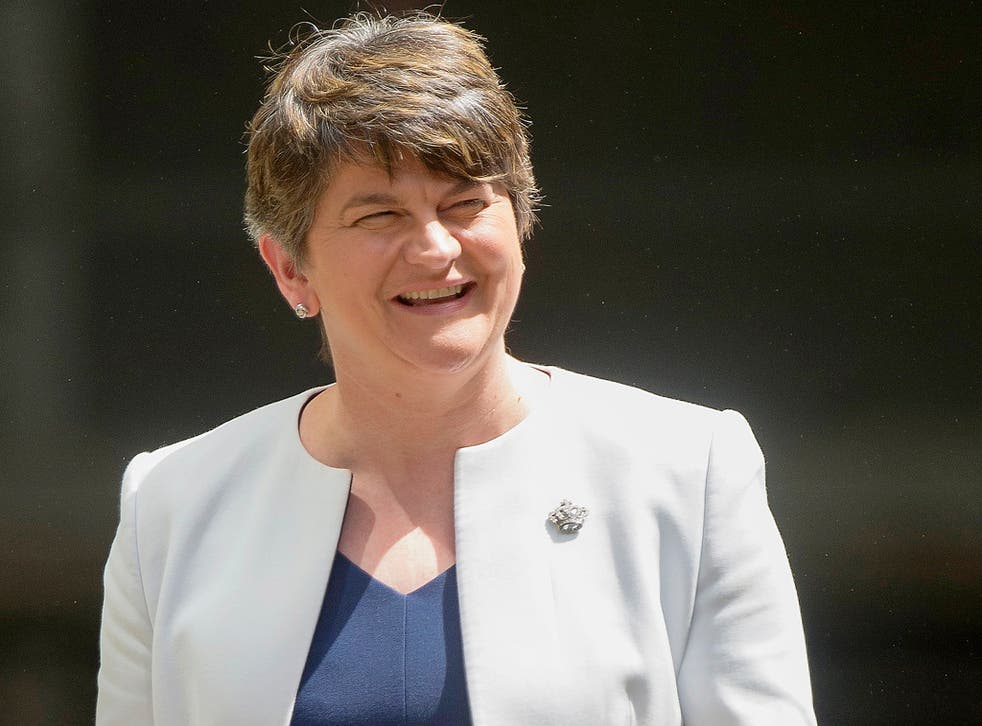 The Democratic Unionist Party is believed to be demanding £2bn as its price for propping up Theresa May in power, plunging the talks into fresh jeopardy.
The party wants £1bn pumped into the health service in Northern Ireland and a similar figure for infrastructure projects, the BBC was told.
The huge sums appear to be the roadblock to an agreement, which the Prime Minister desperately needs to guarantee her a Commons majority on key votes.
Damian Green: DUP coalition is only a 'possibility'
The Treasury is also horrified by the DUP's demand for air passenger duty to be scrapped, at the cost of many tens of millions of pounds a year.
The obstacles make it highly unlikely that an agreement will be struck tomorrow, as No 10 hoped – or, perhaps, ever.
Although the DUP may still vote for the Queen's Speech next week, the Prime Minister would lack a guaranteed majority to pass any of the Bills in her shrunken legislative programme.
Earlier today, Damian Green, the effective deputy Prime Minister, said the deal was only a "possibility" and warned: "All talks of this kind take a long time."
The DUP's £2bn demand for health and infrastructure emerged in briefings to the BBC in Northern Ireland, which said the party was also seeking cuts to corporation tax.
City deals to give local councils in Northern Ireland greater economic powers and contracts for the province's firms to benefit from higher defence spending have also been raised.
As well as the cost of higher spending in Northern Ireland, the Treasury is also likely to be concerned about anger in other parts of the UK still facing austerity.
Last week, Sir John Major warned an agreement that lavished extra funds on Northern Ireland would be seen as "paying cash for votes in Parliament".
"How is that going to be received in Wales, or in Scotland or amongst the "just-about-managings" everywhere across the UK?" the former Prime Minister asked.
The long-running talks soured yesterday – ten days after the Prime Minister claimed a deal was done - when the DUP warned her it "can't be taken for granted".
DUP sources also took aim at the lack of "negotiating experience" on the Conservative side – a devastating criticism, as the separate Brexit talks also got underway.
In a clear reference to Brexit, the BBC source asked, if Ms May could not negotiate a deal with the DUP, "what does that mean for bigger negotiations she is involved in?"
As the State Opening of Parliament was taking place in London, the Conservatives insisted the negotiations were proceeding as planned.
But a former DUP special adviser, Richard Bullick, said it was "pretty extraordinary" that a deal had not yet been agreed.
"In the past, one would have thought this could have been done in a matter of hours or a few days, but clearly that hasn't been possible," he said.
Join our new commenting forum
Join thought-provoking conversations, follow other Independent readers and see their replies