Mark Reckless becomes second Tory MP to defect to Ukip in a month
The MP for Rochester and Strood has also stood down triggering a by-election
Natasha Culzac
Sunday 28 September 2014 09:59 Comments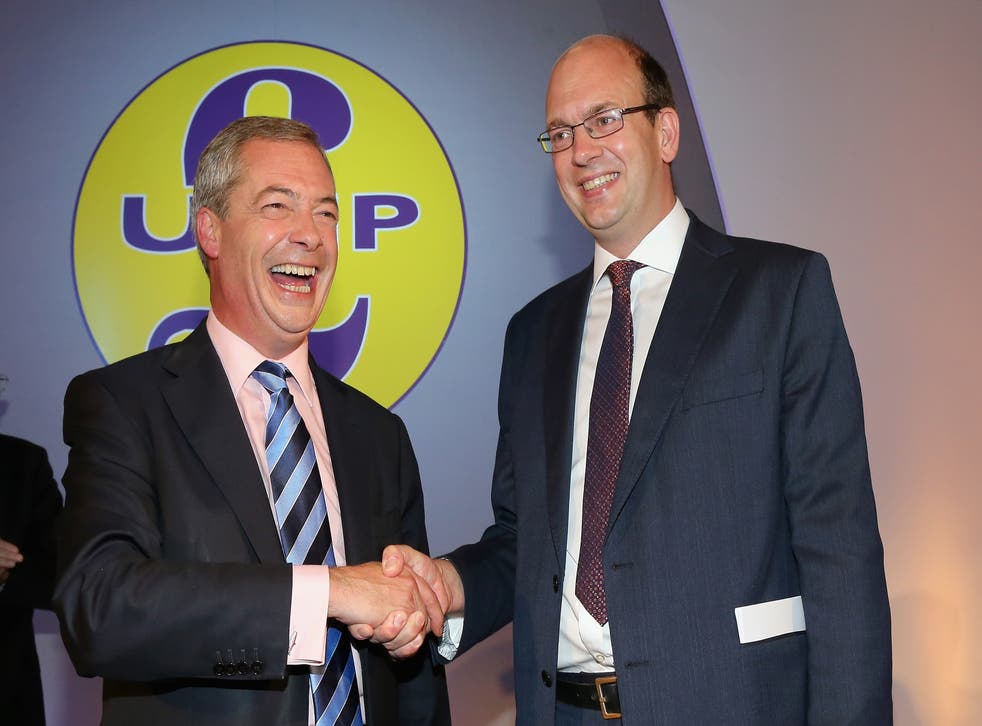 "Today I am leaving the Conservative party and joining Ukip," Tory MP Mark Reckless announced today in a second shock defection to the Eurosceptic party in recent weeks.
Mr Reckless, the MP for Rochester and Strood, made the announcement that he is quitting the party this afternoon at the Ukip party conference in Doncaster.
He told a rousing audience that the Conservative leadership was "part of the problem that is holding our country back" and said that the electorate felt "ripped off and lied to".
Mr Reckless, who was introduced on to the stage by Nigel Farage, had some of his speech live tweeted by the Ukip official Twitter account.
They quoted him as saying: "Rather than champion the interests of local people, MPs champion their local parties in their constituencies."
Adding: "I made promises to my constituents, such as lower taxes and to leave the EU. They are impossible to keep as a Conservative."
He then announced that he would like to ask his constituents their permission for his change of party and would, as such, resign sparking a by-election and then run again under Ukip.
The Conservative party called his defection "illogical".
It said on Twitter: "Mark Reckless' decision to join Ukip is completely illogical. He says he wants action on a European referendum, tax and immigration.
"The only party capable of delivering on these issues is the Conservative Party - and a vote for UKIP is a vote for Ed Miliband."
A number of Ukip politicians and members immediately congratulated Mr Reckless on social media, including Nigel Farage who posted a picture of them together and said: "A very warm welcome".
He also told BBC News: "I am going to do everything I can to support Mark Reckless in that by-election. I shall be down there, I shall knock on doors, I shall do whatever it takes.
"This man has shown huge courage. He has thrown his lot in with us and we will do everything we can to get him elected."
Michael Dugher, the Labour MP for Barnsley East, said the announcement will be a "hammer blow to Prime Minister David Cameron's already weakened authority".
Mr Reckless' move, just one month after former Tory MP Douglas Carswell also defected to Ukip, will send reverberations around the Conservative Party.
Mr Carswell, who was MP for Clacton, also stepped down from his role sparking a by-election which has been scheduled for 9 October. He is running for the same seat under his new party and is odds-on favourite.
Following Mr Carswell's defection, Nigel Farage predicted that similar measures would be taken by other Tory and Labour MPs dissatisfied with the impact of "open-door immigration" and said the party was in discussions with a number of politicians.
He also said to BBC today: "Of course there are Conservatives I am talking to but there are Labour people too. There are Labour people who are deeply frustrated with Ed Miliband's leadership."
Dr Mark Hanson, who was the Ukip candidate for Rochester and Strood, has now stepped aside to pave the way for Mr Reckless, Ukip said. Dr Hanson has also been awarded a 'Party Gold Medal' for doing so.
The shock departure also comes a day before the Conservative party conference kicks off in Birmingham.
The Independent's Political Editor Andrew Grice reported on Thursday that Tory modernisers are attempting to prevent local pacts between Conservatives the Ukip.
Register for free to continue reading
Registration is a free and easy way to support our truly independent journalism
By registering, you will also enjoy limited access to Premium articles, exclusive newsletters, commenting, and virtual events with our leading journalists
Already have an account? sign in
Join our new commenting forum
Join thought-provoking conversations, follow other Independent readers and see their replies