Tory MPs go to war over gay marriage
Andrew Grice
Tuesday 17 January 2012 01:00 Comments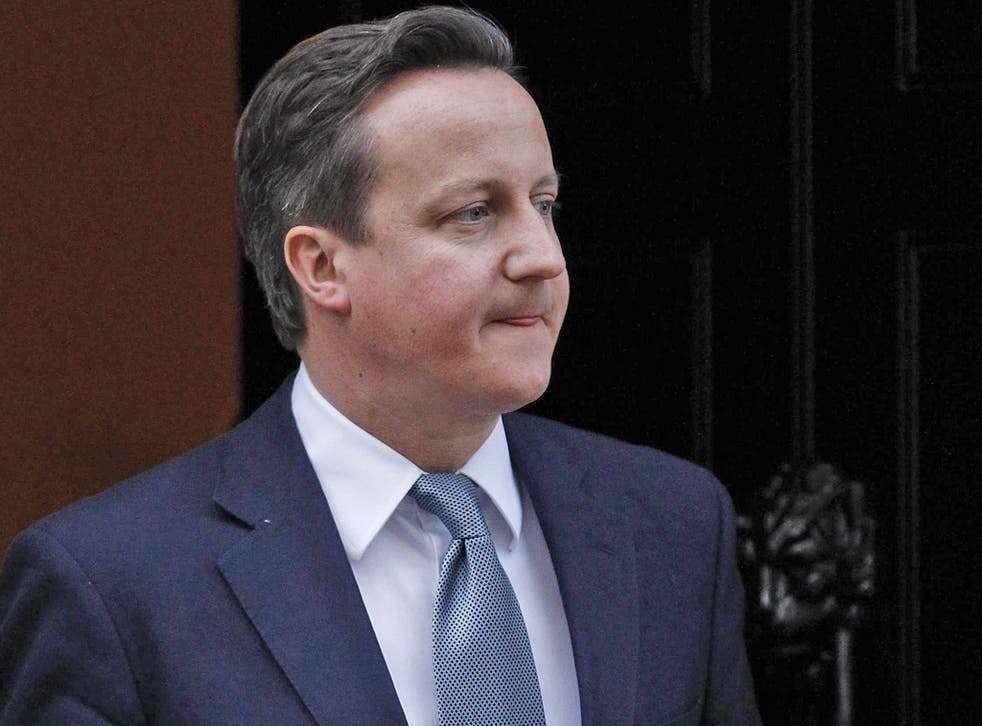 Conservative MPs are trying to sabotage David Cameron's plan to legalise gay marriage, threatening a rebellion bigger than the one in which 81 voted against the Government on Europe.
A campaign to defeat the Coalition's plan to lift the ban on civil marriage for gay and lesbian couples is being organised by traditionalist Tory MPs, who claim the idea would weaken the institution of marriage. Ministers fear the revolt will undermine Mr Cameron's drive to modernise his party.
MPs have been promised a free vote, although ministers will be urged to support Mr Cameron. Opponents claim more than 100 Tory backbenchers could vote against gay marriage, dwarfing the number who voted for a Europe referendum last October. Backbenchers have protested to ministers about the Government's backing for the change at private meetings of the 1922 Committee of Tory MPs. "Feelings are running high," one senior party source said yesterday.
David Burrowes, one of the organisers of the campaign against the reform, told The Independent he is "cautiously optimistic" the proposal will be defeated in the Commons because it would "fracture" the institution of marriage. Mr Burrowes, parliamentary aide to the Cabinet Office minister Oliver Letwin, insisted there is strong opposition to gay marriage across the Conservative Party spectrum.
"Many colleagues are worried that it would fundamentally affect how marriage between a man and woman has historically been viewed in this country," he said. "There are strong doubts that we need to go down this path. It would open up a can of worms and a legal minefield about freedom, religion and equalities legislation.
"Gay marriage is a debate we don't need to have at this stage. It is not an issue people are hammering us on the doorstep to do something about," he continued, adding: "It is important that there is a reasoned debate around how we view marriage rather than about homosexual rights. It may open up old wounds and put people into the trenches; no one wants that."
He denied that dropping the plan would jeopardise Mr Cameron's modernising credentials. "There are many other ways that the Conservatives can show we are a modern party – not least our social justice agenda. This is too important an issue to decide in terms of where it positions our party."
Announcing his backing for gay marriage, Mr Cameron told the Tory conference last October: "Yes, it's about equality, but it's also about something else: commitment. Conservatives believe in the ties that bind us; that society is stronger when we make vows to each other and support each other. So I don't support gay marriage despite being a Conservative. I support gay marriage because I'm a Conservative."
The Tory backlash emerged as the party's modernisers set up a new backbench group to support the agenda Mr Cameron mapped out in opposition on issues such as the environment and poverty. The 301 Plus Group is worried that there is now too much focus on Europe, immigration and spending cuts.
Kris Hopkins, MP for Keighley, said: "We need to build the confidence of those who might not class themselves as natural Conservative voters. It is about advancing the ideas and aspirations of the modern Conservative Party and delivering for voters of all political persuasions across our country."
Gay marriage is strongly supported by the Liberal Democrats, who have pressed the issue inside the Government even though it was not included in the Coalition Agreement. Lynne Featherstone, the Liberal Democrat Equalities minister and driving force behind the change, will go ahead with a consultation process on marriage laws in March, to be followed by legislation.
Ben Summerskill, chief executive of the gay rights group Stonewall, accused Tory opponents of the reform of slipping back into "old-fashioned homophobia". He said the same predictions about a threat to marriage were made before civil partnerships were legalised in 2005 but had failed to come true.
Register for free to continue reading
Registration is a free and easy way to support our truly independent journalism
By registering, you will also enjoy limited access to Premium articles, exclusive newsletters, commenting, and virtual events with our leading journalists
Already have an account? sign in
Register for free to continue reading
Registration is a free and easy way to support our truly independent journalism
By registering, you will also enjoy limited access to Premium articles, exclusive newsletters, commenting, and virtual events with our leading journalists
Already have an account? sign in
Join our new commenting forum
Join thought-provoking conversations, follow other Independent readers and see their replies