Tory rebels give PM a bloody nose in fight over EU budget
Eurosceptics defy whips and join Labour to defeat Cameron and demand cut in Brussels spending
Nigel Morris
Thursday 01 November 2012 01:00 Comments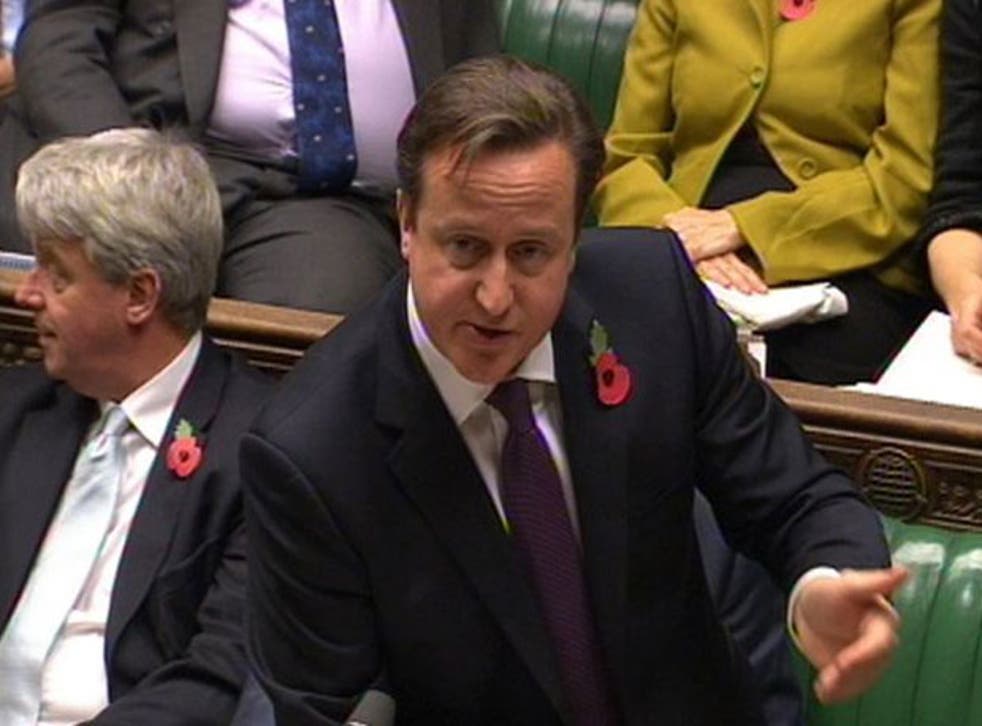 David Cameron suffered a damaging defeat tonight as dozens of mutinous Tory MPs joined forces with Labour to demand the Prime Minister presses for cuts in European Union spending.
The embarrassing reverse came despite a concerted drive by the Prime Minister, cabinet colleagues and Tory whips to charm and cajole rebels into line. They failed, and a motion calling for Mr Cameron to press for a cut in real terms in the EU budget for 2014-2020 was carried by 307 votes to 294.
The Prime Minister is arguing instead for EU spending increases to be linked to inflation over that period, warning that calling for a cut in spending is unrealistic.
EU leaders will meet in Brussels later this month for a summit designed to fix the budget amid signs they will fail to reach agreement and the wrangle will continue into the new year.
Although government sources insisted that last night's vote was not binding on Mr Cameron and they would merely "take note" of the result, it adds new pressure on the Prime Minister over the issue.
It was a dramatic reminder to him of the growing strength of Eurosceptic opinion in Tory ranks – and the willingness of his MPs to embarrass him by voting against the Government.
The vote followed a rebellion last year when 81 Conservatives demanded a referendum on the EU.
The difference last night was the Tory Right was supported by Labour – a stance condemned by the Conservative leadership as opportunism.
Mr Cameron ordered an intensive drive by his new Chief Whip, Sir George Young, to reduce the scale of the revolt amid signs early yesterday that the number of Tory dissidents was holding firm at between 40 and 60.
Government whips claimed they were running a "charm offensive" rather than trying to threaten potential rebels. One source said: "The best china was out – Sir George is being very gentlemanly."
Ministers and MPs who were out of London were summoned back to Westminster for the vote, including the Education Secretary, Michael Gove, who was in Poland. The Prime Minister, the Foreign Secretary William Hague and the Chancellor George Osborne all met wavering Tories.
One of Mr Cameron's visitors was Graham Brady, the chairman of the 1922 Committee of backbenchers, who warned him that feelings were running high on the subject.
Smaller parties, including Plaid Cymru and Northern Ireland's Social Democratic and Labour Party, were also targeted by the whips.
At Prime Minister's Questions, Mr Cameron also sent out his most hardline message to Tory MPs that he was ready to wield Britain's veto to block an above-inflation rise in spending by Brussels.
Tory Eurosceptics accused ministers of adopting "pretty low tactics". But one said: "They had no answer to the reality that Cameron is out of step with his own party."
Mark Reckless, the Tory MP who led the rebellion, told the Commons his constituents could not understand why EU spending was rising while budgets were being cut to Britain's public services. He said even inflation-linked rises would see the UK's contribution rising from £9.2bn last year to £13.6bn in 2020, adding: "We simply cannot afford that."
The veteran Eurosceptic Bill Cash condemned the EU for constantly demanding bigger budgets. He said: "The money comes from the taxpayer: it doesn't grow on trees – that's what they don't understand. They are living on another planet."
But the former minister, Tony Baldry, told Tory MPs: "If this party hopes to be in government after the next election, it has got to start supporting the Prime Minister."
The Treasury minister, Greg Clark, said: "If there is no cut or no real freeze, there is no deal. The Prime Minister has a formidable task in persuading other countries of this. He has made a strong start and he deserves the support of this House."
Register for free to continue reading
Registration is a free and easy way to support our truly independent journalism
By registering, you will also enjoy limited access to Premium articles, exclusive newsletters, commenting, and virtual events with our leading journalists
Already have an account? sign in
Join our new commenting forum
Join thought-provoking conversations, follow other Independent readers and see their replies