Tory waverers press-ganged to back Cameron on gay marriage vote
Backbenchers warned they will jeopardise careers by opposing Bill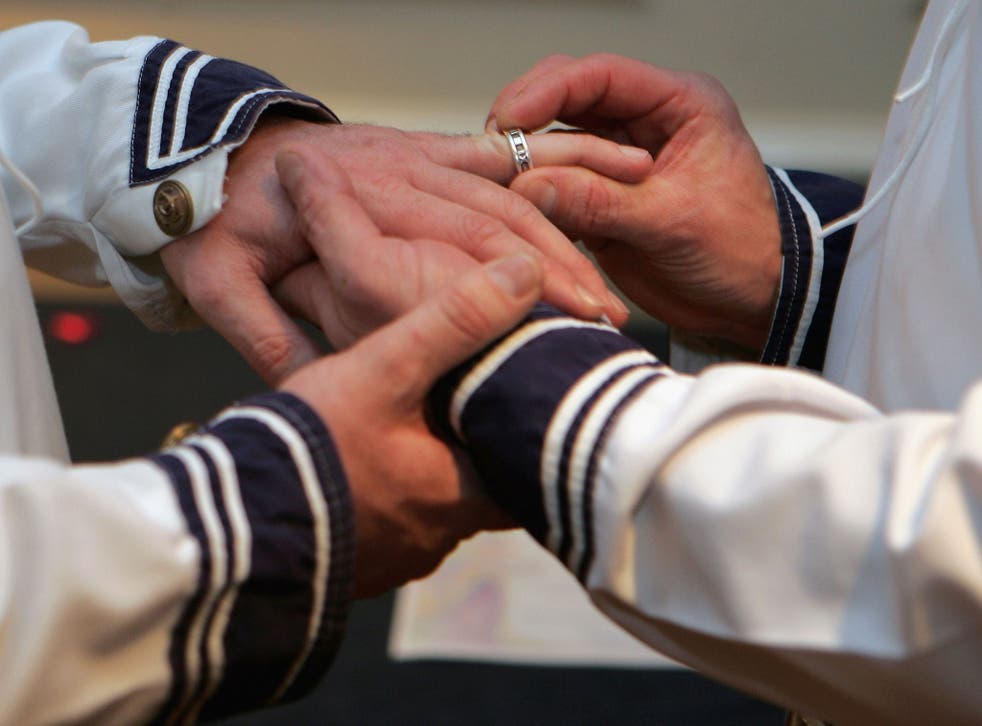 Dozens of wavering Conservative MPs, including some cabinet ministers, were facing intense pressure tonight to put aside their reservations and back the Government's Bill to legalise gay marriage tomorrow.
While Downing Street insisted it was not "press-ganging" MPs to support David Cameron in the free vote, a succession of cabinet allies took to the airwaves to endorse the move.
The Bill will certainly pass with Labour and Liberal Democrat support. But Downing Street is anxious to avoid a situation in a majority of Mr Cameron's own MPs vote against him on such a contentious issue.
Some junior ministers were said to have warned backbench colleagues that their careers could be damaged if they voted against the Government while George Osborne is understood to have been contacting MPs whose position is still uncertain.
The Foreign Secretary William Hague said last night that those opposed to gay marriage would be on the wrong side of history.
"I think as times have changed, civil partnerships came in... Within a remarkably short period of time, those things become accepted," he said.
"I think the same will happen with this."
In a sign of the deep tension within the Conservative Party on the issue the Conservative blogger Iain Dale even suggested that some privately gay MPs could be "outed" if they voted against gay marriage.
"I've been looking at the list of MPs who intend to vote against allowing gay people to marry on Tuesday," he wrote. "I note with interest the names of several MPs who most people in the Westminster village know to be closet gays. And I note also the names of two supposedly straight MPs who I know to be conducting gay affairs at the moment.
"I don't believe in 'outing' anyone, but because of the rank hypocrisy there will be others who will take a different view."
Campaigners calculate that, of the 303 Conservative MPs, 114 are likely to vote against the proposal and 108 in favour. The spotlight has now turned on the 81 MPs thought to be either neutral or undecided, with their votes set to determine whether Mr Cameron can claim the backing of a majority of his parliamentary party.
But the undecided face an equally fierce lobbying campaign from opponents of gay marriage who are warning that they could face losing the seats by alienating traditional Tory supporters.
Today Mr Cameron was sent a letter, signed by 25 chairmen or former chairmen of Conservative Party associations, warning that the policy will cause "significant damage".
Geoffrey Vero, chairman of the Conservative association in Surrey Heath who organised the letter, said more than 25 party members had quit locally over gay marriage.
"I think a number of Conservative supporters and voters will sit on their hands on the issue and that may seriously affect David's opportunity to get re-elected at 2015 and we think that is a dangerous risk to take with your core supporters," he said.
But his own MP, the Education Secretary Michael Gove, wrote an article for The Mail on Sunday calling for his colleagues to back the move "in decisive terms".
"Some people might think it curious that a Tory politician should be making these arguments," he said. "But I want to change the law on marriage because of my Conservative convictions."
He was backed by the Health Secretary Jeremy Hunt who said: "Every year thousands of people choose to marry in a church rather than a registry office because they believe marriage is sacred. Religious freedom is not just for heterosexuals – we should not deny anyone the right to make a life-long commitment to another person in front of God if that is what they believe and that is what their church allows."
But despite this at least two cabinet ministers – the Environment Secretary Owen Paterson and Welsh Secretary David Jones – are expected to vote against the plans while the Defence Secretary Philip Hammond will vote against or abstain and the Work and Pensions Secretary Iain Duncan Smith could also abstain.
The government whips Stephen Crabb, David Evennett, Robert Goodwill, Mark Lancaster, Nicky Morgan and John Randall are also likely to oppose or abstain as well as junior ministers Mike Penning, John Hayes and Jeremy Wright. One of the Bill's opponents, the former children's minister Tim Loughton warned the Bill was "full of pitfalls".
"There's quite a lot of things that were in our manifesto which made it to the Coalition Agreement which we have yet to deliver," he said. "Gay marriage is something on which we had no Green Paper, no White Paper, no manifesto commitment of any party. It wasn't in the Coalition Agreement, and all of a sudden it is taking huge priority. It is going to take up a lot of parliamentary time and is going set MP against MP, and we don't need it."
For:
1 David Cameron
2 William Hague
3 George Osborne
4 Theresa May
5 Michael Gove
6 Eric Pickles
7 Jeremy Hunt
8 Justine Greening
9 Justice Secretary, Chris Grayling
10 Transport Secretary, Patrick McLoughlin
11 Culture Secretary, Maria Miller
12 Minister without Portfolio, Ken Clarke
13 Leader of the Commons, Andrew Lansley
14 Northern Ireland Secretary, Theresa Villiers
15 Chief Whip, Sir George Young
16 Minister for the Cabinet Office, Francis Maude
17 Minister for government policy, Oliver Letwin
18 Conservative chairman, Grant Shapps
Unclear
1 Minister of Business, Innovation and Skills, David Willetts
2 Work and Pensions Secretary, Iain Duncan Smith
3 Attorney General, Dominic Grieve
Against
Environment Secretary: Owen Paterson
Welsh Secretary: David Jones
Defence Secretary: Philip Hammond
Paterson and Jones are almost certain to vote against the measure but supporters hope to persuade Hammond to abstain.
Join our new commenting forum
Join thought-provoking conversations, follow other Independent readers and see their replies