Controversial plans to cut huge toxic air death toll will be published after the Government abandons court fight
Conservatives will be forced to put forward unpopular moves to target drivers of diesel cars before polling day – after attempting to delay them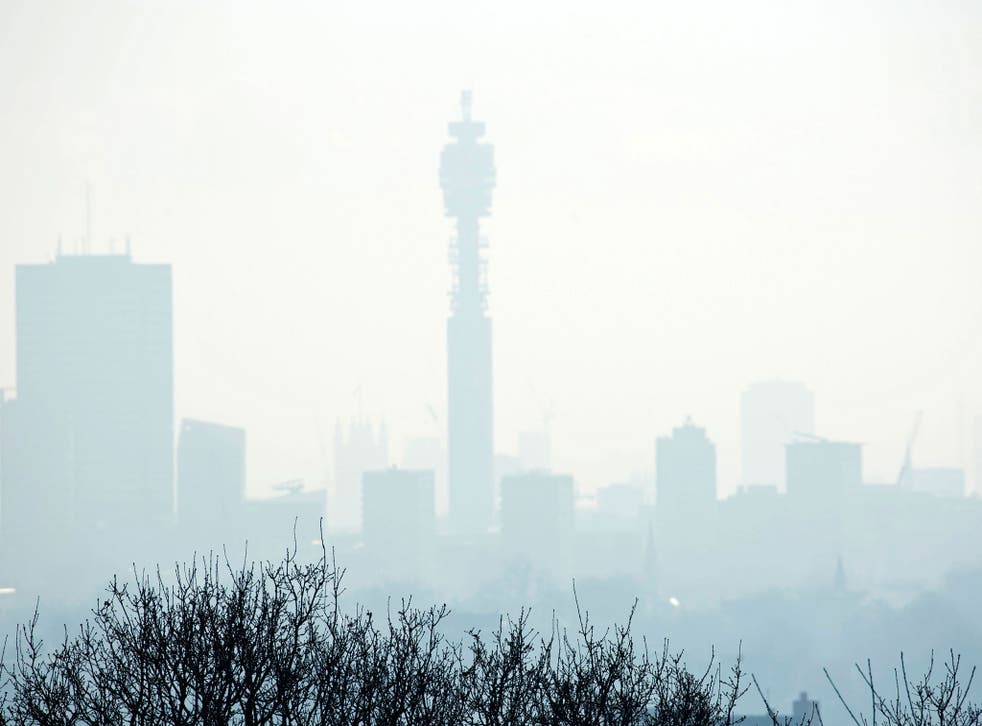 Plans to cut the huge death toll from toxic air will be published as early as Friday, after the Government gave up the fight to suppress them.
Ministers threw in the towel after losing a court battle to keep the proposals under wraps during the election campaign, claiming they would breach "purdah" rules.
The decision not to appeal threatens to force the Conservatives to put forward unpopular moves to target motorists before polling day – something the party was desperate to avoid.
Many of the estimated 40,000 premature deaths every year in Britain from toxic air are caused by illegal levels of nitrogen dioxide, largely blamed on emissions from diesel cars.
The new air quality plan – which Environment Secretary Andrea Leadsom has insisted is "ready to go" – is expected to force drivers of older diesel cars to pay a fee to enter city centres.
Such a crackdown is already planned in London from 2020, but other big cities are now likely to be forced to follow suit.
Moreover, the new charges will be based on actual emissions, rather than laboratory tests, to reflect "new evidence" following the Volkswagen scandal.
The company was exposed in 2015 as having cheated by using software to ensure its vehicles passed pollution tests in the laboratory, even though they would fail out on the road.
"Real-world" data is believed to show that diesel cars produce up to 20 times the legal limit of nitrogen oxides – and tackling the issue will now form the basis of the Government's plan.
Last week, Mr Justice Garnham rejected the purdah argument and ruled that the draft plan must be published by 9 May.
However, it's possible the Government may attempt to minimise the damage by putting out the proposals on Friday, during the fallout from the local election results.
The Prime Minister's spokesman told a regular Westminster media briefing: "We have looked at the judgment from last week and we will not be appealing.
"The court deadline was 9 May and we will be meeting that deadline. We will publish at the earliest opportunity after local election purdah is over and before the deadline."
In November, the High Court ruled that the Government's existing plan was inadequate and set a deadline of Monday last week for a more ambitious plan to be published.
Lawyers for Sadiq Khan, the Mayor of London, and ClientEarth, a campaign group, opposed the Government's application for delay until after the election.
Last week, Ms Leadsom drew criticism when she insisted deaths from toxic air are not an "emergency", after being dragged to the Commons chamber to defend her decision to use purdah rules to try to slam the brakes on the proposals.
One MP accused the Environment Secretary of condemning more people to an early death by delaying action on diesel vehicles.
Ms Leadsom acknowledged only that toxic air was a "very significant and urgent concern", refusing to use the word "emergency".
Register for free to continue reading
Registration is a free and easy way to support our truly independent journalism
By registering, you will also enjoy limited access to Premium articles, exclusive newsletters, commenting, and virtual events with our leading journalists
Already have an account? sign in
Register for free to continue reading
Registration is a free and easy way to support our truly independent journalism
By registering, you will also enjoy limited access to Premium articles, exclusive newsletters, commenting, and virtual events with our leading journalists
Already have an account? sign in
Join our new commenting forum
Join thought-provoking conversations, follow other Independent readers and see their replies