UK trade union membership reversing historic decline thanks to women workers, official figures show
Membership grows for third consecutive year running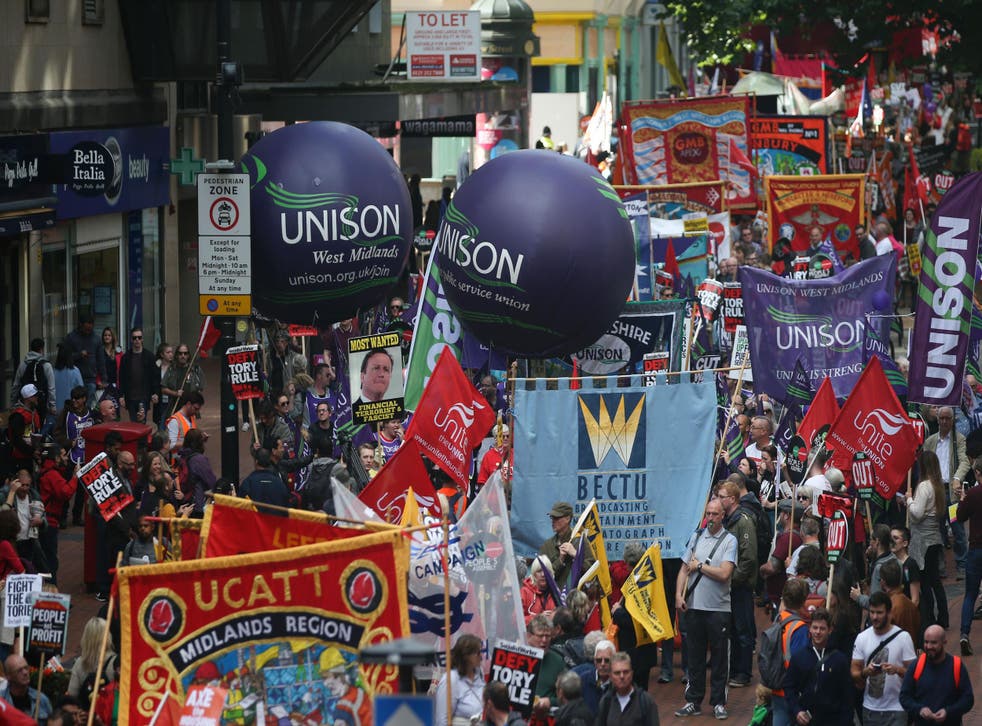 Britain's trade unions appear to be reversing their historic decline in membership, partly thanks to increasing numbers of women joining their ranks.
New figures released by the business department on Wednesday show the number of workers who are member of trade unions rose by a net 91,000 in 2019, the third consecutive year in which the number of union members has grown after year of decline.
6.44 million people are now members of trade unions, up from a record low of 6.23 million in 2016, covering 23.5 per cent of the workforce – also slightly up on previous years.
Trade unions have taken on a higher political profile during the Covid-19 crisis and were credited with arguing for the coronavirus furlough scheme, though the 2019 figures do not take this into account.
Membership was up in both the public sector and private sector, and across England, Wales and Scotland – though it fell in Northern Ireland.
The number of women in trade unions is now at the highest since the data series began in 1995, at 3.69 million. Government statisticians suggested that this was because there have been big increases in the number of employees in education, health and social care, where women employees comprise just under three quarters of the total.
"Around two-thirds of the increase in the number of female employees was accounted for jobs in these relatively highly unionised industries," the government statistics release said.
TUC general secretary Frances O'Grady said: "Today's figures show that union membership was growing before the coronavirus crisis hit. And we know that in the last few months, thousands of workers have been turning to unions to protect their jobs, defend their rights and keep their workplaces safe".
Arguing that it had "never been more important to join a union", Ms O'Grady added: "The hard work and dedication of millions of workers has brought us through this crisis. And together – in our unions – we can work our way out of recession.
"Ministers must put workers' voices at the heart of their strategy, including through a National Recovery Council bringing together unions and employers."
Britain has relatively buoyant trade union membership numbers compared to some of its neighbours, beating France and Germany but far lagging behind other countries like Belgium and Sweden.
But the UK's restrictive anti-union laws mean that despite many employees being members, far fewer are actually covered by collective bargaining in practice than abroad.
In most western European countries 60-100 per cent of workers are covered by collective bargaining, with figures as high as 98 per cent in France despite lower union membership than the UK.
But in Britain just 29 per cent of employees are covered, one of the lowest rates in Europe - with most typically in the public sector.
UK news in pictures

Show all 50
As well as growth in larger traditional trade unions, there has also been a grassroots push to form new independent unions for workers in newer precarious jobs and the so-called "gig economy".
Workers may be increasingly attracted towards organising because of the dramatic increase in zero hours contracts in the last decade, or the fact that UK wages are still below their pre-2008 crisis levels.
In 2018 Bank of England chief economist Andy Haldane said the weakening of trade union power in the UK had hit pay and that if the decline was not reversed, pay would also continue to be hit.
Register for free to continue reading
Registration is a free and easy way to support our truly independent journalism
By registering, you will also enjoy limited access to Premium articles, exclusive newsletters, commenting, and virtual events with our leading journalists
Already have an account? sign in
Join our new commenting forum
Join thought-provoking conversations, follow other Independent readers and see their replies