Trident: Scottish Labour expected to vote against renewing Britain's nuclear weapons system
'The vast majority of the Scottish Labour party members think Trident is irrelevant'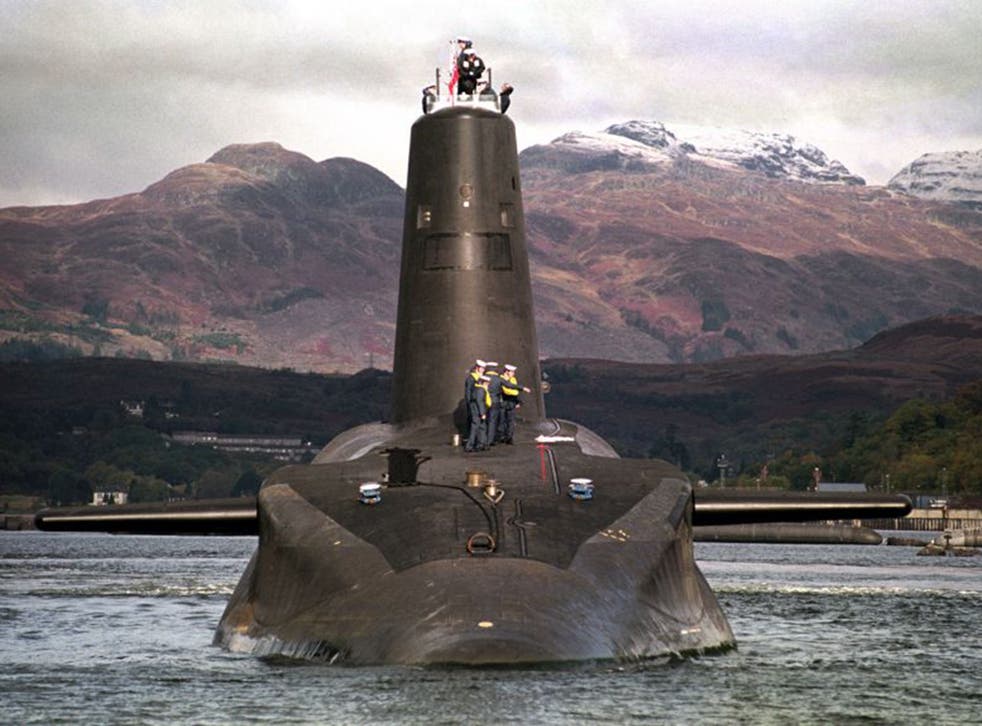 The future of Britain's nuclear deterrent could be thrown into doubt on 1 November when the Scottish Labour Party conference is expected to vote against the renewal of the Trident missile system.
In a move that will highlight the struggle between the Labour leader Jeremy Corbyn's supporters and the party's centre-right, the Scottish branch of the party is set to have the debate that the UK Labour conference at Brighton in September conspicuously avoided.
If delegates back the motion, it would mean that parties representing more than 75 per cent of people who voted in May's general election in Scotland were clearly against nuclear weapons.
Britain's nuclear submarines are based at Faslane, while the weapons are stored and maintained at Coulport, both on the Firth of Clyde, and experts warn there are no other viable locations for the current weapons system in the UK.
This means the UK government would have no other option but to force Scotland to take Trident's replacement in the face of a political uproar that would play into the hands of the Scottish National Party and the pro-independence Scottish Green Party.
Cara Hilton, MSP for Dunfermline, was among those to call for the Scottish Labour conference to debate the issue. She said she was "pretty confident" that the motion would be passed, particularly as it stressed that the thousands of workers who would lose their jobs if Faslane closed would be retrained for other careers.
Ms Hilton said: "The vast majority of the Scottish Labour party members think Trident is irrelevant. 'Mutually assured destruction' means nothing to terrorists who are only interested in destroying things. It didn't deter al-Qaeda attacking America on 9/11 or Iraq from attacking Israel during the first Gulf War.
"That debate is outdated and doesn't reflect the type of world that we live in now. I don't think we are in a position to be writing a blank cheque for a weapon system that we cannot use and doesn't meet Britain's defence needs."
She insisted an anti-nuclear stance would help her party recover from its disastrous election result in Scotland in May and that it would not be "problematic" for Scottish Labour to have a different policy to the UK party. Despite Mr Corbyn's position as vice-chair of the Campaign for Nuclear Disarmament, Westminster Labour is still formally committed to renewing Trident.
The most ridiculous claims made about Jeremy Corbyn

Show all 11
Refusing to contemplate anyone else becoming leader before the next election, Ms Hilton said: "I'm pretty confident if Jeremy Corbyn becomes Prime Minister in 2020 that we won't see him renewing Trident."
A Scottish Labour vote for unilateral disarmament would create a situation that is the reverse of Mr Corbyn's current position in the Labour party. Kezia Dugdale, Scottish Labour's new leader, has stressed her commitment to renewing Trident and multilateral disarmament.
Addressing the conference on 31 October, she focused her attack on the Government on its plans to cut tax credits, saying a Labour administration in Holyrood would use new tax and welfare powers for MSPs from April 2017 to ensure families north of the border did not lose out.
Others in Labour dismissed the significance of the Trident motion. It would "have no effect on the actual policy of the Labour Party", shadow Defence minister Kevan Jones told The Independent on Sunday.
"Jeremy has always made his views very clear on this, which I respect, but the Labour Party policy is very clear … we're committed to multilateral disarmament and, as part of that process, replacement of the current submarines," he said.
John McTernan, meanwhile, who was chief of staff to Jim Murphy when he was Scottish Labour leader, could barely conceal his contempt. "What the Scottish Labour Party say or think about the UK deterrent is like their view on road traffic legislation in London," he said.
"It's a complete waste of time and utterly self-indulgent."
It was a message echoed by the Conservatives. Dr Julian Lewis, who chairs the Defence Select Committee at Westminster, said: "I cannot see how a vote by the Scottish Labour Party to align itself with the SNP on this issue would make any difference whatsoever, constitutionally or physically."
The SNP pointed gleefully to Labour's internal struggles, with Douglas Chapman, MP for Dunfermline and West Fife, saying: "Labour remain hopelessly divided on the issue of Trident. They simply appear to want to write and continuously rewrite their political suicide note."
Defence analyst Tim Ripley said the level of Scottish opposition to Trident would matter little. "You can count the number of Conservative MPs on one hand who don't agree with Trident [renewal] – it's a done deal," he said. "Barring a major turnaround in May 2020, it's coming."
However, he added, some in the military question the cost of Trident's replacement, which could reach £167bn over its lifetime.
Register for free to continue reading
Registration is a free and easy way to support our truly independent journalism
By registering, you will also enjoy limited access to Premium articles, exclusive newsletters, commenting, and virtual events with our leading journalists
Already have an account? sign in
Register for free to continue reading
Registration is a free and easy way to support our truly independent journalism
By registering, you will also enjoy limited access to Premium articles, exclusive newsletters, commenting, and virtual events with our leading journalists
Already have an account? sign in
Join our new commenting forum
Join thought-provoking conversations, follow other Independent readers and see their replies