Former Trump aide Steve Bannon endorses Dominic Cummings as a 'brilliant guy'
Far-right activist predicts Boris Johnson will become more populist
Andrew Woodcock
Political Editor
Sunday 02 August 2020 10:07 Comments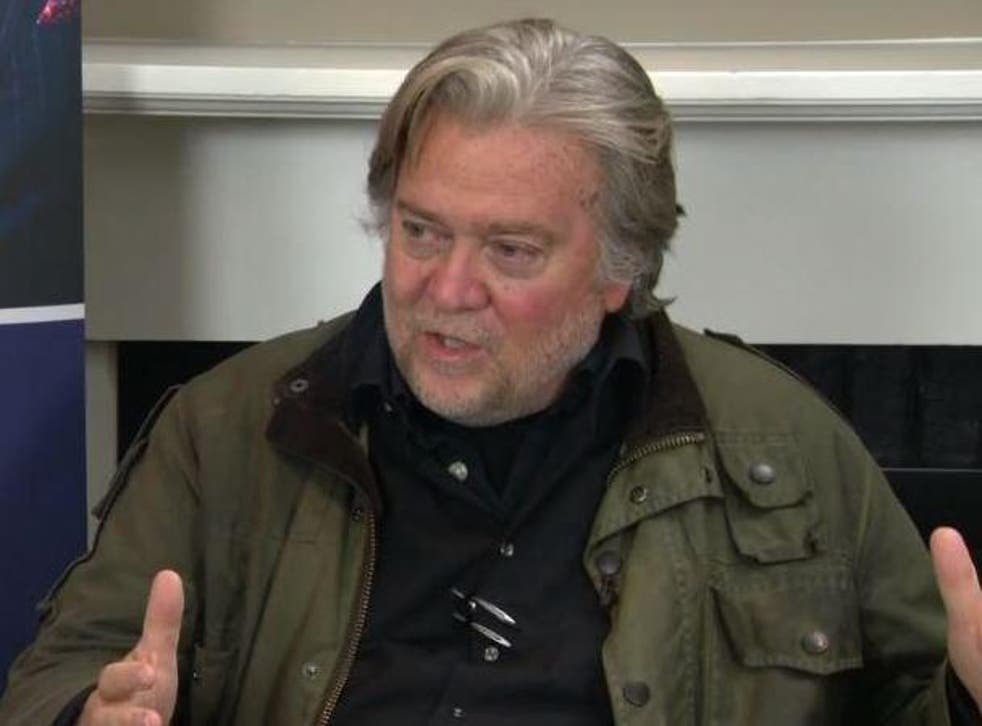 Donald Trump's far-right former aide Steve Bannon has endorsed Boris Johnson's top adviser Dominic Cummings as a "brilliant guy".
In interviews around the publication of a new book, Mr Bannon also predicted that Johnson will become "more populist" over time and said his best option in post-Brexit trade talks with the EU was to go for a "hard out, no deal" outcome.
Bannon is credited with masterminding Trump's successful bid for the presidency in 2016 after making the Breitbart website which he managed into a rally point for far-right opinion in the US.
He was fired as a White House adviser shortly after the white nationalist rally in Charlottesville in 2017, and has since sought to unify populist forces in the "Judeao-Christian west". He has previously described Islamophobe Tommy Robinson as the "backbone of Britain" and defended European right-wingers including Marine le Pen in France and Viktor Orban in Hungary.
In an interview with journalist and author Peter Geoghegan, reported in The Observer, Bannon said Mr Cummings was "a brilliant guy".
UK news in pictures

Show all 50
"I think Cummings is very smart where he puts his efforts," said Bannon. "What I like about him is he has the ability to focus on the main things."
He said that Johnson and Cummings had been "very important" to the drive to get the UK out of the EU, which he backed, but said they were "very late to the party".
On the talks on the UK's future relations with the EU, he said: "There is one choice: hard out, no deal. It won't be disruptive."
He said he expected Mr Johnson to promote "more economic nationalistic tendencies" and predicted that "Boris will adapt his policies to become more populist over time".
Bannon has previously claimed to have advised Johnson on messaging, though the prime minister has rejected the suggestion of close links as a "lefty delusion".
Mr Bannon's comments were made in interviews linked to Geoghegan's book Democracy for Sale, but came too late for inclusion.
Register for free to continue reading
Registration is a free and easy way to support our truly independent journalism
By registering, you will also enjoy limited access to Premium articles, exclusive newsletters, commenting, and virtual events with our leading journalists
Already have an account? sign in
Join our new commenting forum
Join thought-provoking conversations, follow other Independent readers and see their replies