Tulip Siddiq: Fighting for Britain's most marginal seat in the shadow of tragedy
Her aunt is Prime Minister of Bangladesh - but it is Glenda Jackson's shoes that she aims to fill, as the new Labour candidate in the north London seat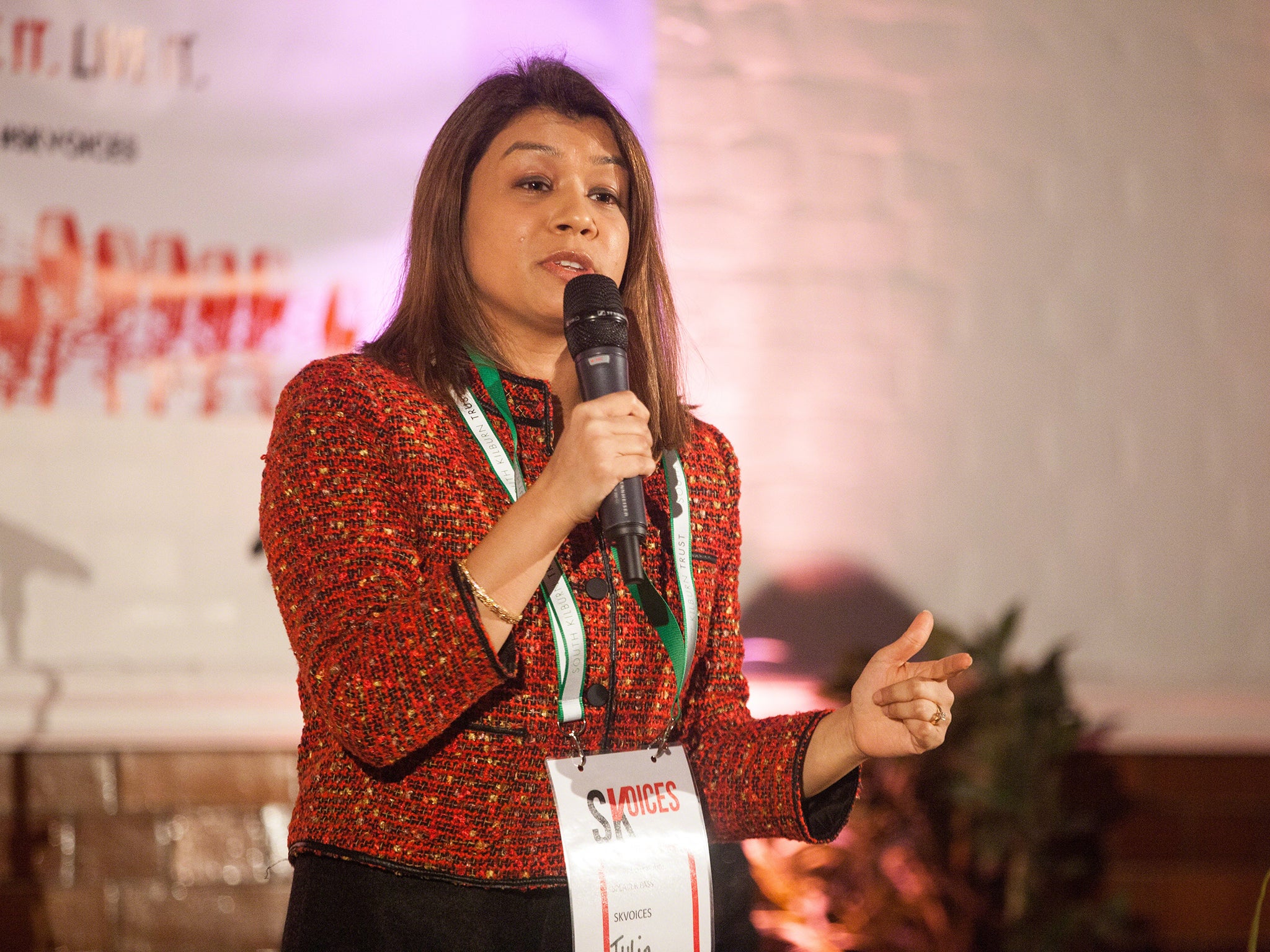 When the fight for election in one of Britain's most marginal seats gets tough, Tulip Siddiq sometimes has to reassure her family, most of whom were assassinated 40 years ago. In 1975, soldiers stormed her mother's home in Bangladesh and killed everyone. Their target: Siddiq's grandfather, Sheikh Mujibur Rahman, the country's first leader. In an attempt to cut off his bloodline, they also shot dead his three young sons, but his two daughters were on holiday in Germany. They had to be woken up to be told about the coup.
The orphaned sisters responded very differently. The older Hasina – Tulip's aunt – would return to Bangladesh and continue her father's work. She is now the divisive Prime Minister of a country of 160 million people and one of the world's most powerful women. Rehana, who was a teenager, ran the other way, starting a new, quieter life in north London. After gaining political asylum, she married and, in 1982, delivered the future Labour candidate for Hampstead and Kilburn.
"My mother is extremely worried about us and losing her family," says Siddiq, who has an older brother and a young sister. Their aunt has survived 19 further assassination attempts. "She still wants to know constantly where I am and I don't think she was pleased about me going into politics because it destroyed a big part of her life. It took a long time for me to convince her that British politics is not the same. It's rare – touch wood – to have someone come and kill you."
Yet by the standards of Westminster, Siddiq, who is 32, is in the middle of a perilous battle. In 2010, the now retiring Glenda Jackson won this seat for Labour with 17,332 votes, just 42 more than her Conservative rival. It was the second-tightest seat in Britain and the closest three-way marginal (the Liberal Democrat candidate was just 841 votes behind Jackson, the Oscar-winning former actor). Polls suggest that Labour might win by a slightly bigger margin on 7 May, but Siddiq is leaving nothing to chance in a constituency that mirrors broader political dynamics and debate. Fear of Ed Miliband's mansion tax stalks the leafiest streets in Labour's "Hampstead socialist" heartland. But in poorer areas, where mansions might have 10 doorbells, the bedroom tax, loan sharks, spiralling rents and proposals to scrap the No 13 bus route are bigger concerns.
"A lot of people think the Lib Dem vote will automatically come to me this time," Siddiq says. "But I'm not complacent and think a lot of people will stay at home because they feel so disillusioned and let down by Nick Clegg, but also by politics in general." She is also aware of the shoes she is attempting to fill. "I can't compete with two Oscars, and whatever your opinion of Glenda, it's hard to get that name recognition."
Siddiq fights apathy and unfamiliarity on the doorstep with cheerful enthusiasm, dedication and a deep knowledge of the area. Her parents – her father, also from Bangladesh, was an academic before a stroke left him disabled – married in Kilburn. Tulip now lives with her husband, Christian Percy, in West Hampstead. She gives her first national media interview not far away, in a Vietnamese restaurant, before her 10th, and busiest, hustings in a nearby church. "If we had parachuted someone in, that disillusionment would have worsened," she says. "I can be, like, mid-Pilates in the gym and someone next to me will say: 'You're Tulip, right, can you help me with my housing case?' It helps when people see politicians as human, because I don't feel that they do anymore, and it's our fault."
But if Siddiq can edge victory here, she may find it harder to take her candidate-next-door approach to a national stage. While she served in the cabinet at Camden Council, after her election in 2010, she says she kept quiet about her ties to political royalty. They do not feature on her campaign website or in tonight's hustings. But when she stood for selection as a parliamentary candidate in 2013, she says, "people began to dig around into my background."
Sheikh Hasina – Tulip's aunt – returned to Bangladesh after a period of exile in India just six years after her family's assassination, to become leader of the Awami League, one of the two main parties. Before that, in 1977, General Ziaur Rahman took power and formed the other party, the Bangladesh Nationalist Party (BNP). After his assassination, in 1981, his wife, Khaleda Zia, became leader of the BNP. Since 1991, she and Sheikh Hasina have dominated Dhaka, alternating as Prime Minister in a bitter stand-off between a widow and an orphan. "I did have quite an unusual childhood in some ways," Siddiq admits. "When I was doing my A-levels, President Clinton invited the whole family to the White House. But the biggest one was Nelson Mandela, who came to Bangladesh when I was about 12. We had dinner with him and I remember thinking it was like meeting a superhero. It was inspirational."
Despite her mother's relative remove in north London, Siddiq's closeness to her aunt has already caused problems. Sheikh Hasina faced criticism last week for failing to protect freedom of speech after the second recent killing of a secular blogger. Neither leader in Bangladesh has brought stability to a nation threatened by poverty, climate change, corruption and Islamic extremism. During Siddiq's run for selection, she says police were called to investigate a smear campaign that she believes was run by Bengali BNP loyalists in London. A picture circulated that Siddiq may see more of. It shows her posing for a formal photograph alongside Vladimir Putin at a January 2013 meeting in Moscow between the Russian leader and her aunt, at which they agreed a billion-dollar weapons deal.
"I don't get to see her much and she suggested me and my sister come to Russia when she was there," Siddiq says. "We were totally separate from the official delegation and were invited to a family event. I didn't know Putin was going to be there, but he asked for a picture. It was two seconds, but I can see why people might take it out of context."
Siddiq prefers not to be drawn on Bengali politics, and although she has joined her aunt on the campaign trail in the past, she says she never talks shop with her now and that Sheikh Hasina would struggle to name her constituency. She is confident that she can operate effectively in Westminster beyond her family's shadow. "I've been heartened by the fact that people don't seem that bothered about it," she says. "Even most Bengalis come to me and say: 'Oh, your aunt is the prime minister... by the way, can you solve my rent problem?' "
After a short walk over the railway tracks, Siddiq cuts a small figure in a row alongside her rivals at the hustings in the Sheriff Centre, a church that is also a café and post office. Her closest competitor is Simon Marcus, a Conservative former councillor and rugby captain. The Lib Dems have Maajid Nawaz, the sharp-suited Islamic revolutionary turned counter-extremism campaigner. Rebecca Johnson, a Greenham Common veteran, is running for the Greens. Completing the line-up, in a navy blazer – and perhaps having an off day – is Ukip's Magnus Nielsen, who goes on to show the competitive edge of a balloon that has floated on to a football pitch.
Each candidate gets three minutes to introduce themselves to an audience of about 300. Siddiq offers a potted biography. She was born in London, but moved to Brunei, aged five, when her father got a university job. Later, he suffered a massive stroke and could not move or speak for months. He now uses a wheelchair. The family moved to Singapore and elsewhere in search of treatment, before returning to London and the NHS when Tulip was 16. She joined the Labour Party that year, inspired by a household that was "quite lefty" and her family's political background. Further education followed at University College London (English) and Kings College London (a political masters) before work at Amnesty International and as a social-responsibility adviser to firms including Rolls-Royce.
But politics always called. In 2010, the year Siddiq became a councillor, she decided to join an Ed Miliband leadership campaign. "Everyone said David was going to win and that anyone young and ambitious should go for him," Siddiq says. But she had organised her university's part in the march against the 2004 Iraq War, and was fed up with New Labour. "I went for Ed," she says. "It was about value rather than ambition." Miliband has since visited Hampstead and Kilburn twice so far in the campaign (not without self interest, or with far to travel – he lives just over the constituency boundary). He's not Siddiq's only high-profile backer. Emma Thompson, Melvyn Bragg, Zadie Smith and Robert Webb are among her local celebrity supporters. As the right singles out Hampstead as the home of what David Cameron last month called "hypocritical, holier-than-thou, hopeless, sneering socialists", does Siddiq feel dangerously metropolitan?
"I'd rather be a Hampstead socialist than not a socialist at all – or an old Etonian," she says. "These people need to come to Kilburn. Yesterday, I talked to a man who is working at Sports Direct on a zero-hours contract at minimum wage, and can't feed his kids. I want to help him. That's north London socialism. Since when did socialism become an insult anyway?" Last week, the actor Richard Wilson joined Siddiq on the campaign trail and posed with her and a banner that read: "Proud to be a Hampstead Socialist."
Siddiq does not look or sound like a stereotypical north London luvvie. While she would be delighted to improve the woeful diversity of Westminster, she is anxious not to be defined by her gender, religion ("culturally Muslim") or ethnicity. "I didn't join the Labour Party thinking I wanted to change the face of politics," she says. "I joined because it spoke to my values." Not that she shies away from issues such as religious extremism. In Camden, Siddiq drew up controversial rules banning the use of council property for "hate preaching". She supports all-women shortlists ("nothing else works") and says she would never drink from Labour's infamous "controls on immigration" campaign mug, which for many critics symbolised its failure to stand up to Ukip rhetoric.
At the hustings, which have been sponsored by an estate agent, immigration only comes up when the Ukip candidate shoehorns it into his answers (when he has any answers). Questions cover housing, school places, youth engagement, Syria, Trident, and women in Westminster. Most contentious is a question about the mansion tax, which Labour wants to apply to homes worth more than £2m, to help fund the NHS. It's a big issue in a constituency with more than 3,000 eligible houses. Simon Marcus, the Tory candidate, claims many residents have already sold up in fear. Labour accused him of scaremongering last month when he mailed out a campaigning leaflet designed to look like a tax demand.
"It's not an ideal solution, but what are we going to do about the funding gap in the NHS?" Siddiq asks the audience. She says she has pushed Ed Balls, the would-be chancellor, to protect "asset-rich, low-income" homeowners, including pensioners, and to differentiate between those who bought their "mansions", say, 40 years ago and five years ago. "I've got bad news for my Labour opponent, because Ed Balls is not listening to you," Marcus responds, calling the proposed tax "simplistic and dishonest". He wins one of the biggest rounds of applause of the night.
Later, over a drink with her young campaign team at a Czech bar, Siddiq says she has also written to Balls about the mansion tax. "He's a tough man, so we've had to do a lot of pushing, but he is finally coming round," she insists. She says she is also prepared to deviate from the party line over the HS2 railway, which is not popular here. "It would be very dictatorial if we could never challenge policies," she says. "I'm not going to agree with everything." She plays down any ambition she has beyond becoming an MP, but it is implicit in the way she talks, and she shows the energy required to go further.
In an interview with David Frost in 1971, Sheikh Rahman said, without hesitation, that he loved his people more than his family. He was dead four years later. When Frost returned to Dhaka in 2013 to meet Sheikh Hasina, she flinched and welled up when he played her that clip, but said there was "something wonderful" about her father's devotion. "I'm not sure I could be as selfless as my family are," Siddiq says. "I would definitely vote for family first." Yet she is determined to win here, and as the shutter comes down on the bar, she shows no signs of fatigue as she prepares to walk home. She will have a late dinner with her husband and watch an episode of The Good Wife. "But first, I'll call my mum," she says.
Join our commenting forum
Join thought-provoking conversations, follow other Independent readers and see their replies